Costa Rican artist and publicist Karen Clachar has been merging communication and art throughout the past 20 years – an effort that has now led her to explore art related to signs and their meanings.
She has conducted in-depth research into symbols of the past (of Costa Rica in general, and of the northwestern province of Guanacaste in particular), as well as brand signs from the present. At the same time, she's continued her long-standing interest in art management and art as a tool for social responsibility. She is the creator of Valoarte, an art market that features works by renowned international and national artists as well as emerging artists and donates the money earned to the NGO Hogar Siembra, which helps young girls from vulnerable communities.
She also has her own gallery in Avenida Escazú called Artflow Gallery, which she says has become a space for artists of all sorts rather than herself. Her passion for art is something that has been within her from a young age.
"Ever since I can remember, I loved art. My hobby at the farm was doing cromos (small prints), hand drawn and then painted with the help of my mother. I'd take them to school and sell them. From that moment, I think I was already connected with art," Clachar told The Tico Times.
She chose to study advertising at the Colegio Latino and then went on to get postgraduate courses both in Boston and Los Angeles to nourish that "potential artist" within herself. She has exhibited both collectively and individually in museums and galleries around the country as well as in the United States, France, Panama, Nicaragua and other countries.
On a warm morning at the National Museum in San José, down in the dungeons of the museum, The Tico Times sat down and spoke with Clachar, 50, about her life and work. Excerpts follow.
What interested you in art?
Everything I did ended up there. I was always a very energetic person, a person challenging her environment, and I think I allowed myself to fall in love with artistic work.
The world of publicity was a really creative world. I liked to manifest [that creativity]: I started [art] classes, and that's where the adventure began. I started touching the brushes. I started to touch the paint. I started to touch the design and I never stopped.
Today it's what I'm most passionate about. It's what excites me the most… the work at the studio, the graphic [elements], and the construction of ideas. For me it's part of a healing, mentally, physically and spiritually. It's creating. It's having your hands on something.
Why did you choose to support Hogar Siembra through your work?
My parents were always people who helped their surroundings. My mother founded La Casa del Niño Abandonado in Liberia, in the place where I lived practically all my childhood. I lived in Guanacaste until I was 15 years old and the last years in Liberia.
I had that little worm that you have to help, to contribute a bit to society and giving back a bit of what one has received. Knowing that we can all help from anyplace. I was first involved with childhood issues… One day the founders of Hogar Siembra knocked on our doors and I loved it. I loved being able to transmit a bit to these young women who are hungry for motivation and for someone to tell them that they can move on despite the pain and [life's] challenges.
It has been very gratifying. It has been probably one of the most important things in my life. They're an example of struggle, of life and of how it's possible to move on. Seeing women who come into Hogar Siembra in a state of total vulnerability, from very crude and harsh realities, and seeing them come out as empowered women who reinsert into society positively… I think there's nothing that provokes more happiness for me than that.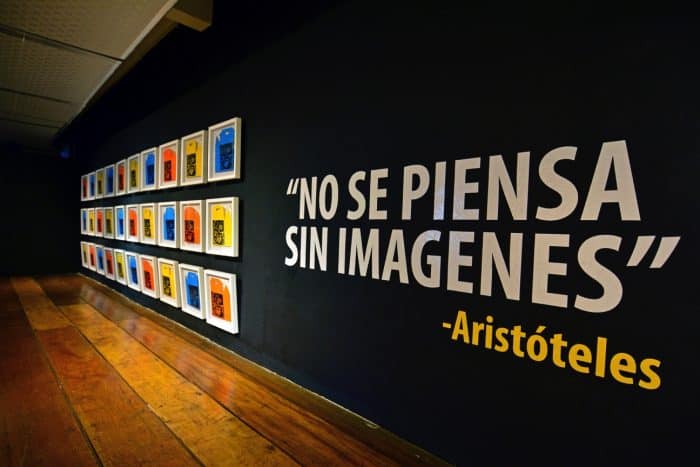 What is your process to create an work of art?
It always happens in a very organic way. I never plan or tell myself that I'll build a specific piece that starts here or ends here. I allow it to be a absolutely natural creative process of experimentation where sometimes things come out and sometimes they don't.
Seven years ago I began collecting bags. I knew that there was something in my subconscious in midst of the publicity that dragged some way to the topic of signs and brands. Later, I was invited to be part of a group of artists that we reinterpreted the petroglyphs in Guanacaste, near the skirts of the Orosi Volcano, where there's the biggest concentration of petroglyphs in the country. I found myself with another type of sign and become passionate about it.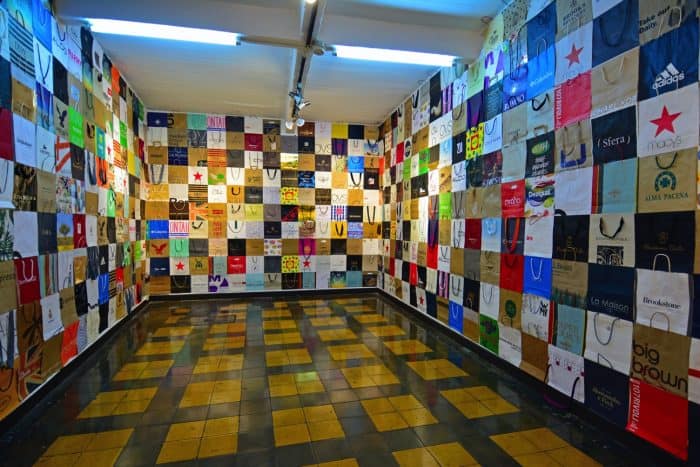 What were the challenges of using this space at the National Museum for hte exhibit? 
The museum, the former Cuartel Bellavista, is an anthropological museum, the most emblematic that we have in our country. All of the pieces that are here, all of what it means that these were military barracks, the site of the mazazo for the abolition of the army [when President José Figueres struck a blow to the building to mark the abolition].
I knew it was difficult. Two years ago I began the paperwork to apply, and the commission approved it… As you can see, I explore the topic of heritage because in the end these petroglyphs are heritage.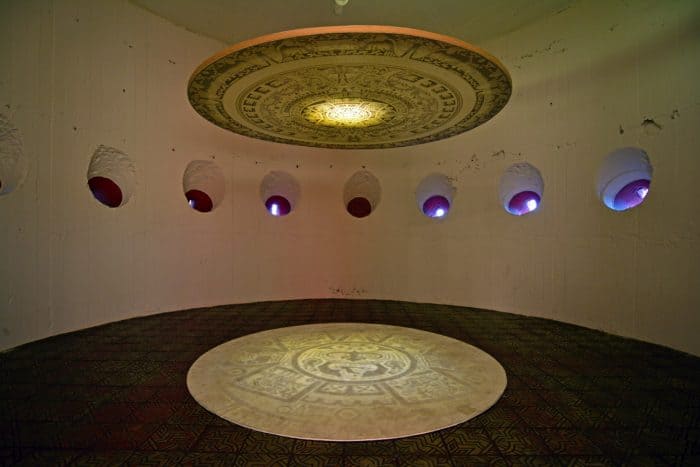 Karen Clachar's exhibit 'Signum' is currently at the National Museum. For more information visit the museum's website. Visit this link to have a 360 experience of Clachar's exhibit in the National Museum.