How can one project capture the excitement surrounding the World Cup; the love Costa Ricans feel for their National Team, La Sele; a deep dive into the cultures of Costa Rica's first-round World Cup opponents; and the adventure of international travel?
That was the challenge before Costa Ricans Boris Alonso Sosa and Ricardo Cerdas when, in 2015, they came up with an idea for a World Cup odyssey. Sosa, a TV presenter and comedian, and Cerdas, an audiovisual producer, spoke with Christian Bulgarelli, executive producer and co-founder of La Productora audiovisual production agency, who signed on.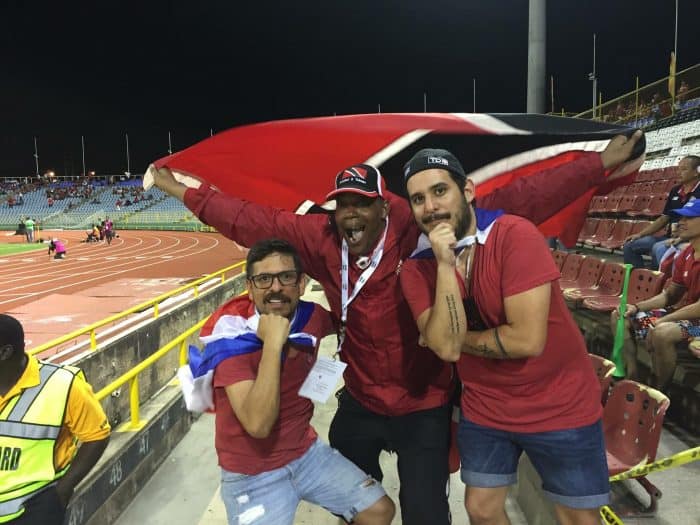 By 2016, the project had its own Facebook page.
"We named it El Tripazo," Cerdas told The Tico Times of the Spanglish- and slang-inspired name for a giant trip. "We then realized that El Tripazo sounds as if one has a stuck fart [from tripa, or intestine], but we had a couple of sponsors. It felt like this: we have the money, we have the idea, we have the characters."
Sosa and Cerdas followed La Sele to five different countries during World Cup classifying matches – Panama, United States, Mexico, Trinidad and Tobago and Honduras – and documented the experience.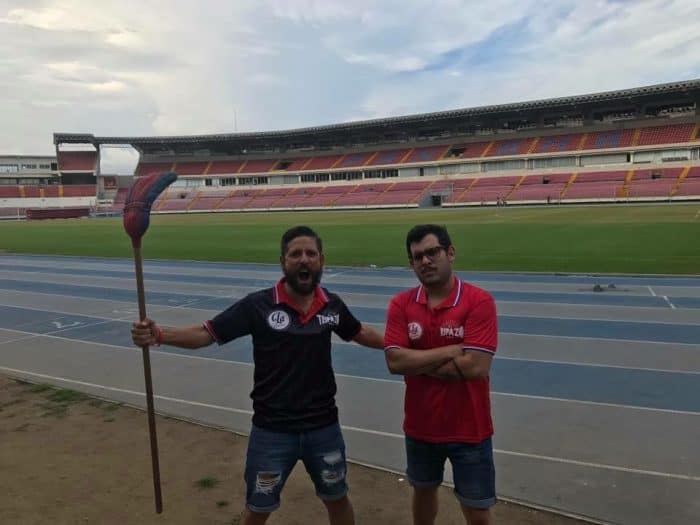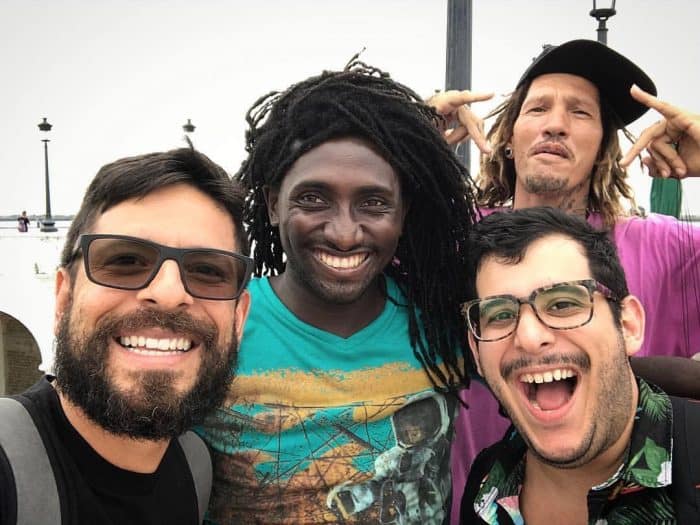 "The videos were doing pretty well. We noticed that what people really liked was the friendship and the interaction between us. We also realized that the experience out of the country was much more interesting," Cerdas said.
The pair decided that the key to their project was combining these factors, as well as embracing the unexpected: "When everyone expected A, and the result was B, something magical happened."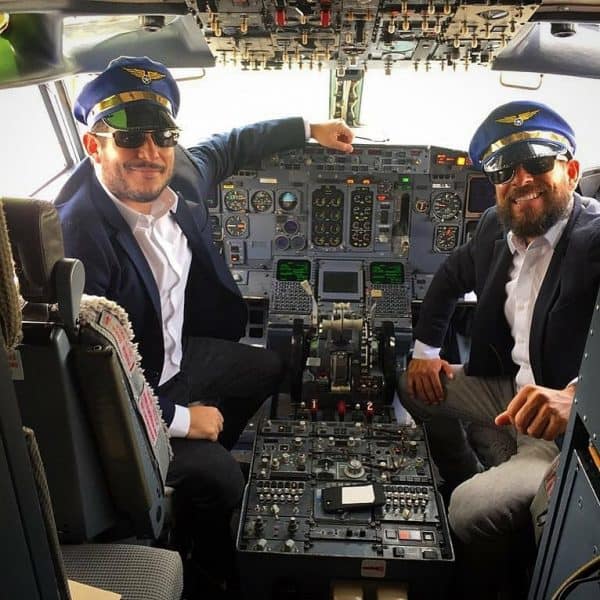 With all this in mind, the plan for El Tripazo fell into place. The pair would celebrate the 2018 World Cup by traveling to the countries whose National Teams will play against Costa Rica in the first round of the tournament, and watch those matches from the rival countries. For six months now, Sosa and Cerdas have been planning the 15 days they'll spend this month in Serbia, Brazil and Switzerland.
"It's not only about the results of a match. It's what happens before and after. It's the dynamic of the fans. It's about the rituals that people do to go watch the game and finally, about the adventure," Cerdas said.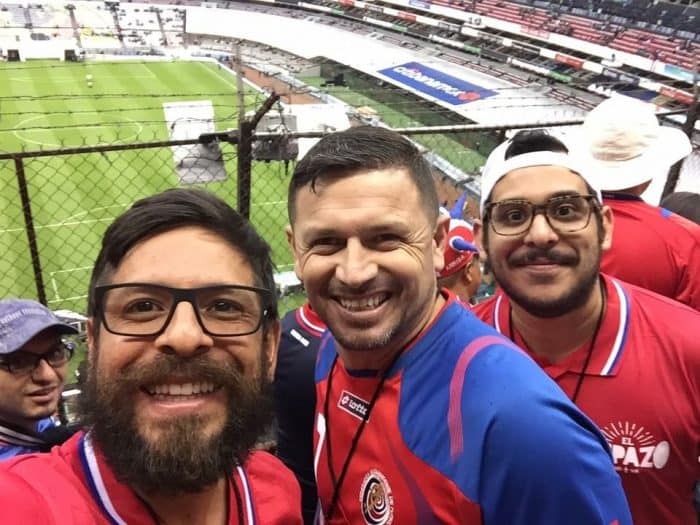 Watching soccer isn't the only activity on the menu. In Switzerland, they'll participate at a traditional race that commemorates the work of cherry pickers. In Brazil, they'll learn samba and capoeira. And in Serbia they'll travel the country with a friend of theirs as a guide, and visit the Nikola Tesla Museum in Belgrade.
The project has also made a point to create a social impact. Here in Costa Rica, Sosa and Cerdas played soccer in the shantytown of La Carpio with children from the community and National Police officers.
"It was very cool that the National Police invited us to a mejenga (pickup soccer game) in La Carpio called #lamejenga. We went to speak with the children, provide a positive message and play with them. We saw that it was a mejenga that doesn't happen every day, so we made a video. These are opportunities that appear and we try to take advantage of them," Cerdas said.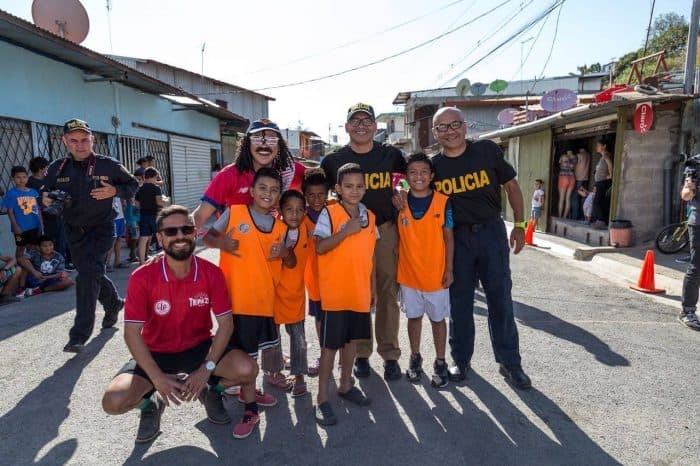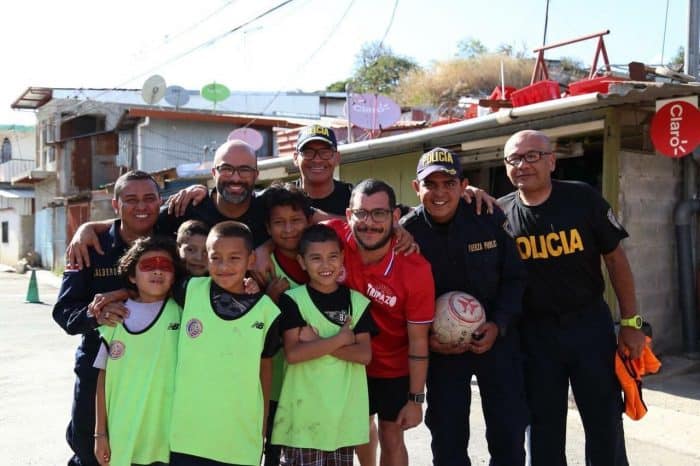 Inspired by that experience, the pair has set up a visit to a favela in Brazil while traveling there to play soccer with the children there. The travelers will be presenting some of their material with Teletica's "Revista Mundialista." However, they say their main goal is to enjoy themselves while showing their audience a new experience from two friends who are combining their love of sports with culture, travel and social impact.
"I believe that when you invest more than one year of your life in a project, when there's money involved, when everyone is involved in this, it's because you really believe in it," Cerdas told The Tico Times. "I don't think we're in the project just to see what will happen. It's because we all faithfully believe that the project can be a success, it can become sustainable and it can have a long life as a content creator."
For more information visit El Tripazo's Facebook page or their Instagram page.