María Luisa Mendiola is a young Costa Rican woman living in New York who's all about creating change in everything she does. She studied Economics at Georgetown and went on to work with Bloomberg, both in Washington and London, focusing on various industries including renewable energy, fiscal investigation and finances. Then she decided to change course in a big way: she entered the world of fashion design.
While in London, she learned of the opportunity to obtain a Master's Degree in Applied Imagination in the Creative Industries at Central Saint Martins. She focused her studies on fashion, and the project she developed would become her own swimwear business: MIGA Swimwear, designed for – and with – women with disfigurement, including birth defects, burns, paralysis and skin diseases.
Driven by her goal of using fashion design as a tool that empowers others, Mendiola has worked with women in the United Kingdom and the United States to develop MIGA.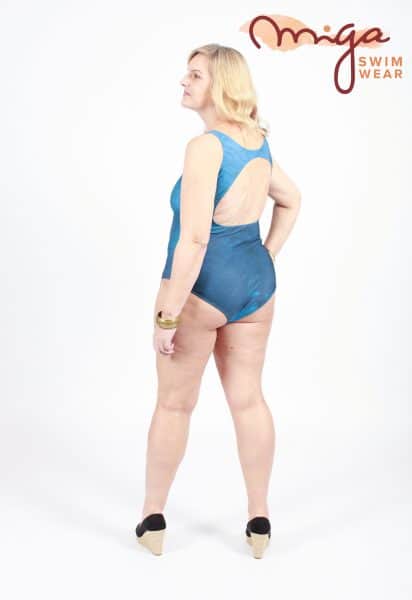 Her reason for reaching out to this community in particular is a very personal one: Mendiola has a congenital body disfigurement called brachymetatarsia. This means that the fourth toe on each of her feet is shorter than the rest of the toes.
She sought to use her personal experience to help others who face the challenges of disfigurement and normalize the experience through designs that help tell women's stories to the world.
"The master's degree program was not only very open, but also asked you to reflect a lot about your personal experience. I've had brachymetatarsia since I was born… I began thinking and said, what if I combine fashion design with the community and try to change not only my prejudices about having a disfigurement, but also help other people? That's when I contacted a psychologist [Dr. Lisa Williams] who works for the Burns Unit at the Chelsea and Westminster Hospital," Mendiola told The Tico Times.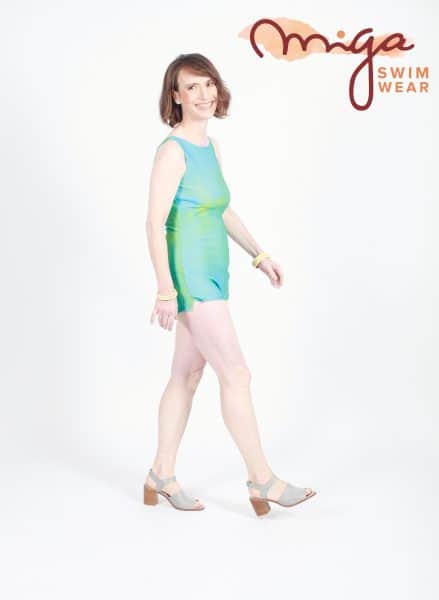 That's where change took root for Mendiola. Dr. Williams explained to her the physical and emotional changes her patients experience after suffering a skin burn.
"When you have a solid story it's much easier to approach conversations that might be uncomfortable or when people stare. That was the first thing she told me. I could relate, because I had never gone to a psychologist regarding my feet. I felt vulnerable when someone asked me about it," Mendiola said.
Dr. Williams also mentioned to her that her patients had difficulties finding swimwear that would adapt to their needs. Mendiola found a way to merge her interests in fashion, acknowledging disfigurement in an empowering way, and helping others through it.
"She told me that many of her patients were having trouble finding bathing suits that made them comfortable. It's in that moment where the project began taking shape, which made me very happy because I love swimwear. I had a purpose to create a brand that wouldn't be simply one more brand," Mendiola told The Tico Times.
After finishing her project and obtaining her master's degree, Mendiola moved back to the United States and eventually decided to set up MIGA Swimwear in New York, where she began working with the Burns Unit from the New York Presbyterian Hospital.
"The first collection that we'll do is for women who have skin burns. All of the swimwear is inspired by what they need, and include a bag with the story [of the women behind the collection]," Mendiola said.
Sharing women's stories is important for Mendiola to help overcome stigma around disfigurement and give women the space they deserve to celebrate their bodies and their beauty, as well as to express themselves.
"What I'm trying to normalize is for others to understand why people look the way they do. We're trying to do that in two ways. One is for the person with disfigurement to feel empowered to tell her story. I work with them to create that story, and a design that supports their stories," Mendiola told The Tico Times. "On the other side, it's creating swimwear that isn't necessarily only for women with disfigurement. We just want to get to a place where we can have these conversations to understand why people look the way they do and what it's like to live like that."
Mendiola said she feels grateful to the women she is working with to create the line.
"It has helped me a lot that they're open minded and they'd want to work with me. I believe that the greatest gratitude I have is that the women trust me to tell the story and that deep down there's so much self-love that they want to improve themselves," Mendiola said.
In the end, it's all about change for Mendiola, both personal and professional. As she told The Tico Times, "I cannot bring about change unless I change myself first."
MIGA Swimwear works with women from the Burns Unit at the Chelsea and Westminster Hospital and Changing Faces UK, and the Burns Unit at the New York Presbyterian Hospital. For her initial project in the UK, Mendiola worked with five women to tell their stories as well as her own. For the new collection created in New York, she has been working with three women.
One of MIGA Swimwear's collaborators created the blog Love Disfigure to speak up about disfigurement and motivate others. Follow MIGA Swimwear on Instagram and Facebook, and visit their webpage for more information.MIGA Swimwear will be available through a Kickstarter Campaign this June. Visit their website to signup for updates or email marialuisa@migaswimwear.com to join their mailing list.
Disclaimer: The Costa Rica USA Foundation for Cooperation (CRUSA) and Amigos of Costa Rica sponsor the Tico Times Changemakers Section to provide a space for stories and information about philanthropic work in Costa Rica. CRUSA and Amigos do not endorse any of the organizations, individuals, fundraising solicitations or opinions shared in this space unless otherwise stated.