There's less and less political interaction on the streets, but it doesn't seem to lose its strength or validity on social media.
With the first round of Costa Rica's presidential elections behind us, we can see quite assuredly that social media exploded with particular strength on various occasions: first with Juan Diego Castro's incendiary declarations: then with Fabricio Alvarado's abrupt surge after the Inter-American Human Rights Court's ruling on same-sex marriage; and finally during the campaign's final sprint.
Weeks ago, Semanario Universidad confirmed the influence of these peaks, and now it has also ben confirmed by the University of Costa Rica's Center of Investigation in Communication (Cicom), which has followed the development of the campaign in virtual spaces. Cicom's researchers studied the movement of campaigns from street to screen.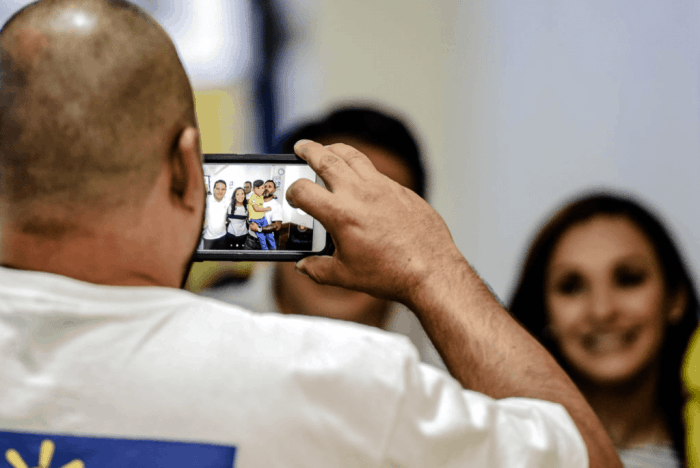 In the words of the researcher Ignacio Siles, a specialist in society and technology, social media now play fundamental roles in Costa Rica's "expression of political opinion and collective action."
Contrary to popular belief, Siles says that social media have worked as a meeting space and not only as "echo chambers," given that online interaction in Costa Rica has allowed for debate and disagreements, not just the simple confirmation of opinions.
"More and more, throughout the campaign, we had the evolution of people participating in spaces where an opinion contrary to theirs was expressed," said Siles. He added that he sees this point as particularly important because it could demonstrate the virtual exchange is happening at an even higher rate than we imagine.
He pointed out the power that these media had to position the debate topics that possibly defined the elections. Semanario Universidad registered such an occurrence in mid-January, when there was an explosion on social media after Fabricio Alvarado, from the National Restoration Party (PRN), opposed the international court ruling on same-sex couples and gender identities.
He also pointed out role played by the case of the Chinese cement at the beginning of the campaign, when discussion of corruption and mano dura law-and-order policies boosted the first debates.
"The 'cementazo' at the very beginning of the elections and the Court's ruling in January were two great media milestones that were converted into triggers of online interaction with very evident consequences," Siles said.
Informed vote?
Another trend noted by Siles is the participation of voters who did not inform themselves,  or at least "not more than the usual."
The data collected by Cicom and its researches suggest that the clicks on political news were few and far between on social media, even reaching lower points to non-electoral periods. Siles points out the important role played by other types of information such as videos, images and informal messages that were indirectly fed by the coverage.
"Social media played a very interesting role, and possibly very controversial, boosting topics that did not necessarily come from mass media, but were articulated as part of an informal agenda that gave color to the elections," Siles said. "The message flux, of memes and similar types of communications circulated not only in technological networks, but also from person to person."
Virtual Groups
For Siles, candidate support and rejections, as well as hugs and insults, have passed into the virtual realm – whether uses were "placing a profile picture that identifies you with a candidate, fighting in the comments, or sending a meme… convincing themselves, convincing others, in a context where you have very marked spaces with the group of people you try to influence."
He pointed out that party flags were barely seen on the streets, but were "[seen] much more on Facebook, especially from January until the elections."
New poll in Costa Rica shows huge surge for evangelical pastor
The researcher says these trends demand "better understanding of what truly is happening in these contexts and how much can be extracted in the form of teachings.
"Its indispensable information… I have no doubt that there's a relationship between how people behave [online] and what happened on [Feb. 4]. There's a relationship there and it's something we should be watching with all our knowledge," he concluded.
Through mid-January, social media data had already shown that the two candidates who would win a ticket into the second round, Fabricio Alvarado (PRN) and Carlos Alvarado (PAC), showed greater levels of engagement; however, the researcher says that this only is part of the data that has to be analyzed to fully understand what took place.
Ignacio Siles is a professor at the Collective Communication Science School (ECCC) at the University of Costa Rica (UCR), where he graduated before specializing in Society and Technology at the University of Montreal and Northwestern University.
This article was originally published by Semanario Universidad on Feb. 6 by journalist Josué Alfaro. Excerpts were translated and published by The Tico Times with permission.