A love of photography has always been a constant for David Flynn, whose passion is using vibrant colors to capturing ephemeral moments and showcase human dignity. However, it wasn't until a few years ago that he decided to dedicate himself completely to it.
Flynn's father was from New York, his mother from Spain. They met in Cuba and then moved to Chile, were Flynn was born. Flynn, now 62, is a U.S. citizen who has lived in Latin American countries for most of his life, including Argentina, Peru, Ecuador, Colombia, Honduras, Guatemala and Costa Rica. He says this has helped him grasp a different perspective of life in each nation.
Flynn studied Latin American History and Journalism at the University of New Mexico. He worked for 25 years in advertising for the Hispanic market in the United States in TV, radio, and newspaper. He has also worked as an editor and photojournalist, which helped him developed his skills of observation.
"What I like more now is the way you just have to slow down to take good pictures. You have to anticipate human behavior or the light or patterns, and then sit there and wait till something happens," Flynn told The Tico Times.
Flynn has focused his photography on Central America in recent years. For three months he lived in the town of León, Nicaragua, where he captured images of people's daily lives He now lives in Costa Rica, experiencing and enjoying life as a retiree photographer.
On a rainy afternoon with the smell of coffee and Bob Marley music in the background, The Tico Times sat down and spoke with Flynn about his life and work at Talentum Gallery in Barrio Amón, San José, where his photographs are on display this month. Excerpts follow.
How do you use observation as a tool to do a good composition in your photographs?
People go to a city like León, which is very colonial and very old. They take what I call postcard shots. You know, they get centered with the cathedral and they take a beautiful shot of the cathedral with a blue sky. I don't like to do that. I like to see what's below the obvious of the cathedral. Who is walking around? What vendors are there? And because I was on a long-term project, I got to know who's going to be there, what time.
One time I was sitting in a restaurant outside and I just started seeing that all these people were in a hurry going into the cathedral. I thought: wow, something's going to happen here. I waited about an hour; it was a funeral for a diputado [legislator] who had died a few days before. There were all these soldiers and there were all these kids from schools waving the flag of the party, the Sandinista party.
In that case I didn't get a good photograph, but it was fun to anticipate it.
How did studying journalism and advertising help you as a photographer?
Advertising, not so much, because I was in media. I wasn't creative. I did media plans, but as a reporter I went to political conventions when politicians would win the party's nomination and all of the big guys were there: ABC, NBC, The New York Times. You have to try to either observe what they're doing, because they know what they're doing, or get a totally different angle.
I noticed that there were people behind the stage, all of a sudden gathering in one spot. Well, maybe that's the candidate that'll come out. I went there. I was 20 or 19, so I wanted to do something totally cool. I wanted to show everyone I was better. You know, you get more inventive and that taught me also to be a little more aggressive in getting a photograph. I had to be.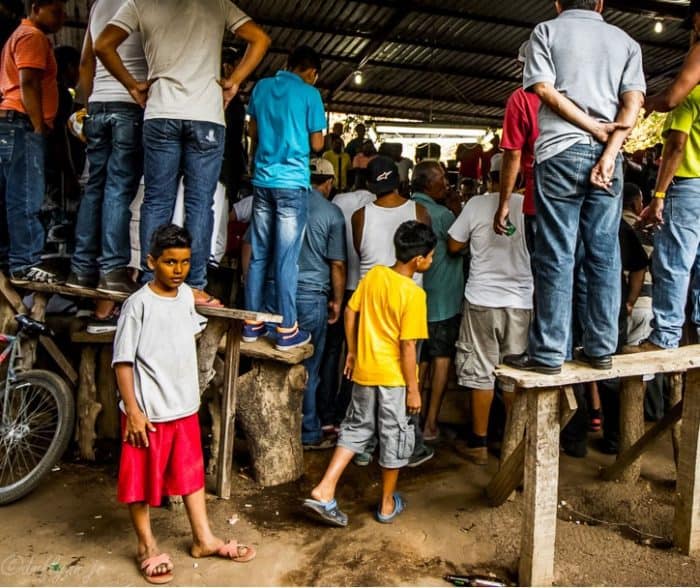 How do you choose the color palette for your photos?
Well, the photos do that. The people do that. All I can do is emphasize certain things. Francisco de Goya emphasized primary colors in popular scenes… meaning there are a lot of people there. A typical scene. I kind of drew on Goya a little bit through blues, reds, yellows. I don't change the colors… I may manipulate the intensity, [or] sometimes I take all the color out.
Do you conduct research before you take photographs?
Sometimes. In León I spent about two weeks just meeting people and talking to them and just getting a feel for how people were there, because in some places you can't take pictures of people on the streets. They get annoyed. In San José, it is hard to take pictures of people on the streets.
So, I walked around and I just told people: hi. I want to take a picture. I got a feel for the city and I scouted some locations, certain churches, went to stand at certain times a day. There are only a couple places in León that are more than one story high, so I had to figure out how to take pictures without getting the advantage of being on the third or fourth floor because there aren't any buildings.
So, I did a little [research]. Some people do a lot more than I do.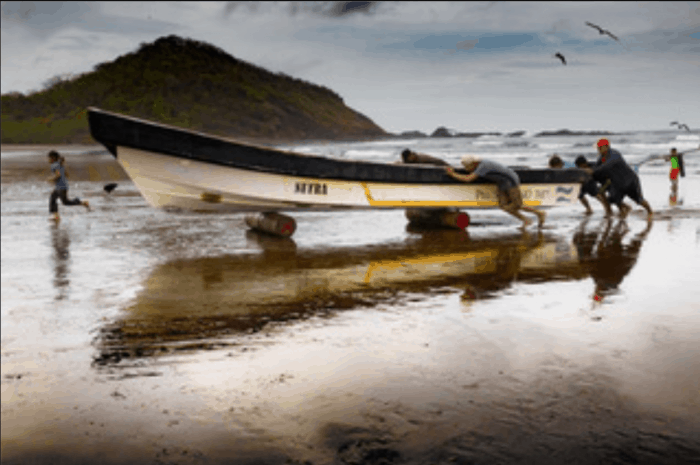 When you meet people, what do you talk about?
In León I was telling people that I was a photographer, that I was living in León, that I was taking pictures of just León. All of those things appealed to them. Wow. There's a gringo who lives here and he's taking pictures here.
I think people really appreciated it because I'm not the tourist who's going to be here two days and gone. I'm here and they see me every day. It's a very small place. León is like half the size of San José. There are no traffic lights. Everybody knows everybody. That experience I was new to me.
There were just some people who either knew me as don David the photographer, or they knew about me or had heard about me. After three months it was easy for me. People invited me into their homes and I'd get fabulous pictures in their homes that I didn't use in this show because I thought it was too personal. Those pictures are just for me.
David Flynn is exhibiting his work until the end of the month at Talentum Gallery in Barrio Amón, San José.
 Our "Weekend Arts Spotlight" presents Sunday interviews with artists who are from, working in, or inspired by Costa Rica, ranging from writers and actors to dancers and musicians. Do you know of an artist we should consider, whether a long-time favorite or an up-and-comer? Email us at kstanley@ticotimes.net.