PUERTO JIMÉNEZ, Puntarenas — Forty miles south of the Golfo Dulce in the open Pacific Ocean, a 200-pound blue marlin was about to have the worst day of its life. And I was about to have one of my best.
Capt. Oscar Villalobos picked us up at Crocodile Bay at 6 a.m. with first mate Jesús and three friends, and we motored past Matapalo for an hour and a half until we got to "the Marlin Hole," which Oscar said doesn't have a name, which is why I just gave it one.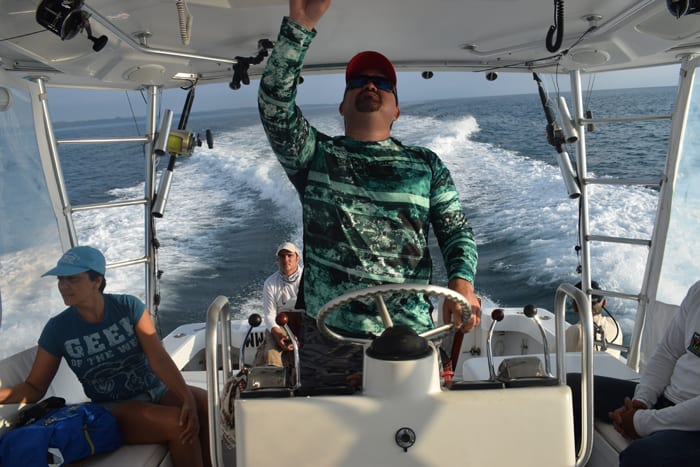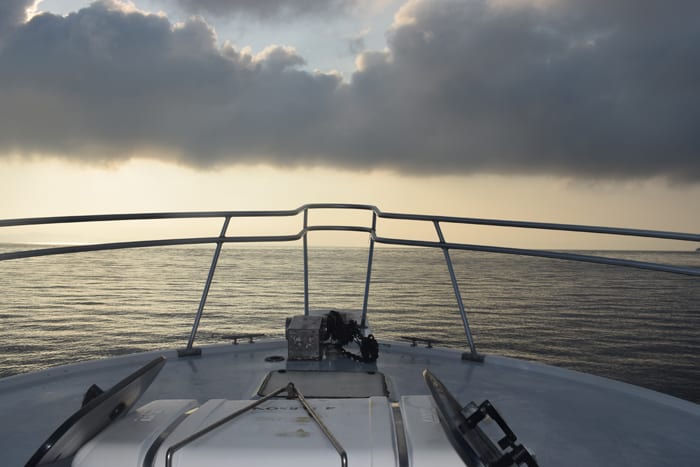 At first we tried trolling with big lures, then we jigged for some little tuna to use as bait. A nice fat yellowfin was seduced by our plan, and we unkindly returned it to the sea impaled on a hook.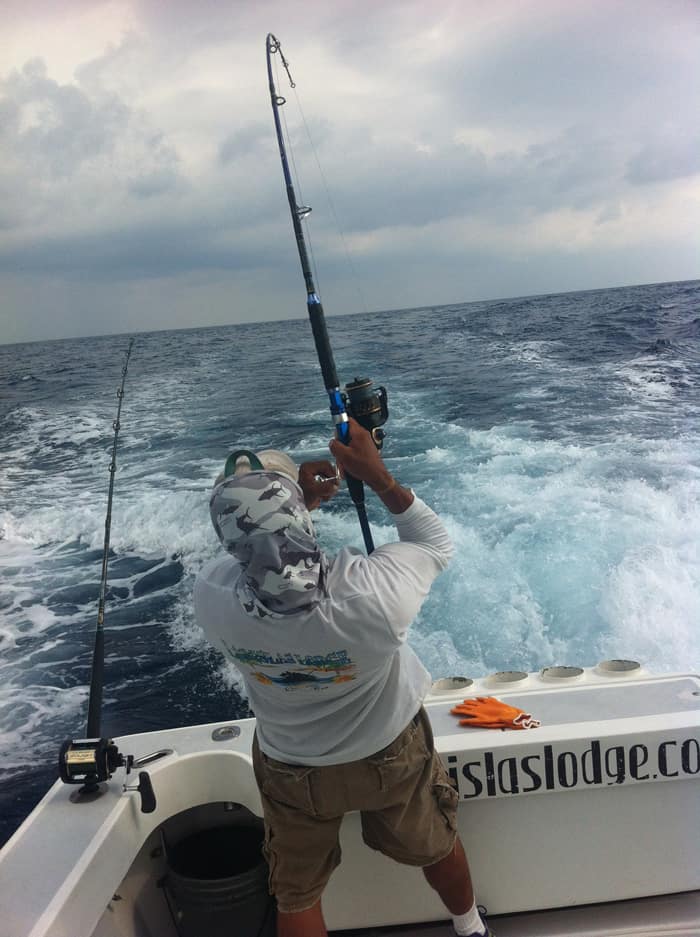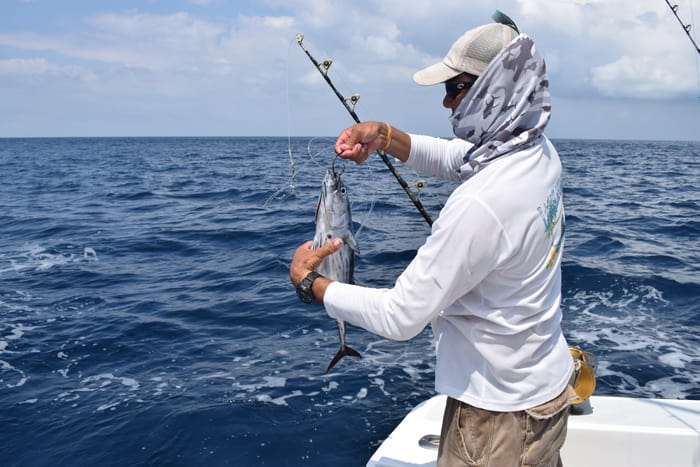 The next fish to stumble into our trap was our 200-pound marlin. Oscar and Jesús saw the strike immediately and went into catch-a-fish overdrive, grabbing the rod, throttling down and reeling in all other lines.
Jesús, holding a rod that was jerking in his hands, signaled to me and I came forward. He handed me a rod that felt like a live anaconda being towed by a monster truck — very squirmy in my hands, and with a lot of power trying to pull it out of them.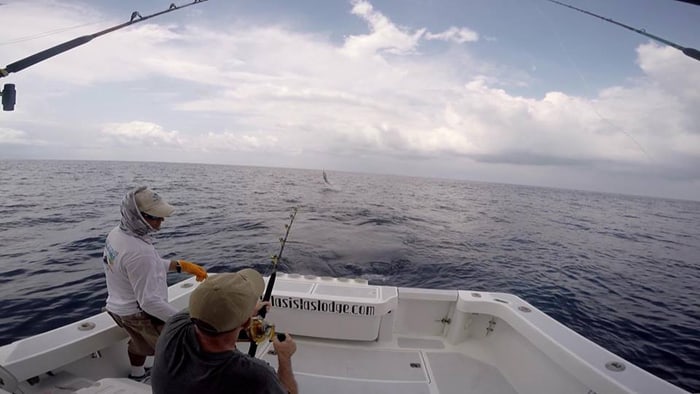 The fish was far from the boat, but I could feel its every move. It was fast and furious.
"It's like catching a bull," Oscar remarked later. "They are very aggressive, they are very dangerous fish and they're super, super fast."
Someone strapped a fighting belt on me and Jesús showed me how to anchor the rod.
"Pull up, and then reel as you go down," Oscar said. "Reel fast."
I pulled with all the power in my left arm until the rod was curved like a giant fishhook, then I lowered the tip and reeled.
"Reel fast!" said Oscar and Jesús. "Fast!"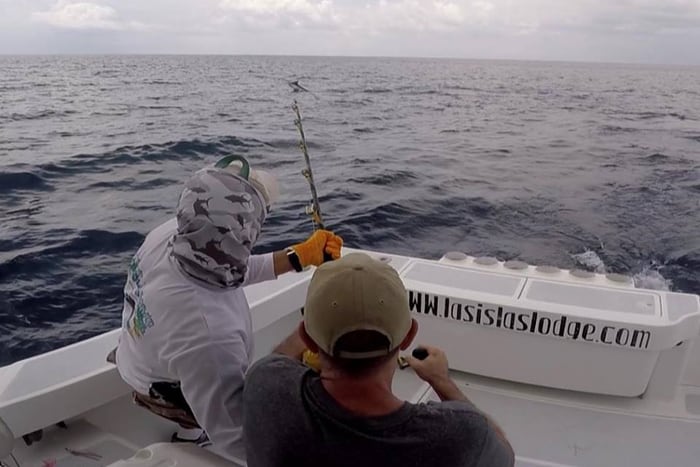 The one thing I didn't expect about catching a marlin was that I had to catch it fast. I was using every muscle in my body to fight this monster. I was sweating, I was stumbling, I was wincing — and they wanted me to do all of this faster.
Suddenly my quarry showed himself, flying out of the water twisting and turning, trying to shake the hook. It was a spectacular jump, and I saw it, but I was so busy fighting the fish it barely registered on my consciousness. It was like seeing a double rainbow when you're about to vomit.
I was hunched over like a gargoyle, and Jesús told me to stand up straight and use my arms. I tried that for a while, then I collapsed on a cooler to sit a spell. Jesús gave me a few seconds to rest and then said, "Stand up."
I felt like Rocky Balboa — my opponent was pounding the hell out of me, and my trainer kept shouting at me to fight harder.
I believe Oscar helped by moving the boat closer to the fish — if the mountain will not come to Muhammad, then Muhammad will go to the mountain. The fish sometimes helped too by swimming toward us, but sometimes he swam in the opposite direction, dragging out a bunch of line I had just labored really hard to reel in.
But I kept pulling and reeling, and then pulling and reeling faster, and finally we could see our prey just under the water next to the boat.
Watch the video, courtesy of Michael Palazzo: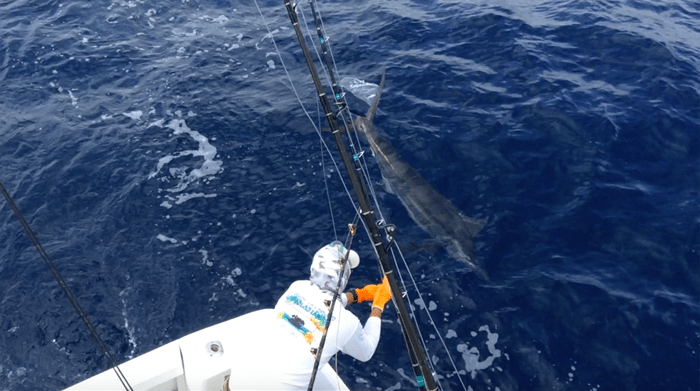 Under Costa Rican law, all marlin or sailfish caught by sportfishermen have to be released. This is done in the water beside the boat — no, you can't pull the fish out of the water and hang it by its tail for a picture, or you'll kill it.
Jesús bent down to try to free the marlin and it made a desperate last attempt at escape, but I had it on a pretty tight leash and all it could was swim to the other side of the boat. Jesús was finally able to let it go.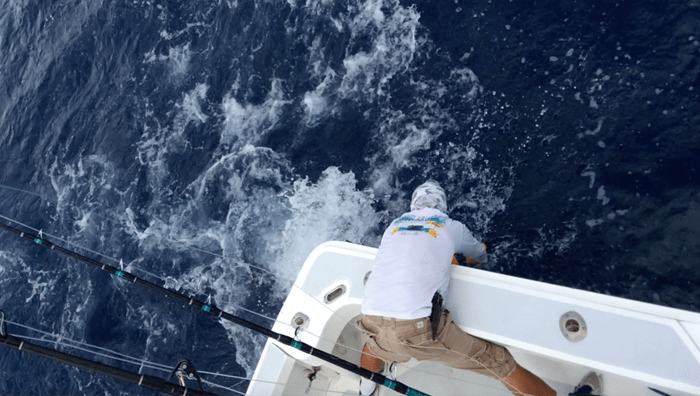 I was so exhausted I could barely lift the celebratory beer with my trembling left hand. I could hardly believe it when Oscar said the whole fight lasted only eight minutes.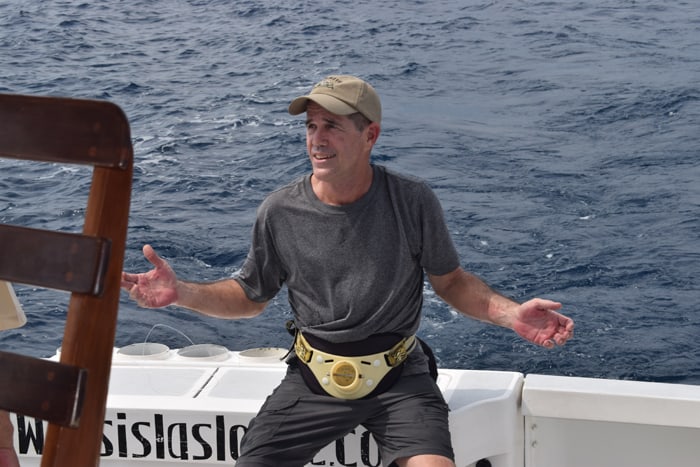 It occurred to me that if marlin knew they were going to be released, they would swim directly to the boat and bob in the water like a dolphin to have the hook removed. Speaking of which, I asked Oscar if fishermen didn't sometimes accidentally hook dolphins, and he said, "They're too smart."
Next thing you know we had another big one hooked, and the rod was handed to Guiselle. When this happened I was on the roof of the boat perezeando, lazing on a white couch in the shade with the fifth food group, beer. But when I saw Guiselle dragooned into action, I pulled out my phone and started snapping pictures.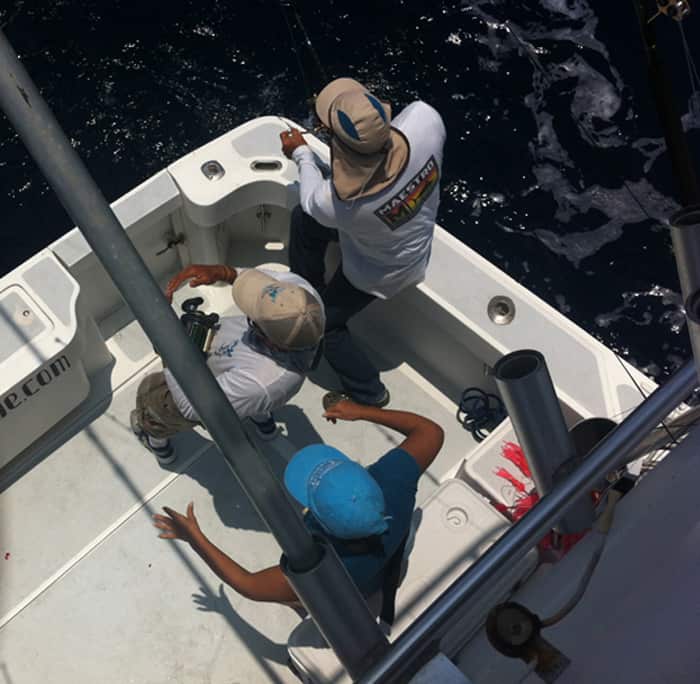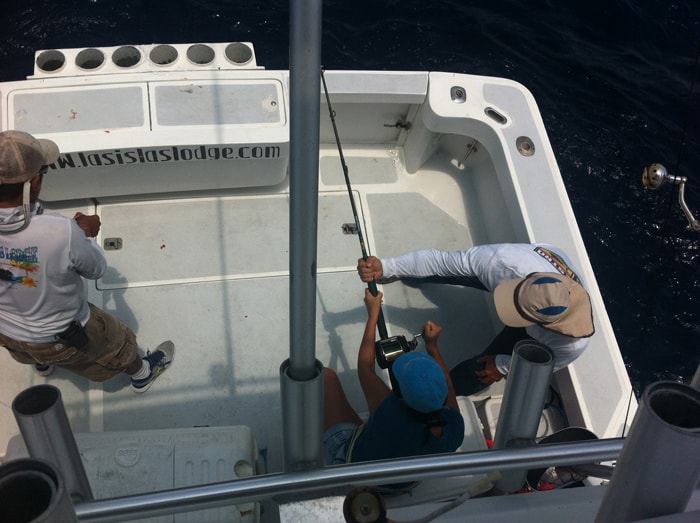 It turned out to be a 120-pound sailfish, which are smaller than marlin but still big, strong fighters. Guiselle did everything I did — staggered, sweated, cursed, pulled, reeled — but she finally asked someone else to take the rod. Michael Palazzo, 67, stepped in and finished the job in short order.
The fishing director
Todd Staley, fishing director at Crocodile Bay Resort, bought me a beer and explained to me the inshore and offshore fisheries here, saying the place was world-famous for sailfishing.
"There's a quite detailed scientific reason that has to do with oxygen in the water," he said, "but it's the same population of sailfish that swim between Ecuador and Mexico. It's all the same group of fish.
"And during the months of December through April, there's three really strong winds that blow out of the Caribbean into the Pacific. … And what that does is it blows the surface water offshore, and the upwelling doesn't have enough oxygen to support sailfish, so it moves the population of sailfish into pockets — one of them in Guatemala, another one in southern Mexico, and another one, fortunately for us, in central and southern Costa Rica."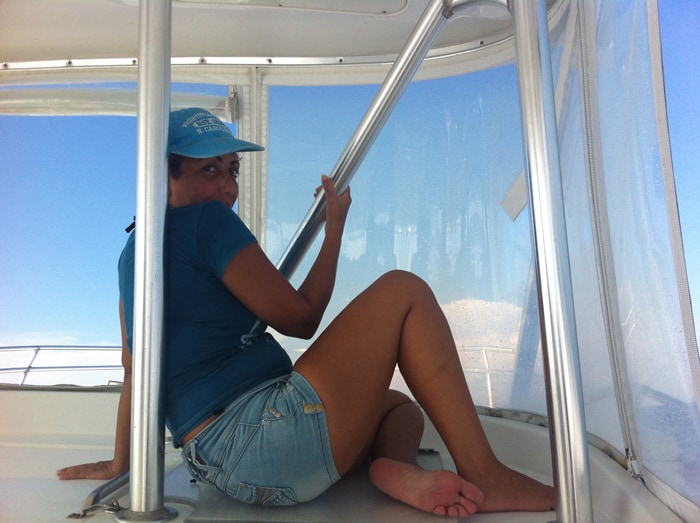 The marlin fishing is also excellent here, peaking in November to January, he said. Sailfish here average 80 to 100 pounds and marlin 200 to 400, with the big ones in the 500 to 600 range. Other top species are tuna, dorado (mahi-mahi) and occasionally wahoo.
This area is also justifiably famous for its inshore fishing, which means fishing anywhere in the Golfo Dulce to within about a mile out in the ocean.
"The cream of the crop would be your roosterfish, that would probably be the No. 1 inshore bucket list fish for the tourists," Todd said. "And then there's 10 or 12 different kinds of snappers, five or six different kinds of jacks. It just goes on and on, the possibilities inshore. It gets very, very deep fast here, so within a mile of the shore, you can be fishing for grouper in 3- or 400 feet of water."
This gulf is remarkably deep, and it gets deeper the further in you go.
"The Golfo Dulce here, there's a canyon that comes up the center of it from the ocean, it's about 300 feet, then once it does a dogleg here at Puntarenitas out to Rincón, it's like a big soup bowl, 5-, 6-, 700 feet of water. There's a hole up near Rincón that goes to 900 feet. But what happens up there is, according to the scientists, there's not enough water movement down below because of the soup-bowl effect that it's not real quality water for deepwater species."
Sailfish and marlin caught by sportfishermen have to be released by law in Costa Rica, but Crocodile Bay captains also release roosterfish.
"We release roosters because they're a sporting fish," he said, "and in the tourist fishing world, that fish is much more valuable in the water than it is on a plate."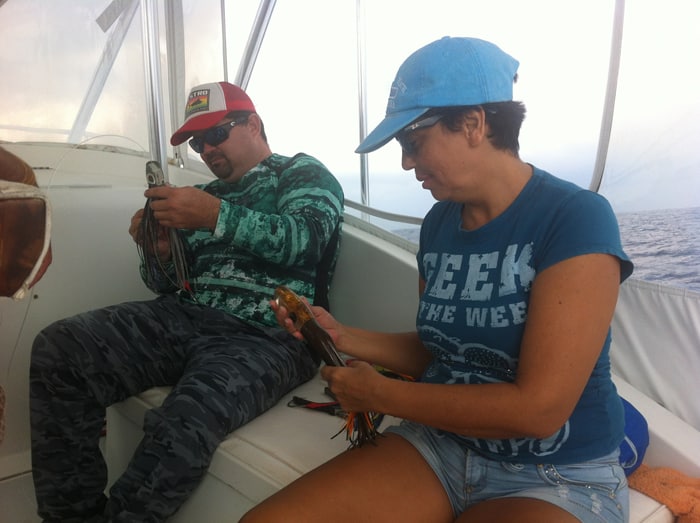 The old man of the sea
Back on the fishing boat, one of our compañeros was a hilarious 73-year-old Spaniard named Alberto who kept us entertained with a string of bawdy jokes. He said he held the record for biggest marlin caught on Oscar's boat — 1,065 pounds, they estimated, though I don't know how they estimated so precisely.
The captain, Oscar, confirmed that this behemoth took five hours to land, from 3 to 8 p.m., with three people taking turns, but the old man bore the brunt of this battle at sea.
"He drank 17 bottles of water and didn't go to the bathroom once," said Oscar.
On the phone a few days earlier, Oscar told me caught seven marlins the day before. "How many marlins do you want to catch?" he said. "That's what I ask people now."
Oscar's 36-foot boat is called the Maestro, and in fact Oscar is well known locally as a master of his craft, not exactly a fish whisperer but a damn good hunter. I asked him what's the most marlin he ever caught in one day in his boat.
"Twenty-nine," he said. "With one guy fishing."
"He must be like the Incredible Hulk," I said.
"It's all in the mind," he replied.
"I think it's a little bit in the arms too."
Oscar charges $1,500 to $1,800 for a full day of fishing, depending on the distance traveled. He also does multi-day fishing trips on a bigger boat that can sleep six, traveling 100 miles to a spot where he says they catch an average of 10 to 20 marlin a day.
When Oscar dropped us off at Crocodile Bay, he said for the second time, by way of congratulations, "I'm telling you, 99 percent of all fishermen have never caught a marlin."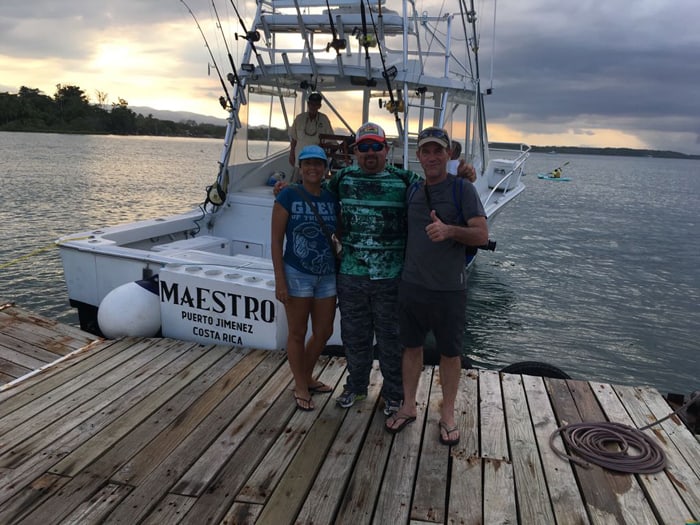 It sounded like a made-up statistic, but one that was probably 99 percent true.
I'll take it.
In the morning I woke up with a pain in my left arm the size of Texas. The word "sore" doesn't describe it, more like "megapain," like I had lifted an entire continent yesterday with this arm and not just caught a fish.
And I bet the marlin woke up thinking, "Never, ever, ever eat at that place again!"
Want to go fishing? Contact Oscar Villalobos at 8817-2850, or visit http://www.lasislaslodge.com. Contact Karl Kahler at kkahler@ticotimes.net.