The Lucas Oil 2017 Offshore World Championship billfish tournament concluded Thursday in Quepos with two Brazilian teams finishing in top positions.
Ricardo Pedrosa, fishing aboard the Barnacle II, sealed the deal at 2:04 p.m. on the last day of the four-day tournament with a sailfish that put his team in enough of a lead to hold until the clock ran out. His team, Torneio de Peixes de Bico, took top spot with 2,900 points. Team Torneio de Rio de Janeiro finished in second place with 2,400 points, and defending champions Team 2016 OWC Champions rounded out third place with 2,300 points.
Although the numbers of sailfish caught were disappointingly low this year, anglers crushed all existing marlin catch records from previous tournaments. A whopping total of 52 marlins were caught and released even though no one fished on any of the "artificial marine ecosystems" that now dot the Pacific coast of Costa Rica and have become famous for attracting marlin.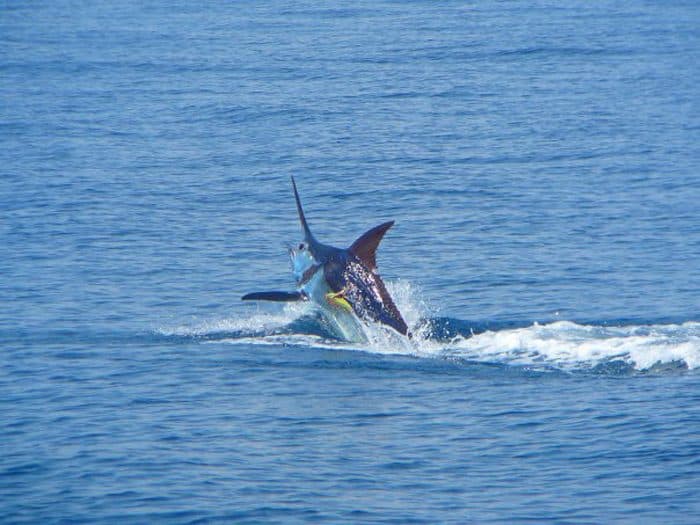 Individual awards went to the following:
Best Captains
1.       Johnny Vanegas fishing on the Mucushia with 2,700 points
2.       Juan Carlos Zamora on the Spanish Fly with 2,500 points
3.       Carlos Espinosa on the Sea Fly with 2,400 points
Best Anglers
1.       Brian Walley      1,500 points
2.       Luena Amaro     1,400 points
3.       Conrad Skinner  1,300 points
Congratulation to Marina Pez Vela and Bonnier Corp. for hosting another premier event highlighting the fishing in Costa Rica.
Full tournament details can be found at  http://owc17.catchstat.com/.