Immigration and environmental issues were some the main topics of discussion among participants in the XVI Summit of the Tuxtla Mechanism, an international summit that ended Wednesday in the Costa Rican capital of San José.
The regional meeting, held under the slogan "Mesoamérica nos une" ("Mesoamerica unites us") began Monday with representatives of ten governments from Central America, Colombia, the Dominican Republic and Mexico.
Only five presidents attended the one-day leaders' summit on Wednesday, in addition to foreign ministers and other officials, who held separate summits on the previous days.
Migration
Leaders who signed the summit's final declaration advocated for a comprehensive approach to address the causes of migration in the region.
The document highlights participating countries' concerns "about increasing actions that discriminate against migrants." It also expressed "deep rejection of racism and all forms of discrimination, xenophobia, intolerance and criminalization of migrants."
The declaration does not make any references to the United States, but most of the speeches mentioned President Donald Trump's immigration policies and his plans to build a wall along the border with Mexico.
Costa Rican President Luis Guillermo Solís said at a press conference that it is clear that the declaration refers to risks that the migrant population, and the region as a whole, faces as a result of immigration policies promoted by the Trump Administration.
Solís said he fully opposes Trump's border wall project but stressed that "[the summit] was not about the region vs. the U.S., but rather seeking joint solutions to common problems."
Panamanian President Juan Carlos Varela called for solidarity with migrants to safeguard their rights and prevent them from being victims of smugglers who take advantage of their needs.
U.S. relations
President Solís said the summit took place amid a constructive spirit of good relations with other countries.
"It was not a summit that sought to confront the U.S. or any other country," he said.
Foreign Minister Manuel González noted that none of the countries made a specific request to include or mention the United States or its immigration policies in the summit's final declaration. Mexican President Enrique Peña Nieto, however, thanked his counterparts for "the displays of solidarity and trust they have shown Mexico in recent months."
He stressed that Mexico "is facing very big challenges in building a new relationship" with the administration of President Trump, and pledged to keep all other countries informed about Mexico's negotiations with Washington, "in case they might affect them."
Trump's project to build a wall along the U.S.-Mexico border was also one of the main topics of Colombia's Juan Manuel Santos' speech.
"I think the best wall that can be built is progress in Central America and Mesoamerica," Santos said.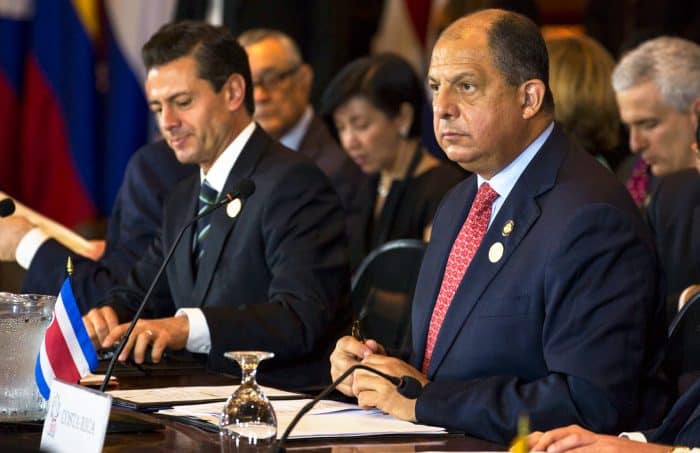 Environment
The impact of climate change on food security and general well-being of countries in the region was another high-priority issue, mentioned in almost every leader's closing speech at the Tuxtla summit.
Colombia's Santos criticized the Trump administration's decision to halt U.S. attempts to curb carbon dioxide emissions.
"There is a new world now, a more dangerous and riskier one," he said, adding that Trump's orders on Tuesday to dismantle "virtually all of [former President Barack] Obama's climate change policies," plus the vulnerability of the region countries against climate change, "forces us to make a much greater effort."
The summit's final declaration asks for more access to financial resources from developed countries for implementing plans for climate change adaptation and mitigation.
Signers also agreed to review and promote a regional development agenda to develop cross-border projects focused on energy, the environment, public transportation and public health.
Costa Rica's speech
President Solís noted in his closing speech that "the displacement of migrants has reached unprecedented levels, growing faster than the world population."
Solís said the region represented at the Tuxtla summit is facing several problems that require joint action, including migration flows, human rights, organized crime and climate change. He also took the opportunity to invite countries to get involved in the United Nations conference to negotiate a legally binding instrument to prohibit nuclear weapons, taking place this week in New York.
He called attention to the fact that nuclear weapons are the only weapons of mass destruction that have not been banned, unlike biological and chemical weapons, and said this "is a reality that can and should change."
The Tuxtla mechanism was launched in 1991 in the Mexican city of the same name with the goal of seeking development alliances on issues such as public infrastructure and energy. Costa Rica hosted the summit for the third time this year, following summits held here in 1996 and 2009. The next summit will take place in Honduras in 2019.