The number of hectares burned in wildfires inside protected lands so far this year is the highest since 2014, the National System of Conservation Areas (SINAC) reported this week.
Between Jan. 1 and March 21 a total of 25 wildfires destroyed 317 hectares of forests, pastures or grasslands inside national parks, natural reserves and other protected areas.
Environment Ministry (MINAE) records state wildfires in the same period of 2014 destroyed 117 hectares. The figure rose to 134 in 2015 and to 209 last year.
The most severe impact occurred at protected areas along the Pacific provinces of Guanacaste and Puntarenas. The Central Pacific has the worst numbers as five fires in this region consumed 144 hectares, according to SINAC's report.
Protected areas in the Chorotega Region —that comprises Guanacaste and Upala in Alajuela— followed in second place. Eight wildfires in the northwestern region have destroyed 111 hectares.
Seven wildfires in the Brunca Region, that includes protected areas in the South Pacific, have burned 62 hectares so far this year, and are third in SINAC's damage report.
Human action
SINAC's report states "100 percent of the wildfires inside protected areas occurred because of people's negligent or premeditated actions."
The main causes are fires started to clear farmlands and that went out of control. Also fires started by poachers and bonfires lit by vacationers in open fields.
Coordinator of SINAC's National Commission on Wildfires Luis Diego Román Madriz told The Tico Times that they are concerned about the increase in the number of hectares burned during the current dry season.
"We're still in March and the number of burned hectares usually spike drastically in April and May," Román said.
"Many farmers, for example, burn grasslands in May because rains usually begin that month and that fact usually cause a huge spike in wildfires, that in many cases extends to national parks and other natural reserves" he added.
Costa Rica has extensive legislation from MINAE and the Criminal Code stipulating monetary fines and prison time for provoking a wildfire inside a protected area. "Sanctions apply both for arsonists or for those who accidentally start a fire inside protected lands," Román said.
Environment Ministry laws stipulate monetary fines up to ₡3 million ($5,300) for people found guilty of starting a wildfire.
They also could face charges under the country's Forestry Law that provides prison sentences ranging from two months to 3 years for accidentally or intentionally starting a wildfire.
In case a fire provokes injure or death of people, suspects will face criminal charges that could result in convictions of up to 20 years in prison.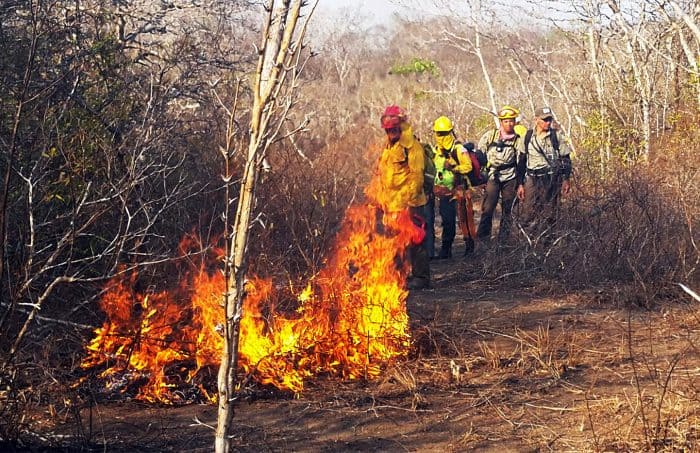 A matter of evidence
The main issue environmental officials face is that "proving or presenting compelling evidence against the alleged suspect of setting up a wildfire is very difficult," Román said.
Park rangers have legal authority to detain a suspect and file a criminal complaint before a Judicial court. "But they need a strong evidence or witnesses, and that's not always easy to find," he said.
Yet a conviction not always represent a punishment. Román recalled that a farmer in Southern San José was convicted last year to three years in prison for a wildfire that he started inside his property.
"He, however, was given probation because he didn't have any criminal records," he said.
The Agriculture and Livestock Ministry grants farmers permits for burning pasturelands, just as long as they comply with a series of measures to prevent the fire from expanding to nearby areas.
However a large number of wildfires result of the action of farmers that keep burning their lands without a permit, meaning, without following the appropriate safety measures, Román said.
Extended dry season
SINAC reported that current weather conditions are playing a key factor in the increase in figures of hectares burned by fires.
Costa Rica is currently amid the dry season, which usually runs December-May. "Strong winds, high temperatures and low relative humidity are causing a desiccation of the grasslands, and this facilitates conditions for a rapid expansion of blazes," Román said.
Forecasts from the National Meteorological Institute state that the dry season this year could even extend to June in some areas along the Pacific region.
"We're somehow afraid of the possible consequences of those weather previsions in the number of wildfires this year," he said.
SINAC officials are asking the population to avoid lighting bonfires. Also ask farmers to reduce grassland burnings or, at least, take all required provisions of the law.