NOSARA, Guanacaste — Nosara has some excellent accommodations, so long as you understand three nosareño idiosyncrasies.
One, there are no TVs in the finest hotels, or if there is a TV, there's only one, and it's not in your room.
Two, there are no beachfront hotels with a beach view except the Lagarta Lodge, which is on a hill above a beach. In all other hotels close to the beach, the ocean is completely obscured by vegetation.

Three, every hotel in Nosara with any prayer of remaining competitive is compelled to offer yoga and surfing, the two biggest attractions in this town. So even if that's not your thing, get ready to meet lots of healthy, mindful, flexible, active people in stretchy pants, board shorts and bikinis.
________________
Costa Rica's Greatest Places
In this series, Tico Times Travel takes an in-depth look at some of Costa Rica's greatest destinations, with multiple articles exploring their appeal. In February and March, we'll be looking at all the attractions of Nosara — yoga, surfing, hotels, restaurants, real estate and more.
PART I: Valle del Sol
PART II: Quepos/Manuel Antonio
PART III: The Flamingo Coast
PART IV: Nosara
________________
I spent close to six weeks in Nosara and compiled the following list of the 10 hotels I liked best. They are presented here in alphabetical order.

1. Bodhi Tree Yoga Resort
If there's one hotel in Nosara you could call "spectacular," it would be the Bodhi Tree. It's a marvel of design that pays homage to the Buddhist and Hindu aesthetics of Bali and India.
Perched on a hillside in south Guiones, the Bodhi Tree is approached by a long stairway with a waterfall gurgling beside it, creating the illusion of a temple on a hill. It's decorated throughout with Buddha statues imported from Bali and many other Eastern touches, including the mandalas in the woodwork above the lobby.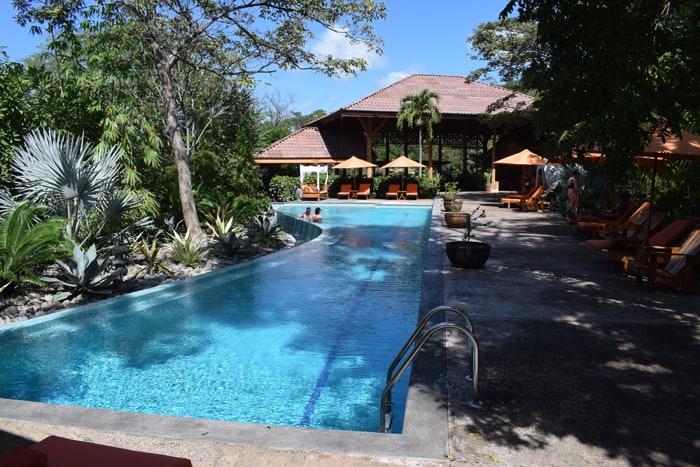 The long swimming pool between the juice bar and dining room comes with an optical illusion — whichever end you're at, it looks higher than the other. Any way you look at it, it's a sweet spot.
We stayed in two rooms here, and both were gorgeous — fluffy beds, stone showers, airy living rooms, nice artwork.
Yoga, Pilates, TRX and other classes are offered six or seven times a day in exquisitely designed shalas and gyms. There are surf lessons, surf camps, surfboards and a surf shop. There's a spa, where the massage I got was possibly my favorite 60 minutes in Nosara.
There's food, there's drink, there's live music, there's natural beauty and a real sense of tranquillity. What more could you ask?
And don't say television.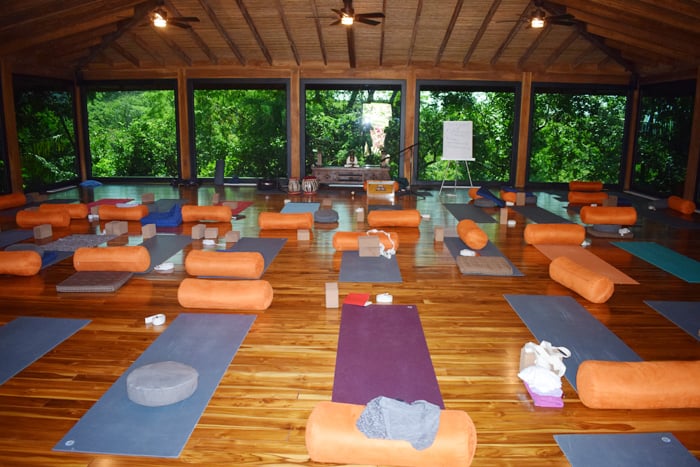 2. Club Paradise

I toured a bunch of deluxe homes in Guiones that cost north of $2,000 a week, and then I stayed at Club Paradise near the airport in Nosara centro, where cabinas cost $400 a month.
This struck me as an outstanding deal, considering there was air conditioning, television (!) and a basic little kitchen. Hot water? Not so much, but it's coming soon. Swimming pool? No, but there's good Wi-Fi, so if you want you can look up pictures of other people's swimming pools on your phone.
Club Paradise is almost completely unknown, and doesn't even have a sign in front except an archway with the word "CABINAS." The name comes from a 1986 movie about a hapless Gringo who buys a dilapidated resort in the Caribbean, and adventures ensue. Fitting.
The five units all have A/C, TV and little kitchens, with a mini-fridge, sink, two-burner hot plate and coffeemaker. Sure, the showers are cold, but you can take a two-minute shower and then watch a two-hour movie on HBO on your flatscreen TV, with beers cooling in the fridge.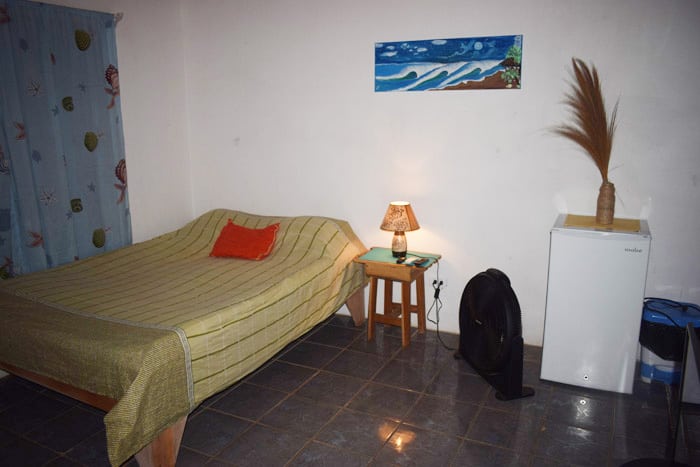 This is kind of a paradise in progress, with no on-site management and no restaurant or bar, though there's one next door. There is a rancho with a table, chairs, sink, barbecue and fridge, with lots of outlets to plug in your electronics.
This is more of a longer-term rental than a full-service hotel, but nightly rates are extremely competitive, at $40 to $50 depending on the season. If you can find a better deal at a nicer place, book it.
3. Giardino Tropicale
This is a 3-star hotel in Guiones run by a delightful woman from Chicago named Spacialle Novak who says her first ambition in life was to be an ice cream truck driver or a baseball player.
"But I'm a girl — puberty, you know, I was like 7 or 8 years old when I wanted to do this," she said. "Then I wanted to be a lawyer, and my aunt lived in Arizona, so I went to ASU to tour the law school, found out how much school you had to go through and thought yeah, maybe not."
Nowadays Spacialle, married to a Tico and caring for a large but timid old Rottweiler, runs the Giardino Tropicale, an 11-room hotel just off the main road in Guiones. It's a great spot, and it was booked full in January, so if you want to visit anytime soon, get in line.
"Every year we're getting more and more traffic, just because Nosara gets more and more publicity," she said. "It's great for tourism, but we're just kind of like breaking records all over the place — not just us, but the town. I mean, everybody I talk to: more people, more traffic, it's a busier October than ever.…
"It doesn't matter how fast we build the beds or toilets, they are coming," she said. "I was booked solid for Christmas earlier this year than I was last year."
There's an outstanding restaurant on-site, Le Bistrot, run by a couple of Swiss guys. Breakfast is served by the hotel in a different place, and Spacialle claims to have the best coffee in Costa Rica.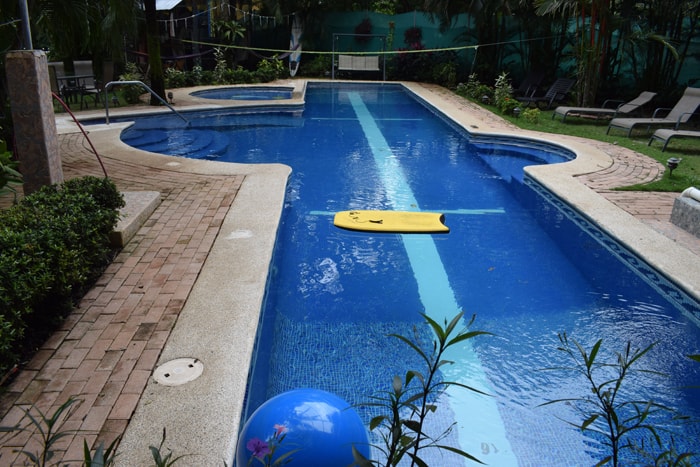 Most rooms here run about $155 double in the high season, $10 less in the low season and $20 more for Christmas and New Year's, taxes and breakfast not included.
4. Harmony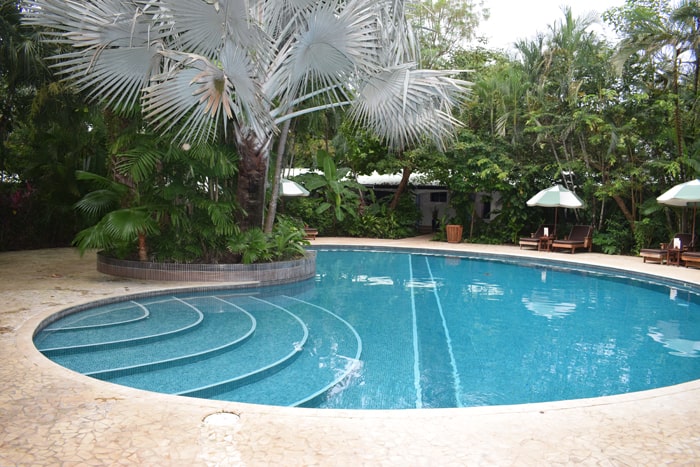 The Harmony is the best-known hotel in Nosara, thriving year after year on repeat business and word of mouth. With 24 luxury units in a very green space, a three-minute walk from Playa Guiones, the Harmony has a standout healing center/spa, yoga space, juice bar and free surfboards. This place is basically heaven on earth for the right customer, and they come back year after year.
"It was done by a New York designer who tried to keep it very natural, not a super-luxurious design but natural, organic," said general manager Pamela Carazo.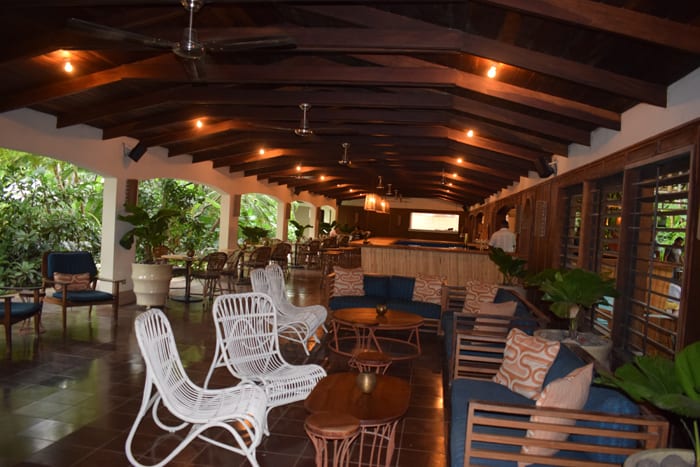 The Harmony is owned by John Johnson of the Johnson & Johnson family, who also owns Buzzfeed and recently acquired two other hotels in Nosara, the Harbor Reef and Sunset Shack. He met his wife, Susan, surfing here, and is something of a local celebrity, though he shuns publicity.
All rooms here have A/C, fans, Wi-Fi, mini-fridges, minibars and private patios with outdoor showers and seating areas. The hotel currently has three stars from the ICT but is expecting to be awarded four soon, Pamela said. It has five leaves from the Certification for Sustainable Tourism program as a result of its solar heaters, treatment plant, gray water irrigation and its avoidance of plastic bags, bottles and straws.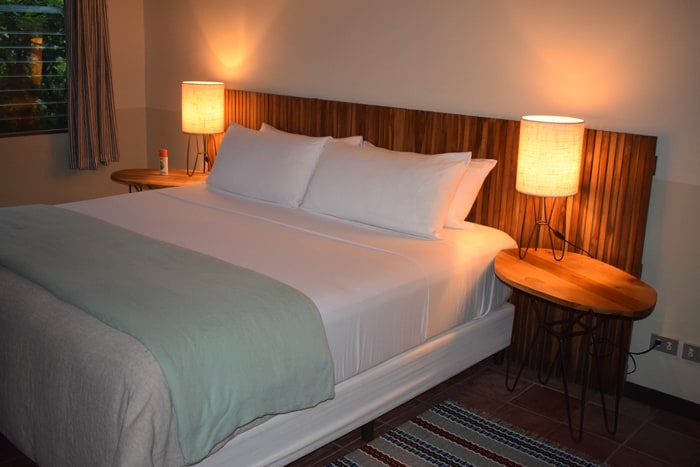 The extensive yoga program, discussed here, is very popular among both guests and Nosara residents, as are the massages and treatments at the Harmony Healing Centre.
Ten standard rooms called Coco rooms start at $360 a night; 13 larger bungalows start at $400, and the two-bedroom suite starts at $750.
5. Kaya Sol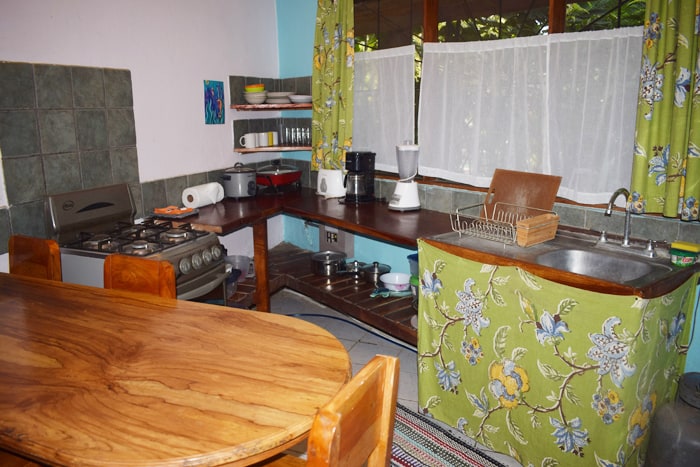 The concept here is simple but brilliant: Build a half-dozen hexagonal buildings, paint them yellow, purple, orange and other colors and turn them into hotel rooms. Most are split down the middle by a wall, creating two rooms, but there are a couple of casitas that are one unit, with kitchens.
The effect is like walking around a whimsical little village from a fairy tale, only with palm trees. Even better, the rooms have names like Cabina Piscina painted over the doors.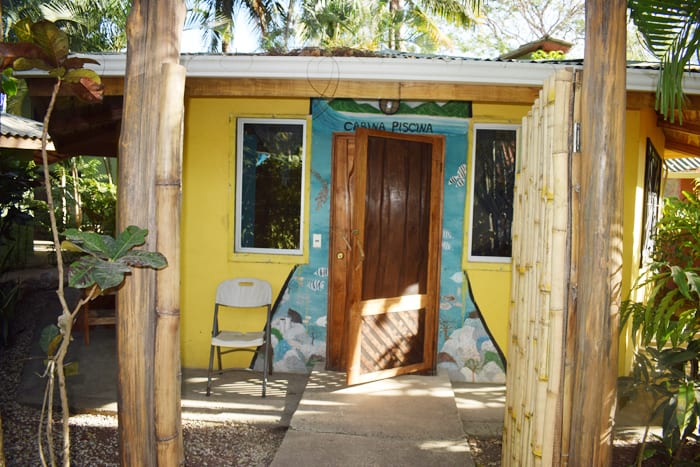 I toured La Casita, which has a kitchen and living room on one side and a queen bed, bunk bed, kids' loft and bath on the other. It was colorfully decorated with cloth prints of hummingbirds and butterflies, and the kitchen was fully equipped.
The swimming pool is a bit oddly designed, with a ramp that starts at the top of the water and descends gradually to the deep part. The guests I saw taking a dip in it were not complaining.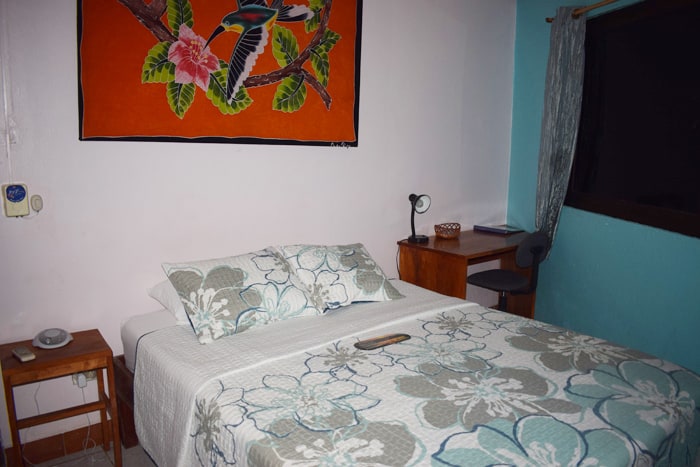 All rooms have A/C except the shared dorm, which has three fans. Standard rooms and casas have minifridges, safes and hot water. This being Nosara, there are no TVs in the rooms, but that didn't stop the ICT from awarding the Kaya Sol three stars.
Rates in the current high season are $28 dorm, $118 standard and $158 casas, tax included. The hotel is pet-friendly and welcomes families.
6. Lagarta Lodge
Our room at the Lagarta Lodge was a dream. ("Un esplendor," said Guiselle.) I liked the his and hers sinks, like big white bowls on the bathroom counter, in a bathroom big enough to have a small party in. You could fit a third of the guests in the shower, which is lined with pretty tiles that look like stone, with a chest-high window to the outdoors, al estilo tico (only with a screen).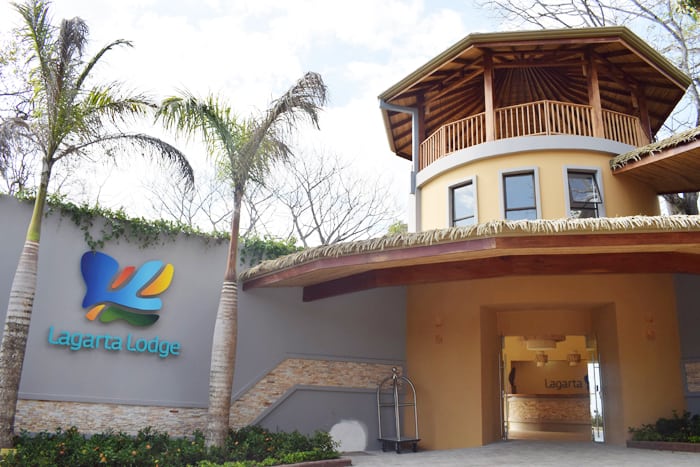 The bedroom was big enough to make the king bed look small, with a handsome wooden ceiling peaked in the middle so it looks like the hull of an upside-down boat. Bedside lamps made of coconut husks were a charming touch, and along with the lashed-together bamboo in the restaurant made me think of "Gilligan's Island."
The balcony was big enough to park four small cars. There was a chaise longue, two nice chairs, two footrests, an end table that doubled as my desk for the night, and two art elements recessed in the wall. And all of the furniture was brand-new.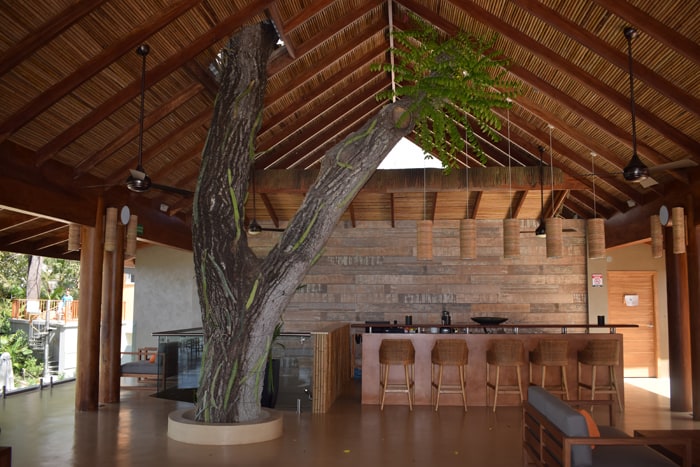 The Swiss-owned Lagarta Lodge reopened in January after two years of remodeling, an expansion from 12 rooms to 26 and a top-to-bottom redesign by a talented architect. It does not aspire to be the top yoga hotel or the top surf hotel, but it has an unsurpassed location, with a panoramic view of Bocas de Nosara, the beach north of Pelada where two rivers empty out, and behind that is a private nature reserve owned by Lagarta alongside the meandering Nosara River.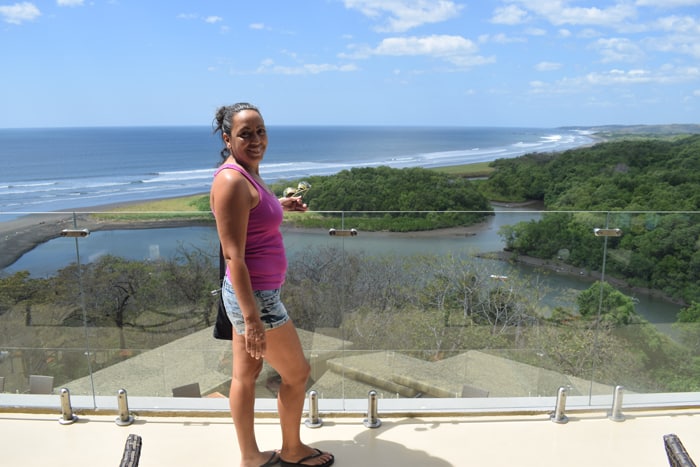 Most of the nice hotels in Nosara are close to the beach but cannot see the beach. Tierra Magnifica and Blue Spirit are the only other hotels I found in this town with an ocean view, but the ocean is distant. Lagarta has a sweeping ocean view, and the ocean is close.
Rates for the three types of suites range from $220 to $499, plus 13 percent tax.
7. Living Hotel

The Living Hotel is a really pretty property with a sky-high rancho towering over a nice swimming pool. There are 10 units: one with a king bed, five with a queen bed, and four with a bathroom shared by two rooms.
An organic vegetarian restaurant, Jasmine's Kitchen, serves breakfast and lunch, and there's a café and juice bar. (Guiselle, who is something of a coffee snob, said theirs was the best she'd had anywhere in this town.) The spa offers massages and facial treatments, and there's a yoga studio with a daily class at 10:30. There's private parking and a saltwater pool.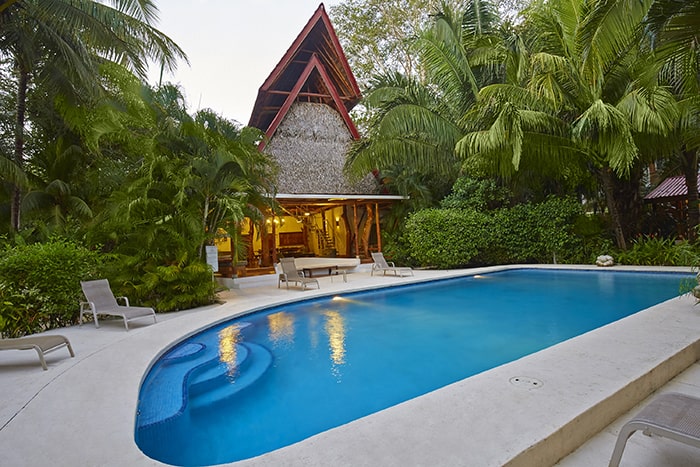 "It's a boutique hotel, and the style is a mix of modern, minimalist and rustic," said the Italian owner, Riccardo Micali, speaking in perfect Spanish. "The principal structure is a marvelous rancho. It's very simple. The predominant color is white, and there's lots of wood."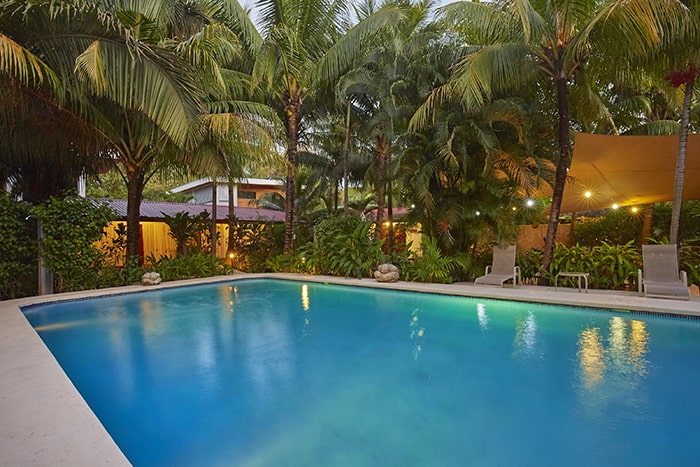 The hotel is adults only, 15 and up, from Nov. 1 to May 31, though in the low season it opens its doors to families. In the "closed season," September and October (when many hotels close down for want of business), the Living Hotel has experimented with cutting its prices 50 percent and operating like a "luxury hostel," with the restaurant and reception closed but with a shared kitchen and room cleaning every other day. That runs about $50 a day.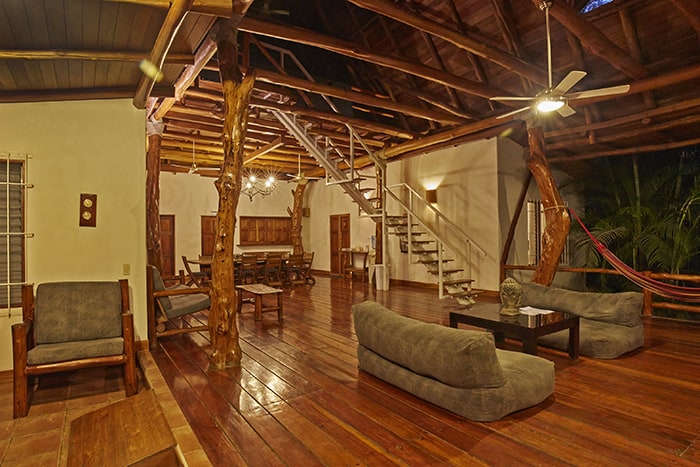 Normal rates this high season are $165 double with a private bath, $95 with a shared bath, taxes included. In the low season those prices come down to $120 and $80.
8. Nalu
We found our dream home on our last night in Nosara at Nalu, and my favorite part was learning the Superman punch in Domel's 90-minute muay thai class.
You jab, cross, right kick, and then feint a right kick but turn it into a powerful right fist, kicking back with your right foot like a mule to pour more power into your punch. Landed right, it's a devastating blow.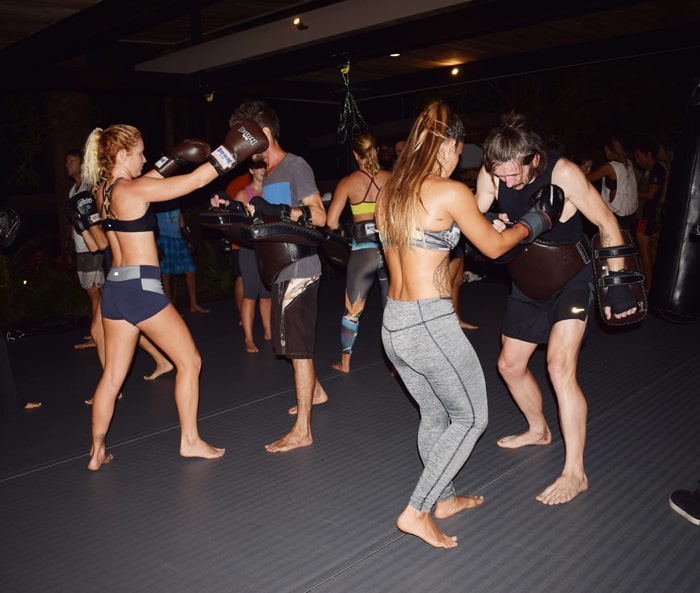 Domel, born in the Philippines and raised in the United States, learned muay thai in Thailand and married a Russian named Mariya who was also raised in the States. Her mastery of yoga is every bit as impressive as her husband's expertise in martial arts.
They came up with a fabulous concept: Instead of building another yoga hotel, why not build three super-duper homes that could rent for $325 a night and put a yoga/dance/martial arts studio in front? Offer five or six classes a day — hiphop, jazz, karate, yoga — for adults and kids, and pack 'em in. The result of this brainstorm is Nalu, which is brand-new as of December 2016.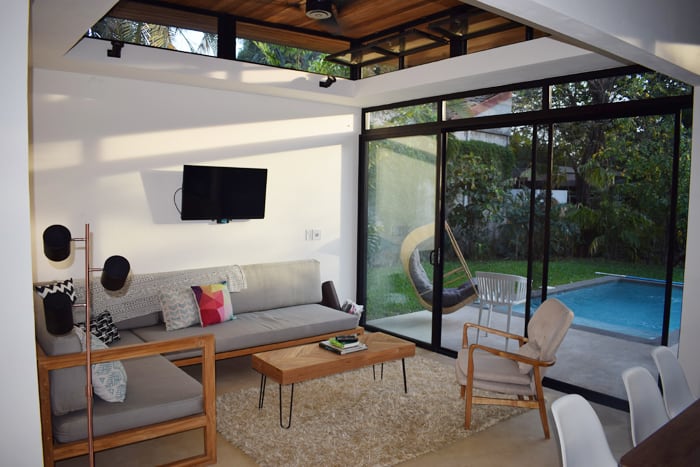 Designed by the talented architect Benjamin García Saxe, the homes have two to three bedrooms, two to three bathrooms, private plunge pools, washers and dryers and fully equipped kitchens. There are also gigantic front doors, roughly five and a half feet wide, as if you're entering a castle.
Our kitchen was a marvel, with a GE refrigerator, a Whirlpool stove, a Ninja blender, a Cuisinart coffeemaker and a Hamilton Beach toaster — all of it brand-new. Clearly this house was not furnished at Pequeño Mundo.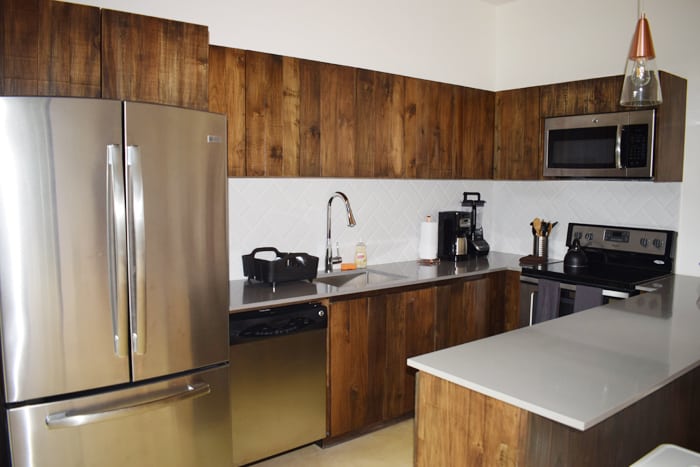 Bathrooms have indoor/outdoor rain showers, and most of the walls are made of glass. There are ceiling fans inside and out, and innovative ceilings with windows that open just beneath them for ventilation. There's A/C too if you ever need it, which we didn't. There's even a television.
Two-bedroom villas cost $255 a night in the low season, $325 in the high, $425 for Thanksgiving and Easter and $650 for Christmas and New Year's. All rates are plus 13 percent tax, and there's a three-night minimum stay.
But nowhere else do they teach the Superman punch better.
9. Olas Verdes

This is the first place I stayed in Nosara, and it kind of spoiled me. It opened just a year ago as of December and still has that "new hotel smell." For any modernist who likes the tropics, it's more than heart could wish.
My second-story suite had two main rooms with 20-foot-tall arched ceilings made of honey-blond wood, matching the beautiful kitchen cabinets. In the living room/kitchen there was a full-size refrigerator, sink, microwave, coffeemaker, breakfast bar, and elegant, contemporary couch and coffee table, with one all-glass wall looking out on nothing but leaves.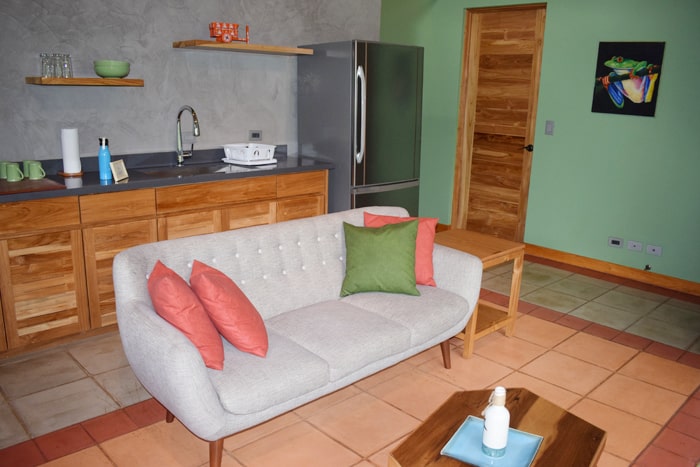 The bedroom had a queen bed with six pillows plus a twin bed, as well as a dresser, desk and safe, with a view of the pool. The bathroom had red tile walls and a half-wall of elaborate stonework serving as a shower curtain.
All bedrooms here are air-conditioned, and all rooms have high-tech, efficient, silent, strong ceiling fans with graphite blades made by a Kentucky provider that actually calls itself Big Ass Fans.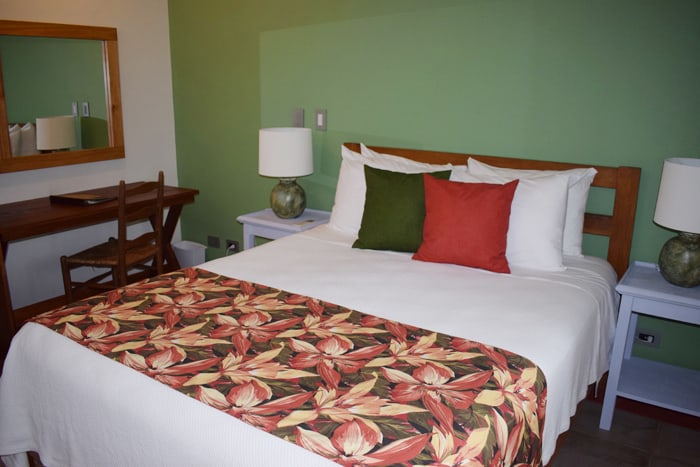 General Manager Luis Pardo told me that Olas Verdes is the first surf hotel in the world to obtain a platinum LEED certification for energy efficiency.
Speaking of surfing, there's an on-site surf school called Safari, and Playa Guiones is 150 meters away down a muddy little path. There's also a good restaurant here called El Manglar, where I dined on jumbo garlic shrimp with mashed potatoes and vegetables, with a couple of two-for-one guaro sours, that set me back only $27.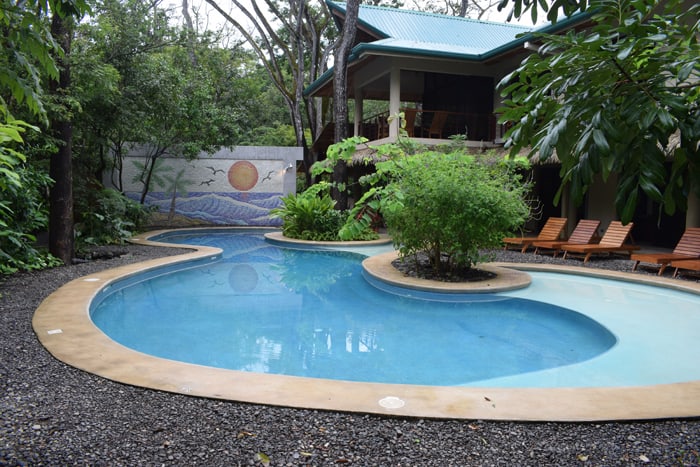 There's a curvy swimming pool in the middle of the complex. And another nice plus, a great rarity in this country: free laundry service.
One personal touch that actually touched me: There was a sturdy, blue aluminum water bottle waiting on the countertop with my name, "KARL," neatly printed on a tag attached to it. It's a gift that every guest receives to encourage them to avoid single-use plastic bottles.
Most of the 17 suites here go for $225 double in the low season to $315 in the high, plus tax, with breakfast included. And there are three poolside suites for solo travelers or couples that range from $135 to $185 for one person, and a bit more for two.
10. Tierra Magnifica
With a stunning view of unbroken green hills stretching all the way to Playa Guiones, Tierra Magnifica is a very popular spot for weddings. The bride, groom and their attendants stand on a grassy deck looking out on this view, while guests are seated around the pool.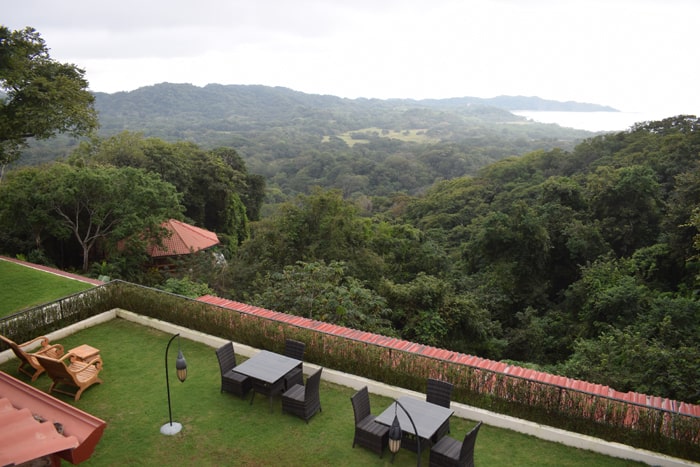 "We've had weddings with 200 people up here for a sit-down dinner, or up to 300 people with a buffet," said César Pizzy, manager of operations and guest services here. "We have a three-day party."
Much of the furniture here is imported from Indonesia or Thailand. In the master suite often booked by the bride and groom, striking artwork and beautiful reddish-brown doors and closets complete the look. But like the bride's dress, rooms here are mostly white, the hotel's signature color.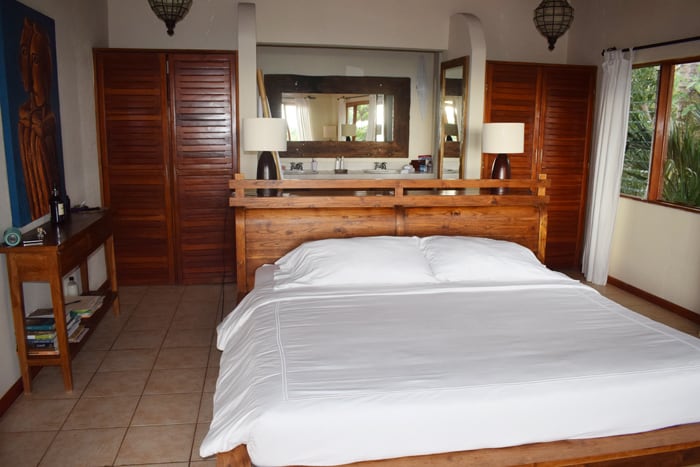 Tierra Magnifica specializes in weddings and family celebrations, frequently renting the entire hotel (nine rooms) to one group. But lately it's branched out more into renting individual rooms to couples or singles.
All rooms have A/C, ceiling fans and all the creature comforts, though there's neither TV nor Wi-Fi in the rooms. "We want people coming out of the room, not staying in the room the whole time," César said. Wi-Fi is offered in the restaurant and lounge area of the central part of the hotel. "People come out and hang out here," César said.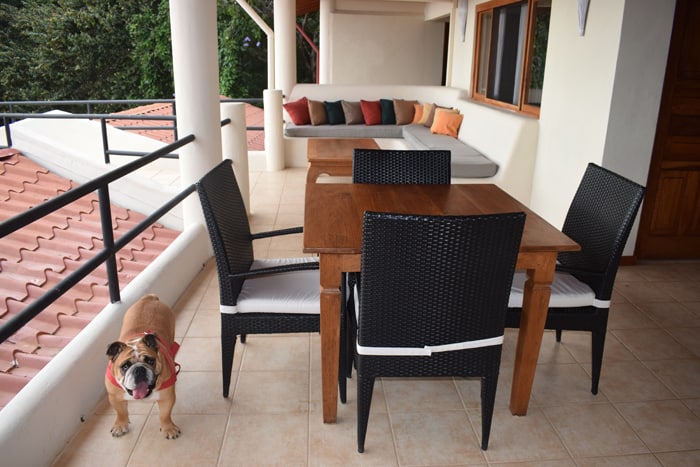 Rates for each of the varied rooms here range from $190 to $400, plus tax, with breakfast included.
Contact Karl Kahler at kkahler@ticotimes.net