Love of art and music has been a constant in the life of Costa Rican musician Randall Nájera, who began studying at the Castella Conservatory in Heredia at a young age.
"No one at home was a musician," he recalls. "It was a working home. [At the time] my mother worked as a tailor and my father as an orthopedic shoemaker. For me it was fascinating to go the Castella, because you had the chance to spend time with people practicing different artistic disciplines along with amazing professors."
He went on to study at the University of Costa Rica (UCR), where he studied the double bass at the music department (he can also play the violin, guitar, and electric bass). Today, Nájera, 44, plays with the Costa Rican band Peregrino Gris, which performs original compositions of Celtic music. He has performed with the band for fifteen years.
In addition to his work as a performer, Nájera is a teacher at the Bansbach Academy and gives private lessons.
On a muggy heat-wave evening at the San Pedro restaurant El Cocorrico Verde, The Tico Times asked Nájera about his life and work. Excerpts follow.
What about music caught your attention?
When you're playing an instrument and communicating with other friends on a musical level, you experiment a lot of sensations and beauty. When you play classical music, every person is different on a psychological level and in maturity at an orchestra, but in the moment in which [we play], there's a special mental and social harmonization. It doesn't matter if we're all different. For an instant, we're united and we're creating something beautiful. It just feels awesome. It's like magic. You're being part of something that's very big.
When you have to interpret other types of music and there's more improvisation involved, it's more fascinating because things are not pre-planned. You've got to dialogue musically with your friends when they are playing. You listen to a musical idea played by a pianist or saxophonist and you get caught in it. You want to respond to that commentary in a way in which you're supporting what he's saying. You just keep playing and create a climax. In jazz, for example, the soloist tells the story, you support it, end it and begin telling your own story. It's just beautiful.
Even though it only lasts a moment, that doesn't matter. The feeling and sensations are not permanent. It's just like life; things come and go. The more that you have these types of moments, the more interesting life gets.
How do you prepare, and what type of music do you like to interpret?
I love music in general. Every type of music makes me feel something different and I appreciate each one of those [feelings]. Regarding the preparation process, there's music you can prepare and other music you can't. For classical music you have the opportunity to study it and learn it as best you can. With Peregrino Gris we like to play our own compositions, so we've got to compose them and assemble them together as group to then record them as an album.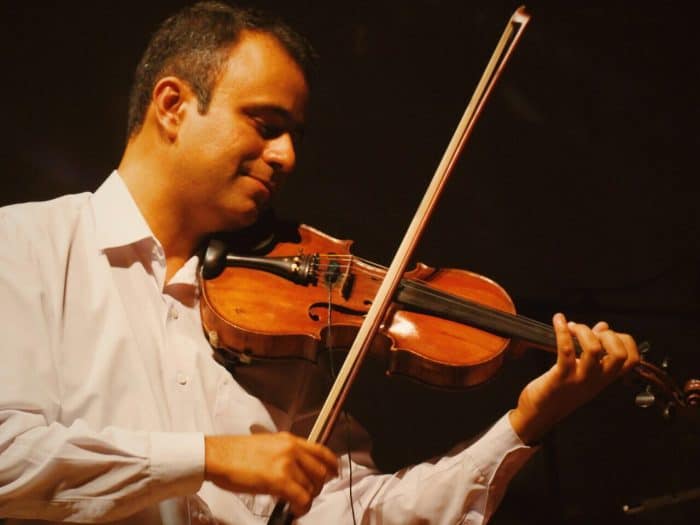 What's your composition process?
The idea can come up when I'm meditating or while I'm walking down the street. I've got to wait for that specific moment, and months go by in that process. If you compose from theory, you can create many compositions in a week, but that's no fun for me. I think I'm a person searching for fun.
Many of the compositions come out that way, so I love it when I can listen to something that's a mental result of what I was creating. It's very enjoyable for me, but it's very strange that one appreciates something that in theory doesn't come from oneself. It doesn't come from an intellectual construction, but more from luck, a melody or an idea.
What's the story of Peregrino Gris?
In 2001 there was a party for Saint Patrick's Day and a couple of friends from Ireland invited [two of my future bandmates] to the party. They were invited to play, so they prepared four Celtic songs and that's where Peregrino Gris was born. We're going to turn sixteen years old this year.
At the time, a man who had a radio program listened to the music and he began taking Peregrino Gris to perform at a restaurant called La Cajeta in Orosi, Cartago. After that, the space at Jazz Café San Pedro was available, and Peregrino Gris began growing.
What do you enjoy most about performing?
The thing that I most enjoy is what my friends are doing. For me it's a privilege to play in Peregrino Gris because I'm next to people who play very strange music with very strange instruments and I'm the first spectator… Each musical note I play [helps] Peregrino Gris when performing, but what I most enjoy is listening to the concert. Even though it's been a lot of years playing with this group, I never get tired of it.
It's always nice to play the compositions and I love it because each time they come out differently. Something always happens. I also like it when there's an error because we're able to overcome it and continue playing. Oftentimes there are things we know about, but the audience doesn't notice. You can flirt with the error and continue.
Read more Weekend Arts Spotlight interviews here.
Our "Weekend Arts Spotlight" presents Sunday interviews with artists who are from, working in, or inspired by Costa Rica, ranging from writers and actors to dancers and musicians. Do you know of an artist we should consider, whether a long-time favorite or an up-and-comer? Email us at kstanley@ticotimes.net.