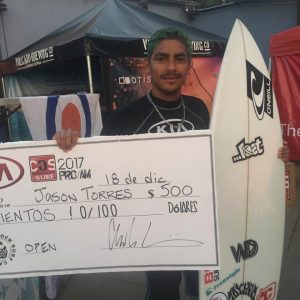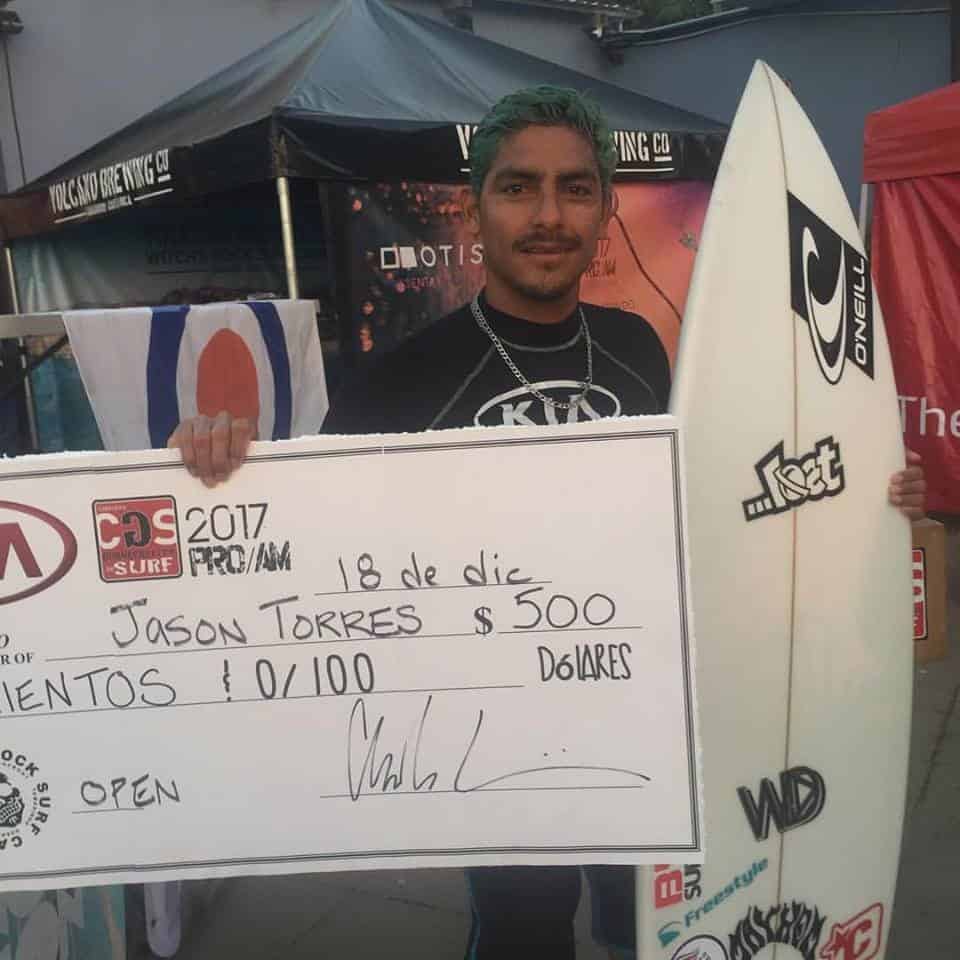 While Tamarindo is generally known as an excellent base for surfers, with no less than five world-class breaks within 30 minutes of the center of town, the bay itself and the river mouth have a reputation for smaller waves. Over the past year, however, Tamarindo's waters boasted spectacular conditions, benefitting from swell after swell for months at a time. This provided a nice stage for contests such as Circuito Guanacaste de Surf (CGS) to mount exciting surfing competitions.
This weekend, OTIS Costa Rica presented the KIA CGS 2017 PRO/AM, which kicked off its fourth year with two days of the smallest waves the area has seen in a while. However, as famous surfer Robert August pointed out as he watched the finals: "If you can make horrible waves look good, then you are a good surfer."
Naturally, the waves were the main topic of conversation between the competitors at the Copa Witch's Rock Surf Camp this weekend. CGS co-founder Toni Vandewalle acknowledged that the size didn't deter surfers from working all kinds of maneuvers when they chose the right wave. After all, he noted, the judges awarded three perfect 10 scores on Saturday, and another on Sunday (see Best Wave below).
"I'm not frustrated because generally, surf as a sport takes place a lot of times in small waves," said Vandewalle. "This is good practice for events like the international Junior Pros or the QS (World Surf League's Qualifying Series) dates in Florida."
Jason Torres, the Jacó surfer who won the event in the Open category and came away with $500 for his efforts, concurred with Vandewalle. He said he was happy to surf in Tamarindo this weekend because these kinds of conditions help prepare him for his QS run next year.
"It's fun because you have to compete and surf in these conditions," Torres explained. "You have to figure out how to do it, what strategy to use when you compete in these kinds of events. Normally, all the events in the QS are like that, small waves or choppy or maybe worse. It's good training for me to get ready for next year."
Tamarindo's own Lia Díaz, who won 1st place in the Girls division, was very comfortable riding on her home break, crediting her familiarity there with her success.
"Being a local really helped a lot because when I surf the waves here, they have usually been like this recently. My specialty is small waves," the 12-year-old said. Diaz is the daughter of former national surf champion Andrea Díaz.
Legacy surfing was not limited to the Díaz family. Eleven-year-old Ziggy Myrie of Jacó, who won 1st place in the Groms, is the son of former national surf champion Nino Myrie, who often gets his child into the waves of his hometown, Puerto Viejo.
Meanwhile, another female caught the judges' attention this weekend — 13-year-old Ruby Brownell of Avellanas. In only her second year of surfing, and second year of competing in the CGS, Brownell found herself in three finals: Women's (which she won), Girls (Under 16) and Boys (Under 14).
According to Vandewall, Brownell is a "solid surfer with a beautiful style, flow and speed that you rarely see in girls."
That style definitely helps her when she competes in the Boys division. This weekend she came in 3rd place in that category, one she particularly loves doing because it pushes her level. She credits both her Women's win — against powerhouses Emily Gussoni and Coral Wiggins — and her finals' placements in Boys and Girls with a lot of training in what she considers "bad waves" as well.
"I always felt I surf different from other girls, nothing specific, just a different style of surfing. My dad taught me how to surf and he was on the U.S. team when he was younger," she explained. "I was surprised how well I did here, and really happy. I can't wait to tell my dad."
Another kid who showed up in three finals was Tiago Carrique from Playa Negra. Carrique, who won Boys (Under 16) was coming off an excellent showing in competitions in Europe. And there was 12-year-old Axel Castro from Limón, who just picked up the 2016 New Revelation of Surfing Award at the Surfing Republic's ceremony last week in San José for his skills in the water and in school. He won the Boys (Under 14) in Tamarindo, an accolade that puts him on the right track to earning another title; he is the current national MiniGrommet champion, and was last year's CGS Grom overall winner.
In total, Vandewalle said the first date of the CGS was a big success. He is very optimistic about the tournament this year, not only for the surfable locations of the contests but for the number of participants he expects to register but also for the presentation improvements.
"It's the small details," he said. "First of all, we have a big sponsor with KIA, and I hope to break even, which is the goal on the business side. We now have sponsor tents to allow the surfers to have shade from the sun between heats. It's the little things like our now being environmentally responsible — we brought our own containers for food and cups for drinking, and nothing goes into the trash. We also now have full-time live scoring so competitors know their situations while in the water and can surf accordingly."
The next date of the CGS is February 11-12 in Marbella, followed by March 11-12 in Santa Teresa, April 8-9 in Avellanas and the finals May 6-7 in Playa Negra. For more information, and to register for the dates, please go to http://www.surfcgs.com/home/.
OTIS presents KIA CGS 2017 PRO/AM Copa Witch's Rock Surf Camp
December 17-18, 2016
Playa Tamarindo
Open
1. Jason Torres
2. Tiago carrique
3. Angelo Bonomelli
4. Ramon Taliani
Open Women
1. Ruby Brownell
2. Coral Wiggins
3. Emily Gussoni
4. Elisa Bonomelli
Juniors
1. Dean Vandewalle
2. Malakai Martinez
3. Tiago Carrique
4. Orion Eschel
Boys U16
1. Tiago Carrique
2. Sam Reidy
3. Dean Vandewalle
4. Malakai Martinez
Girls U16
1. Lia Diaz
2. Ruby Brownell
3. Coral Wiggins
4. Erika Solís
Boys U14
1. Axel Castro
2. Tiago Leao
3. Ruby Brownell
4. Odin Rodriguez
Groms
1. Ziggy Myrie
2. Pietro Garroux
3. Kalani Abrahao
4. Isaiah Dawson
Best Score
Jason Torres
Best Wave
Jason Torres 10pt quarterfinals
Angelo Bonomelli 10pt quarterfinals
Malakai Martinez 10pt U16 semifinals