"Following vivid dreams and color signposts, she left New Mexico at the height of the 2008 U.S. financial crisis for a life she could never have planned – a life of spiritual exploration, deep love, heartbreaking loss and emerging hope in southern Costa Rica."
Those lines are from the back cover of Jan Hart's new book, "A Woman Awakens." Hart is an artist, writer and teacher who came to Costa Rica eight years ago, finding new beginnings and challenges. This experience and the life that led up to it are reflected in the book, where she describe her spiritual journey along and all the supposed coincidences that led her to where she is now. In keeping with her passion for art, the book includes her watercolor paintings and is divided into sections according to the dominant color of each phase of our journey.
"When I teach, I am explaining in words what I am talking about. It is not too big a leap to then write the words instead of speaking them. It feels quite natural to bring the two together," said Hart, who has a BA degree in Zoology and Chemistry and a Master's degree in Architecture..  "I do find that it is easier for me to write when I am alone. In a teaching situation with students, it is easiest for me to paint.
The Tico Times talked to the artist about her new book, her art and her new life in Costa Rica. Excerpts follow.
How long have you been writing, and why did you start doing it?
I have been writing for most of my adult life, though at first it was primarily personal – journals, extended letters to family and friends. I began writing more seriously and consistently when I moved to New Mexico from Seattle in 1993, [leaving behind my] regular job in architecture. I began teaching watercolor through a local community college and then privately, in my studio. I started writing "Letters from Española" that I sent out to a personal mailing list of friends and family via snail mail. The internet and email didn't arrive until the mid 90s. In 2002 I built my own website using Dreamweaver for Dummies and began a regular newsletter I called HartNews which I "published" via email, and which is still going 14 years later.
As a teacher, I felt I had something to say and really wanted to pass on the information I had about painting, seeing, and watercolor. And I really wanted to write a book.
In 2005 I was approached by a publishing house based in London, England to write "The Watercolor Artist's Guide to Exceptional Color." It was a grueling process of two years to paint all the paintings and do all the color/pigment experiments and examples, photograph them and then send them to London. But it ended up as a highly acclaimed book, published in 2007.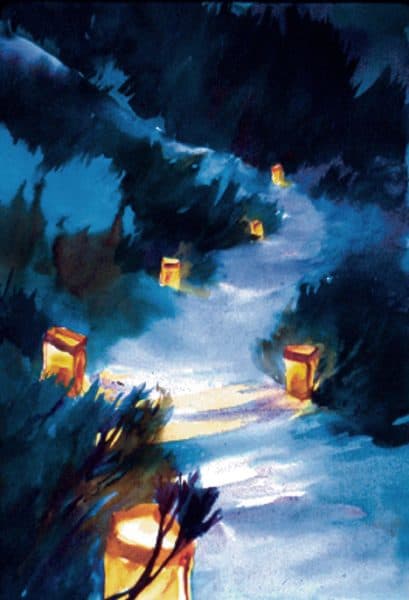 You have been painting for over 35 years. How did you discover you had that talent?
It seems that I grew up with a pencil or a brush in my hand. Drawing or painting was something I simply never knew not to do. My parents encouraged my drawing, and though I believe that "talent" is a slippery concept, I was fortunate to never have run into anyone who thought I couldn't draw. I developed a confidence born of encouraged experience. In 1983 I took my first watercolor class after my first year in architecture school at the University of Oregon. I enrolled in it because I felt that I needed art to provide some balance with the rigor of my architecture studies. As a graduate student at UO, I was able to teach – and so I decided to start teaching watercolor the semester after I took my first class. I figured that I was at least a semester ahead of any students I would have. And at nearly 74, I haven't stopped.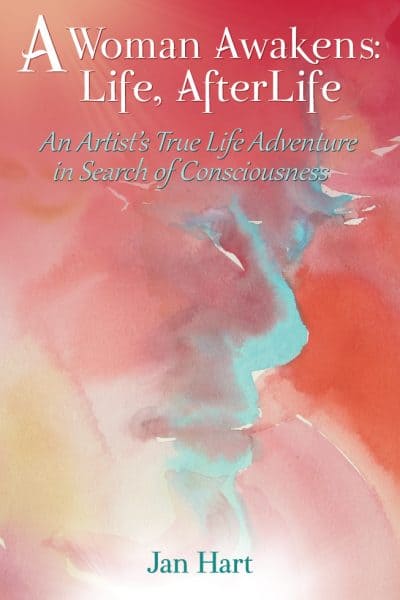 What was the process of writing your latest book like?
"A Woman Awakens: Life, AfterLife" is quite a different book. It is a personal memoir of an 18-year search for spiritual understanding of consciousness. It contains over thirty of my paintings in what I call Galleries, between the chapters. It was the story of what happened to me in my life that inspired the writing. I began writing it in 2008, when I arrived in Costa Rica – again because I arrived alone and had a lot of time on my hands.  I began writing about how I kind of fell out of the U.S. and into Costa Rica and the synchronicities and magic that got me to the Tico house I bought. Then, I met Frank [Thompson], a Canadian expat, and fell in love at 68. I began to understand that there was an even bigger story.  And it continued – and got bigger.
What made you start working with watercolors?
I started out painting in oils when I was still in school and continued as a wife and mother before my divorce in 1982. After the divorce I entered architecture school, where I was introduced to a long history of the use of watercolor in architectural drawings and renderings. I knew as soon as I tried watercolor that it was the medium for me! I loved that it was not easily controllable and saw the parallels with life. Not always controllable.
I did not create the paintings particularly for the book. I selected paintings from the past that I felt were relevant to the subject of the chapter and the story. For example, after Chapter 1 where I describe waking in Intensive Care to see a white pigeon on the outdoor window ledge, I selected a favorite painting of a white pigeon and then went on to describe the process of painting it. In another chapter, "Nearly Drowning," which dealt with my grief over Frank's sudden, unexpected death, I followed it with a painting of water, done during a depression and titled, "Heading Upstream."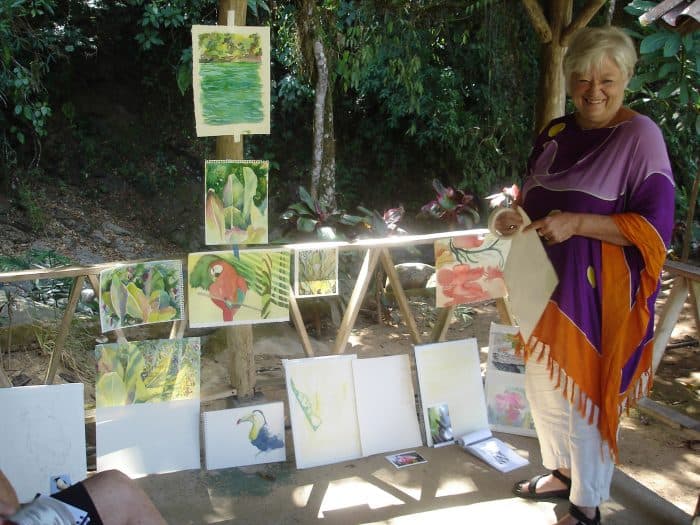 Tell me about your life in Perez Zeledón.
It is a pretty quiet and simple one, surrounded by my peaceful Tico neighbors, an expansive view over the city and the companionship of my two dogs, Seurat and Frida, and my parrot, Sage. Over the nearly eight years I've lived here I have built two cabins and an outdoor studio with a kitchen for students who come to visit – and have rebuilt the old, rickety Tico house I bought in 2008 in a 10-minute decision based upon the synchronicities and small miracles that led me to it. My passion is teaching. So now I enjoy five-day painting and/or writing intensives for those who choose to come. I see my teaching as sharing what I've learned and hope to inspire and help others toward their own goals and skills – in paint or words.
Our "Weekend Arts Spotlight" presents Sunday interviews with artists who are from, working in, or inspired by Costa Rica, ranging from writers and actors to dancers and musicians. Do you know of an artist we should consider, whether a long-time favorite or an up-and-comer? Email us at kstanley@ticotimes.net.