As rains continue in the aftermath of Hurricane Otto's passage over Costa Rica, the official death toll stands at 10 people at the time of this writing on Monday evening, including a 20-month-old baby.
President Luis Guillermo Solís confirmed the figure and raised a flag at half-mast at the beginning of the three days of national mourning decreed to honor the victims. Solís declined to cite the number of people now missing, saying that "it would be a mere speculation."
At a press conference at the National Emergency Commission (CNE), Solís confirmed that authorities' work now focuses on cleaning houses and roads filled with debris in the most damaged communities, mainly in the country's Northern Zone. Public services agencies are working to restore water, electricity and telecommunications services, which are gradually returning to normal in most of the country, Solís said.
CNE President Iván Brenes said that while some people are returning to their homes, there are still 3,334 people at 34 shelters.
Brenes addressed questions about multiple complaints from people in the damaged areas who claim that they have not received any food or supplies. He said emergency agencies are doing their utmost to reach all affected areas and assist them, but harsh weather conditions have prevented them from reaching some areas.
Helicopters and planes from Panama and the United States are helping with these missions, he noted.
Las aeronaves del @SENANPanama han sido vitales en este puente aéreo que hemos establecido para llevar asistencia humanitaria a Upala pic.twitter.com/PUZAqWf6VO

— Gustavo Mata Vega (@gustavomatacr) November 28, 2016
Brenes said 500 National Police officers and 200 Judicial Investigation Police officers joined the efforts to collect and distribute food and other essential supplies. The Red Cross, the Firefighters' Corps, CNE and other volunteers launched the supply distributionprocess on Friday.
Brenes also confirmed that as of Monday there are only six cantons under a Red Emergency Alert, four of them in the Northern Zone (Upala, Bagaces, Guatuso and Los Chiles) and two in the Southern Pacific (Golfito and Corredores).
There are also two cantons in Yellow, or Preventive, Alert: La Cruz in Guanacaste and Osa in the Southern Pacífic.
President Solís thanked all the people who are donating for the relief efforts and asked them to keep helping. He also said that the National Animal Health Service requires food for cows, chickens, pigs and other farm animals.
Showers continue
Juan Carlos Fallas ,the director of the National Meteorological Institute (IMN), said on Monday morning that current rainy conditions are not related to Hurricane Otto. The sixth cold front of the season is responsible for rains  in many parts of the country since the weekend, he explained.
Fallas said major showers are currently hitting the Caribbean region, the Central and Southern Pacific, and the Central Valley. Showers and thunderstorms will also be present in the Central and Southern Pacific, the IMN reported.
"Weather conditions will gradually improve starting Tuesday afternoon, especially in the Caribbean and the Northern Zone, but we will continue evaluating the changing rainfall," Fallas said.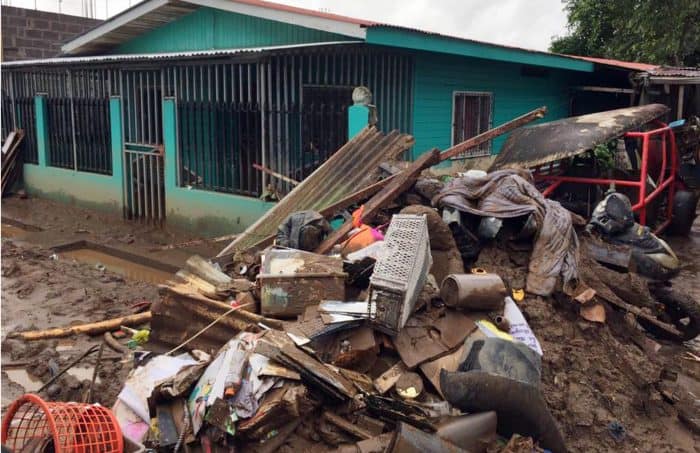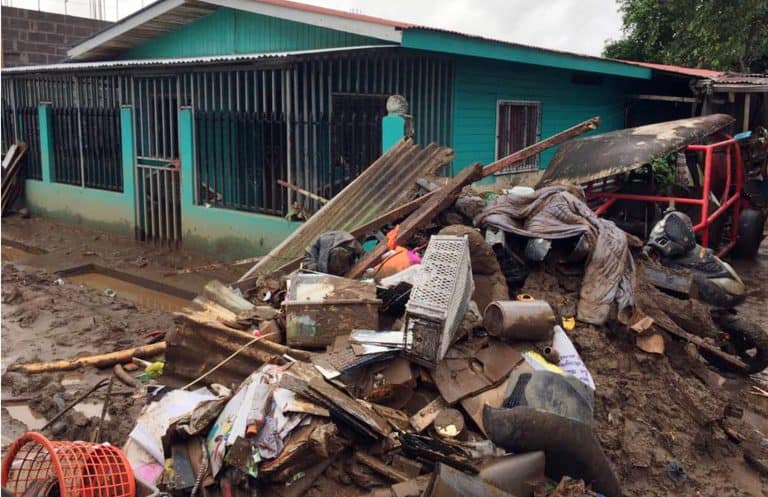 Health measures
Health Minister María Ester Anchía said authorities are coordinating actions to ensure good hygienic management inside shelters, in order to prevent any outbreaks of disease or viruses.
"We are making sure that all shelters have water for cleaning purposes and also making sure that all water for human consumption has adequate levels of chlorination. We are working to maintain proper waste management," she said.
The CNE's Brenes said the commission is sending more portable showers and restrooms to shelters, as well as personal hygiene supplies to improve the evacuees' sanitary conditions.
Spectators, go away
Public Security Minister Gustavo Mata asked the population to refrain from visiting Upala and other damaged areas, as unauthorized people entering the area are complicating vehicle access for emergency agencies. Mata said the ministry has received reports of people visiting the area just to take photographs and selfies with destroyed properties and flooded areas.
The minister warned people that police officers will detain anyone they find engaging in this and charge them for obstructing their work.
Mata said that visiting the area out of curiosity also puts the rubberneckers themselves at risk due to the current state of many roads and bridges that were damaged during the passage of Hurricane Otto.
Detendremos a los turistas morbosos! No ayudan y tras de eso estorban a cuerpos de socorro, al voluntariado que sí trabaja y a los vecinos pic.twitter.com/lrMWxn0jDy

— Gustavo Mata Vega (@gustavomatacr) November 27, 2016