"Los Malafachas" are a couple who have not only connected to each other in their love life, but also in their work. Their secret: laughter.
They are Lola Carambola and Karim Malafacha – a couple of clowns, literally. 
Laura Cordero, who is Costa Rican,  and Carlos Leiva, who is Guatemalan-Lebanese and whose name in Lebanon is Karim Houdrouge, founded "Los Malafachas," a circus-theater-clown company, eight years ago. They have traveled through Central America, Colombia, Argentina, Chile, Spain, Germany, Italy, and France, with one objective in mind: delivering smiles and sharing the beautiful art of clowning with people of all ages and backgrounds.
Cordero and Leiva have been together in Costa Rica for four years, and say that there are rich opportunities here country to learn and grow as artists. The Tico Times spoke to the couple about their company, three peculiar members of "Los Malafachas," and what it means to be a clown. Excerpts follow.
Why did you decide to be clowns, and how did you start working together?
Karim: Well, because of the comedy. We started with theater, and through our performances, we realized we were funny. Making people laugh is addictive. It makes people feel good, and that makes us feel good, too. Life has guided us.
We met in Guatemala eight years ago, in a theater group financed by the Spanish Cultural Center. We took an intensive course in theater production, and after that we decided to take our own path. We both always had that idea of making a circus. I started out with a nongovernmental organization in Guatemala called Caja Lúdica, which improved human development through art.
Lola: I feel like I didn't choose it; it chose me. I always say that, because before I knew it, I was a clown. When I met Karim, he was already a clown, and I was interested in the technique but had never studied it… I had started in contemporary dance, which led me to juggling with fire. That's where I got to into circus [performance].  Then I started to travel, and that's how I met Karim and started this project together.
We have been in Costa Rica for four years now, and we have learned a lot. It's been really helpful. We are also part of "Formador de Formadores," a project of Parque La Libertad [in Desamparados].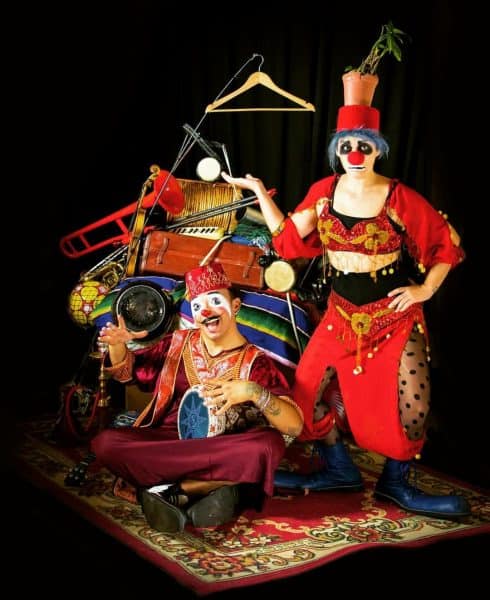 What is "Los Malafachas"?
L: It's a company where the main idea is the freedom, the freedom of expression. Karim juggles and does object manipulation, and rides the unicycle.
K: And we play a lot of characters. For example we have one who is extremely orderly, and one who messes everything up and creates chaos. So we are good together on stage, because of our personalities. We try to uphold the reputation of clowns. Being a clown is really misunderstood.
When we take our show to different places, it's always different. We always have to adapt it because the comedy is different. For example, in Europe, we didn't speak.
L: Even in Spain, where they speak Spanish, the oral communication was very different. If a text is not working, then you have to become more physical. The clown is actually pretty physical, a lot of body language.
K: And the clown is super flexible. It fits into any situation. You know "Echando a perder se aprende" ["you learn from your mistakes"]. We see what's funny and what's not, and file that away in our minds. That's why it's said that even old clowns with grey hair will be a good clown, because they have filed away all their jokes and comedy. Just imagine how much they have in their minds.
https://www.youtube.com/watch?v=9mcBGMz2p-Y
What does it mean to be a clown, and why do you say it's misunderstood?
K: Well, that only happens here in Central America. In other countries we were really impressed. They treated us really well. The role of the clown in the society is super important, really: we all need someone to make us laugh. Being a clown is to be yourself at your best. It's really honest. What you're not allowed to do in your daily life, you can do it as a clown.
L: A clown doesn't only make you laugh. She or he can also make you feel a lot of emotions, like fear, disgust… a lot of feelings that twisted you, and in the end, of course, you are laughing out loud, because that's the purpose. That's what I like the most: the clown has so much power. My mom says that being a clown is good karma because people laugh, and I believe it. Being a clown brings so much magic.
What can be done to change the way the clown is seen?
L: I think it depends on us. We, the artist, have to show that in the art, there are professionalism.
K: And with the experience we have had, we have noticed the union between artists. That lets us create more. For example, in Argentina, artists don't make money, but they're very united, so they create more spaces to perform. Together, they create events. I think that here [in Costa Rica] artists are not that close to each other. It's like they struggle against each other, and against society, instead of being together offering a different alternative. We've tried. There's a circus association here [ASOCARTE], but we have to strengthen it more.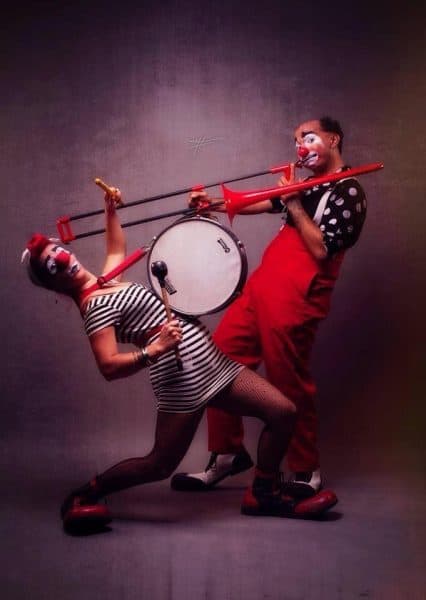 Who are Zar, Cumbia and Mambo?
K: They are our pets. By coincidence, the first one [Zar] became an incredible artist when he was only 4 months old. He plays the piano, sings, plays dead.
L: It was a complete coincidence. We never planned to have dogs in the show. When we came back to Costa Rica we adopted Zar, and gradually we discovered [he liked to perform]. For example, the pianola was on the floor and he played it with his nose. When we played it, he starts "singing." We taught him to use the hula, and some tricks… with a lot of patience and lots of love.
K: In 2011, we traveled to Mexico and adopted another dog, Cumbia. So both dogs grew up along the beaches of Mexico. Cumbia became an acrobat! So we have an acrobat and a singer, imagine! In the show, they appear for about five minutes. Each one has its own performance. Actually, they elicit a bigger reaction than we do in the other 55 minutes.
L: Now we have a third one because Cumbia had puppies. We kept one: he's Mambo. We had a lot of expectations that he would be an awesome artist, but no, he's super shy. So he's the handsome guy of the house. We work with or without the dogs. Our show is not about them. We like to highlight that they are our life partners.
K: It's also an excuse to have them travel with us! We go to five-star hotels where pets are not allowed, but they can stay with us [laughs]. We are completely against animal abuse; we train them with prizes and love.
L: And when they don't want to do it, they won't do it.
K: But they love it. They are addicts to the show. They are super messy, they are super chineados [spoiled], but their performances are really great.
Our "Weekend Arts Spotlight" presents Sunday interviews with artists who are from, working in, or inspired by Costa Rica, ranging from writers and actors to dancers and musicians. Do you know of an artist we should consider, whether a long-time favorite or an up-and-comer? Email us at kstanley@ticotimes.net.