This week, Julian Charrière is in San José to kick off his first solo exhibit Latin America: an array of complex artwork exploring the concepts of time, nature, entropy and geology.
Charrière, 28, was born in Switzerland to a Swiss father and French mother. He studied art at the École cantonale d'art du Valais, the Berlin University of the Arts and Olafur Eliasson's Institute of Spatial Experiments. A resident of Berlin, Germany for the past 11 years, he had had  solo exhibitions in Germany, France, Switzerland, United States and now Costa Rica.
His art incorporates natural materials he has found in the different remote locations he has visited. These include a 30,000-year-old iceberg in Iceland, a gigantic Bolivian salt flat, volcanoes in Mexico, Stalin's nuclear test sites in Kazakhstan and the isolated region of Chernobyl. He collects both materials and information that he later uses to create works using various techniques and media, including photography, sculpture and installations.
One of his most recognized pieces, created with German artist Julius von Bismarck, is called Some pigeons are more equal than others. The artists created a device that trapped and quickly dyed the feathers of random pigeons in the Piazza San Marco, Venice, causing passersby to notice an animal that is generally overlooked as part of the landscape.
Charrière's solo exhibition Siempre cuenta cuántos cuentos cuentas will be inaugurated on Thursday, Oct. 20 at the Despacio Gallery. The Tico Times visited Despacio to speak with Charrière about his life and work at Despacio, located between Calle 9 and Avenida Central. Excerpts follow.
Why did you become an artist?
As a young child, I wanted to be a cook and an explorer who would go into places that nobody had gone before. After a while, I understood that we've already been everywhere. Then I thought I could be an architect; I liked the idea of building things that have utility.
In high school, I had a very interesting art teacher, and I thought that maybe I didn't want to be a cook or an architect; I could bring all of these things together and make art. [My work] is a little bit about cooking ideas. It's also a little bit about architecture, somehow, but there's much more freedom… From one encounter to the other, it happened. I was lucky enough to get into a program, to get to know all of these great people in Berlin.
Berlin is still very important for creation in Europe. It's the city with the biggest number of creative people and artists in Europe, so you've a lot of production and great energy to create there. It's not an art market like it would it be in New York or London. Every artist is there to produce. The space is very cheap. It's a creative economy with studios, print shops and workshops that are very specialized.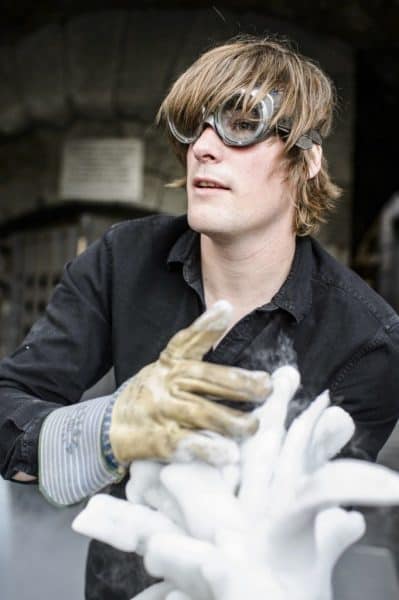 How did you come up with the idea of the red pigeon?
The pigeon is very interesting because humans took it from the natural world 1,000 years ago and domesticated it like a device. At some point, the pigeon was an apparatus of communication that we used to send messages. We took an animal, living in nature, and made it into a device to be able to communicate.
At some point, that device became obsolete. It's not interesting anymore. Now, pigeons hang around, depend on us and share public spaces and cities with us. They're also sharing the urban landscape; we share the same infrastructure, but we forget that. So we were interested on focusing attention on them. When you place color on the pigeon, the pigeon becomes somebody. Usually a pigeon is very plain and you never distinguish them. Once you have a red pigeon, and see it every day, then you start having a relationship with it. You have to a relationship with other species that are in the same space, which I think it's a nice result. It works as a sort of graffiti… creating these moving dots, which focus your attention on different objects depending on where they are.
How did you come to focus your work on the ideas of time and entropy? 
Time is very important, but it's a very abstract concept… you think about 1,000 years without being able to grasp what that really is. You can think about your grandfather, your great-grandfather and your great-great-grandfather. After that, it's a mess.
Now we're talking ecology and the legacy [we'll leave for] the future… What are we going to leave behind when we're not here anymore? This is something that is very bound to the arts because of culture and its traces. The idea of a museum, culture, and voyage is about traces. Going to space is about traces… This is something that I wanted to reflect through images. A lot of people write about it. For me writing is not my main medium, so I represent it through objects or visual ideas.
How did you get the idea of extracting lithium from the Bolivian desert?
Lithium is the material of the future. Everybody needs it. Communication needs lithium. Green energy needs lithium. [The use of] lithium is rising because we need to save energy. I read about mining and found that there was this big salt flat in Bolivia with all of this lithium lying underneath the salt… It's a very beautiful and fragile ecosystem due to its dryness. Everything is very connected, delicate and crystalline. The salt is also a crystal and it's very important in alchemy, which I'm very interested in.
Before I went, I did a lot of research. I contacted miners and indigenous people, who are a little bit against the lithium production… The end result was very visual, a very heavy sculpture made out of tons of salt and lithium brine. Nobody knows what lithium looks like; I didn't know lithium was a liquid and found in a desert. It's something very mysterious and magical. The material itself is so beautiful, and people don't talk too much about it.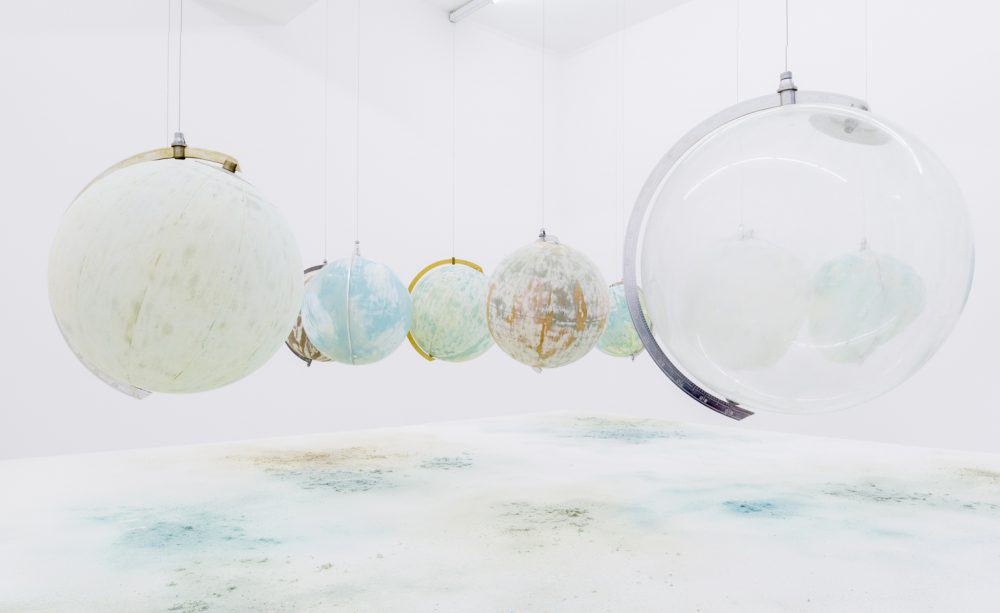 Why do you feel the need to research the relationship between humanity and nature?
Nobody is dealing properly with this problem between nature and humanity,.. If you look into nature today, you'll find isotopes and acid rain. Everything is going to change. You're not going to find something [one hundred percent] natural… Since it's so blurry, I find it very interesting to try to create spaces for others to reflect [upon it]. I travel so that others can reflect. Sometimes it's easier with an image, and it's more direct than reading a text. You're offering a space for reflection and it's also my reflecting space. I like to share it.
Sometimes people come with a very simple mentality. For example, you see the photo of a man burning an iceberg, and it's very easy to say it's climate change, but then you've got to think, why is he doing that? It's like the [metaphor] of the iceberg itself. You see the tip of the iceberg out of the water, but then you have to analyze what it actually is [underneath] .
It's like opening a door. People can have a view, a little of information, have the tip of the iceberg, or they can dive into it. This work is so small [physically], but I can see more and go super deep. You can go deeper, deeper and deeper. You can either understand more or get lost. When you admit that you're lost in reality, it's because you're looking for explanations. It's the feeling of trying to find an answer.
For more information on Julian Charrière's first solo exhibition in Latin America, visit Despacio's Facebook Page. The inauguration will be on Oct. 20 (admission is free) and the exhibition will continue into December.
Our "Weekend Arts Spotlight" presents Sunday interviews with artists who are from, working in, or inspired by Costa Rica, ranging from writers and actors to dancers and musicians. Do you know of an artist we should consider, whether a long-time favorite or an up-and-comer? Email us at kstanley@ticotimes.net.