Isla de Chira thrives off of fishing, with over 90 percent of the population relying on the sea for its daily bread. So when my partner Dan and I reached the island after a one-hour boat ride from Puntarenas, we were surprised to see the boats docked, motors removed, and nets piled on the shore. It looked like no one had fished for weeks — and they hadn't.
With environmental preservation in mind, the government instituted a mandatory veda, a four-month period from May through August, when fishing is prohibited in the Gulf of Nicoya. The primary purpose is to allow the sea to recuperate, but with the absence of consistent work, the veda provides additional incentive to invest in community-driven conservation and economic efforts across the island.
For the past five years, community leaders have been focused on collaborating with government departments, university initiatives and non-profit efforts to construct a sustainable tourism industry. Dan and I are two individuals dedicated to this cause. As U.S. Peace Corps community development volunteers, we have the opportunity to be contributing members to various projects.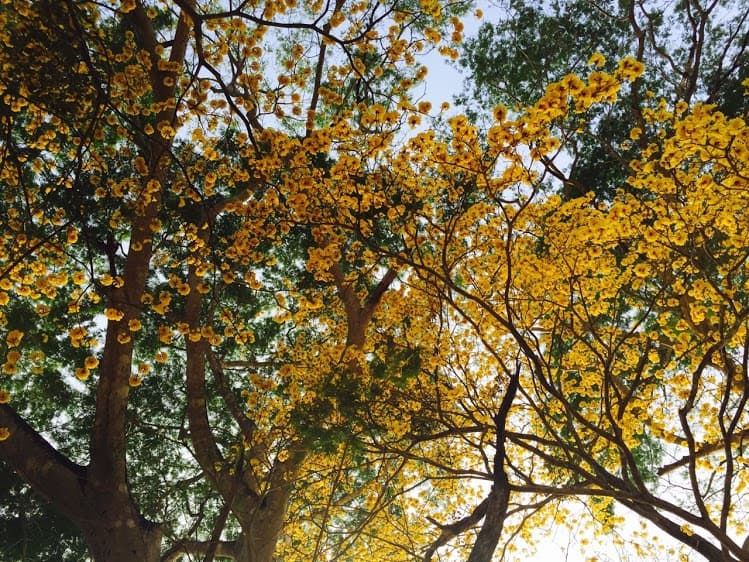 When the horn honks, we grab our backpacks off the kitchen counter to pile into the mini-bus outside our house. Today, we aren't volunteers. We are tourists. The owners of Posada Rural La Amistad, Liliana Martínez González and Teodora "Dora" Medina Díaz, offered us the opportunity to witness a new perspective as sightseers in our own community, by visiting three established ecotourism organizations.
In less than 20 minutes, we reach the neighborhood called Palito, which has a peaceful view of the calm gulf and Guanacaste mountains. Our first stop is La Asociación de Cuerderos (ASOPECUPACHI), an environmental and fishing association. Nestled between mangroves and a small beachfront, we gather around a large elevated table, which is filled with one inch of water and hundreds of oysters grouped into large piles. Eight women are chatting and laughing together, while scraping barnacles off the oysters with sharpened knifes. Irma Cruz, a member of ASOPECUPACHI, pushes back her baseball cap with the back of her hand and introduces her team.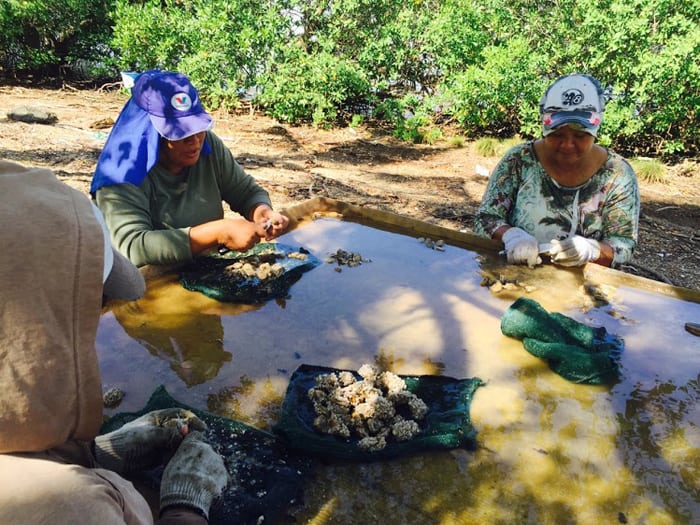 "This work is important because it generates income for the women here on the island," she says. "It improves our local economy and creates jobs for the long term. We are lucky, because the island is often used as a staging ground for government institutions and state universities to invest in productive and sustainable projects."
The group receives a donation from the Universidad Nacional de Costa Rica each month. Meeting every morning, Monday to Friday, for over four hours, the women manage the oysters' growth until they are ready to be sold in the local market. Irma explains to us that removing the barnacles ensures a higher price when they sell them to their restaurant partners throughout the gulf.
One woman measures oysters one by one and then places those that are too small into a bag to return to the sea. We excitedly chat about the potential of having their own restaurant on-site one day to offer fresh oysters to visitors. But before we know it, it's time to go to the next organization in Montero.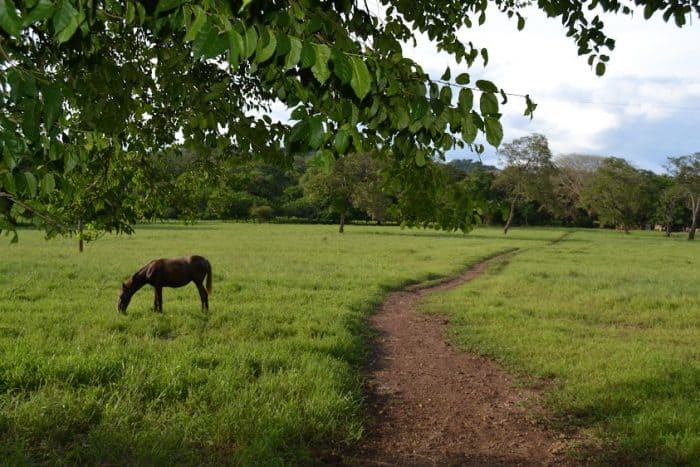 One woman wipes the sweat off her brow with the sleeve of her bright red T-shirt as she puts down her rake. Others sip from a large green Aloe bottle filled with melted ice. These members of the Asociación Mixto de Pescadores are maintaining the Montero beach area and removing washed-up trash to ensure a safe area for the mangrove seeds that are currently being maintained in potted soil on shore.
"Once the seeds have four leaves, they can be planted amongst the larger trees," Liliana explains.
Foundational to Isla de Chira's marine life, the mangroves are the lungs of the island ecosystem, providing oxygen to all the other species. With nearly 25 percent of the island's land mass covered in mangrove trees, this group works to ensure the preservation and growth of this important resource. Large student and church-based volunteer groups are often invited to contribute to the forestation efforts during the year. La Amistad and other cabinas on the island offer boat tours into these maze-like mangrove estuaries, where you can see crocodiles and unique species of birds and plants.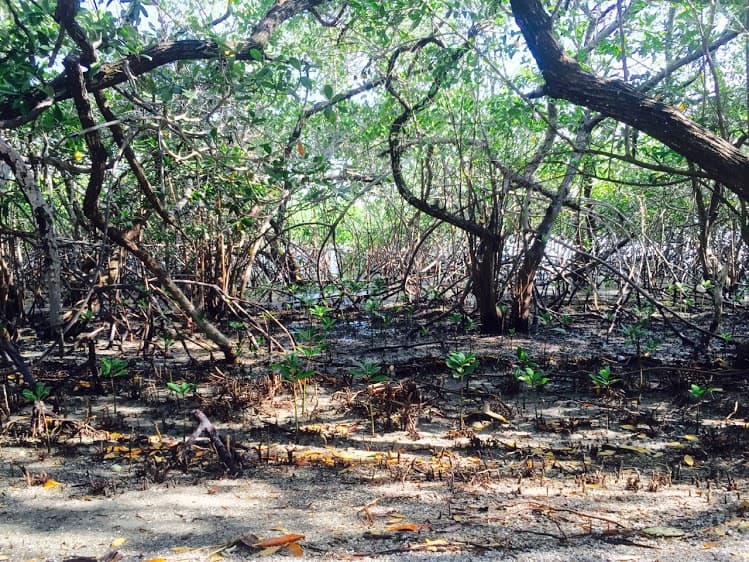 Lilliana hands us each a mango, the seasonal fruit, from a nearby tree to snack on. The flavorful juice gushes down our arms as we bite into its tough exterior. We toss the core and rinse our hands (and arms) in the ocean water, before making our way to the workshop of Las Artesanas.
The Las Artesanas building is decorated in the painted silhouettes of women, accented with shells, rocks and bright pink flowy curtains. Three large workbenches and tables are lined up in the main room. Each group of women is working on a different task: drilling holes in seeds, carving jícaro or stringing jewelry.
Lidieth Matarrita, the president of this women's artist organization, puts down her work and guides us to the side room. The products of the artisans — necklaces, bracelets, earrings, keychains, napkin holders, jícaro flasks — are all displayed in a massive, handmade glass and wood case. She eagerly responds as we examine each item one-by-one, asking what seeds "this one" has. Lilliana recommends spending an afternoon to take a class with Las Artesanas to create custom pieces with materials from the region.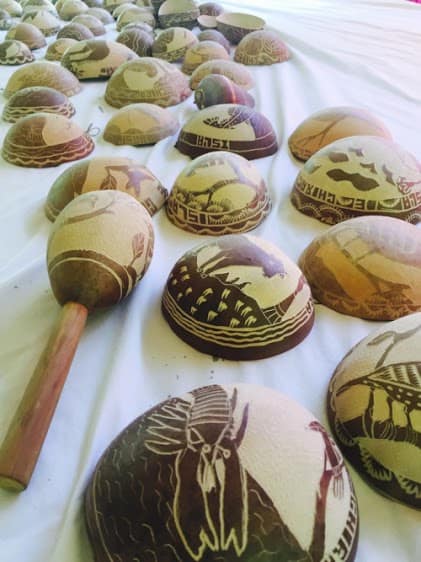 After saying adiós and muchas gracias, Dan and I split off to take a final hike to the water tank. A popular spot among locals, it's supposed to have the best views at sunset, but we hadn't had the chance to make it there. Our directions were: "Walk through two gates of Finca Las Canoas and hike up the hill until you reach the large blue building. Push open the fence and walk up the metal side stairs." After crossing paths with a herd of cattle through the open land, we reach the top.
Gazing out on the water, we can see the floating workstation of Las Ostras, as well as the resting boats far below. Liliana's words about her love for the island echo in our ears: "The people, the tranquility, the natural resources we have."
Smiles spread across our faces in the sun's warm orange glow, moments before it descends behind the mountains. We realize just how fortunate we are to be able to call this beautiful travel destination home.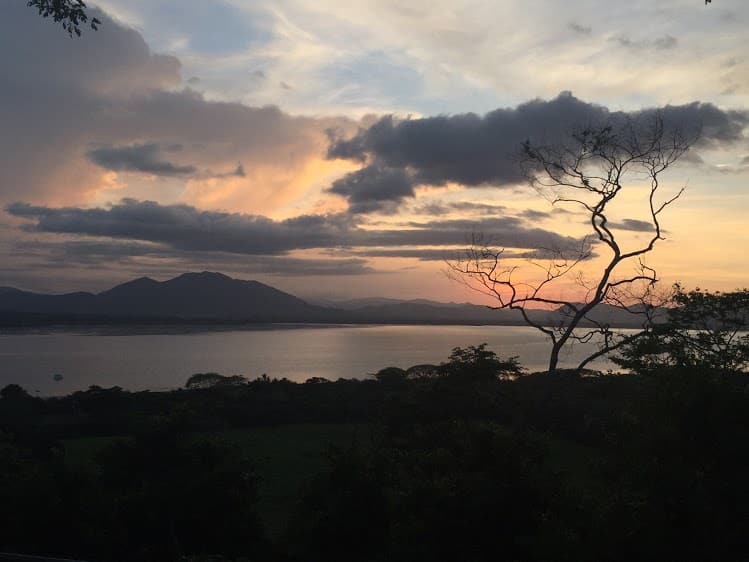 IF YOU GO
Getting there: There is a public boat that departs from Puntarenas near Mercado Municipal de Puntarenas at 12:30 p.m. each day, except Sunday, when it departs at 7 a.m.  Private boat trips can also be arranged by your hotel.
Where to stay: There are seven accommodation options, including Posada Rural La Amistad, Hotel Las Vegas, Cabinas Los Ela2, Campo Bocana and Cabinas Jireth.
Where to eat: All of the cabinas listed offer meals on-site, but you should enjoy an Imperial and ceviche while sitting on the floating deck of the restaurant and bar El Camarón to catch an unbelievable sunset.
Other reasons to visit: Each June, Isla de Chira hosts the annual Chira Ride. Over 800 people bring bicycles to ride all across the island, past local farms to Playa Muerto to the local Bar Luchita and more.
For more info: http://www.govisitcostarica.com/region/city.asp?cID=56
Contact Tory Paez at tory.paez@gmail.com.