Holding the canvas in one hand and pointing out the figures and patterns of his artwork with the other, Juan José Guerrero explains the world that comes to life during the journey from his computer to a canvas or T-shirt.
The graphic designer went to the Castella Conservatory, a public arts-focused high school in Heredia, where he studied drawing, painting, sculpture and design, among other things. As time went by, he decided he would continue in the art world but through technology: he would create his art on his computer and print it on shirts. He uses several programs to complete his designs, creating what he calls a blend of techniques.
Guerrero visited The Tico Times on a bright August morning to talk about his projects and the feelings he wants to transmit through his art. Excerpts follow.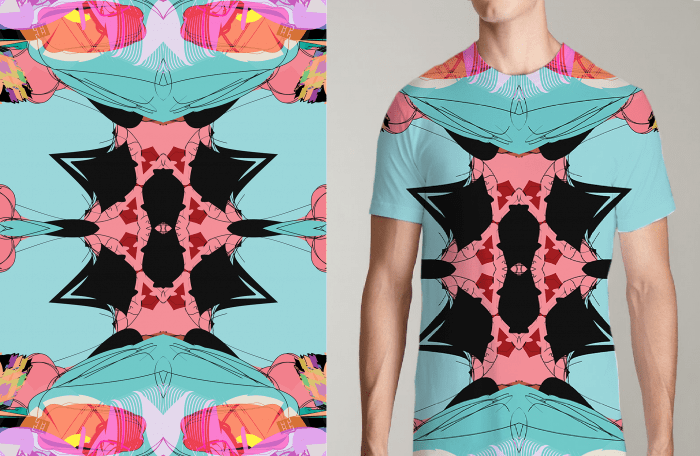 How did Arte Vita get started?
My idea had always been to print my designs on canvas and sell them. Once, I went to a gallery and asked about displaying my designs there, but the girl told me it would be really difficult to sell them because people preferred paintings. I sold a few, so I realize it was possible to sell my work – I have some at Mango Artista, a Costa Rican digital art store – but then the idea of the T-shirts came.
At university I took a serigraphy course, and I made a shirt. The ink was for paper, not cloth, but it worked and it was nice. In 2015 I started looking for places where I could make them and found some, and it wasn't too expensive. So I started to advertise them via Facebook.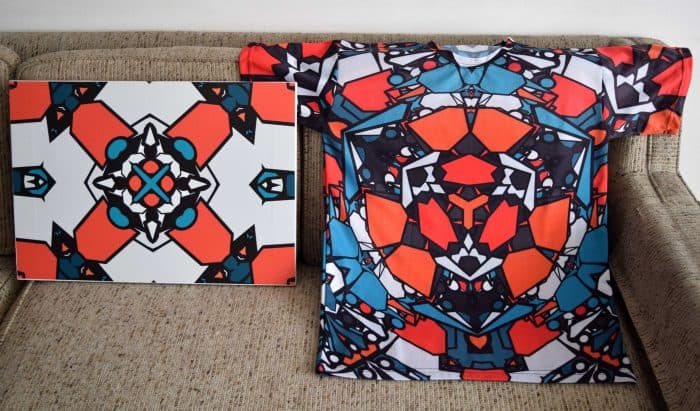 What do you want to communicate with your designs?
Every design is different, so each one transmits something different. The idea is to experiment, most of all. I like to make colorful designs that transmit happiness, with vivid colors and attractive designs. I don't like to create dark designs. I'd rather make colorful ones, positive things, take those aspects from nature that make people happy.
How do you apply your knowledge of art to graphic design?
Since March of this year, I have been studying drawing at the Casa del Artista, and later I want to study painting to refresh my memory. When you start designing on a computer, sometimes with the passage of the years you forget about drawing on paper.
When I'm doing a drawing on the computer, if there's not a sketch [first] the result is kind of tense, inexpressive. Now that I'm studying the human figure again – shadows, lights, perspective – I have started to remember. It has become easier to make the transition from the sketch in my head to the computer.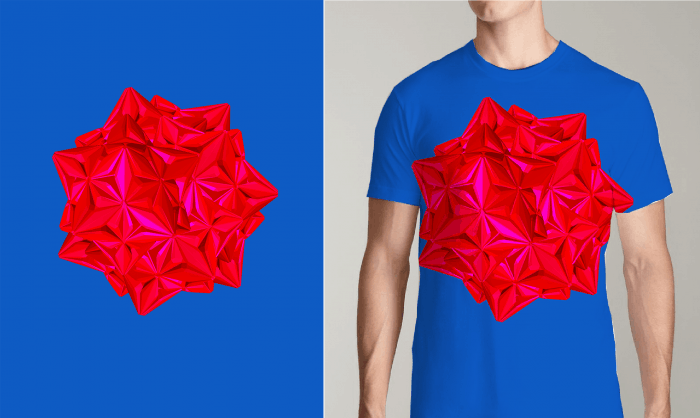 Why did you choose graphic design?
When I was finishing high school, I had a teacher who was a really good [graphic] designer. He saw my drawings and said the composition was very good. He taught me some basics of graphic design, and a lot of art. I really liked his work, what he did, so I decided I'd like to study it…. I also thought that if I studied painting it was going to be kind of difficult to get work.
Where did you go from there?
After I finished high school, my aunt, who lived in Italy, took me with her for a few months. It was amazing, Florence, Rome, Venice, all the artwork in the museums and the churches. My aunt met [famed Costa Rican sculptor] Jorge Jiménez Deredia; she asked him if I could visit [his Italian workshop] and he accepted. It was a really nice experience. He showed my his workshop, took me to the Carrara quarries, we had lunch.
When I came back to Costa Rica I went to FUNDATEC for a technical degree, but I wanted something more complete, so I went to the Hispano-American University to study Advertising Design. I learned a lot of drawing and graphic design, but later I thought it would had been better to continue with the technical course. Now I'm trying to [make up for that], taking shorter but useful courses on a variety of subjects.
Find more info about Guerrero's work at the ArteVita Facebook page.
Read more Weekend Arts Spotlight interviews here.
Our "Weekend Arts Spotlight" presents Sunday interviews with artists who are from, working in, or inspired by Costa Rica, ranging from writers and actors to dancers and musicians. Do you know of an artist we should consider, whether a long-time favorite or an up-and-comer? Email us at kstanley@ticotimes.net.