An interesting thing happened in Thursday afternoon's repechage (losers' bracket) Round 4 at the ISA World Surfing Games, where Costa Rican Tomás King had a controlling lead over the three other surfers in the water. Already having tallied excellent scores of 8.67 and 6.50 on waves, King had first priority on an incoming wave when both he and Frenchman Charly Martin (No. 62 in the World Surf League's Qualifying Series, QS, rankings) stood up to ride.
King rode the wave straight ahead in a defensive gesture and Martin's positioning brought upon an interference penalty, which eventually eliminated the decorated French rider from competition.
King's brilliant tactic not only secured his first place finish and a spot in the men's repechage Round 5, but it also eliminated one of the top surfers from a country that came into Jacó as a favorite to earn a team medal.
"France is a super strong team and we want to defend our title here at home," King said to a broadcaster following the dramatic finish. "I had to do what I had to do to take him out and I'm stoked."

Kevin Schulz (No. 183 in QS) of the United States, which is another country that figured to contend with Costa Rica for first place in the team category, was also eliminated during King's winning heat Thursday.
King, the 20-year-old rider from Tamarindo who entered the World Surfing Games as Costa Rica's biggest unknown, now has a chance to further advance Costa Rica's chance of repeating a world championship as he faces riders from Japan and Portugal, two other serious title contenders, in Round 5 of the repechage bracket on Friday.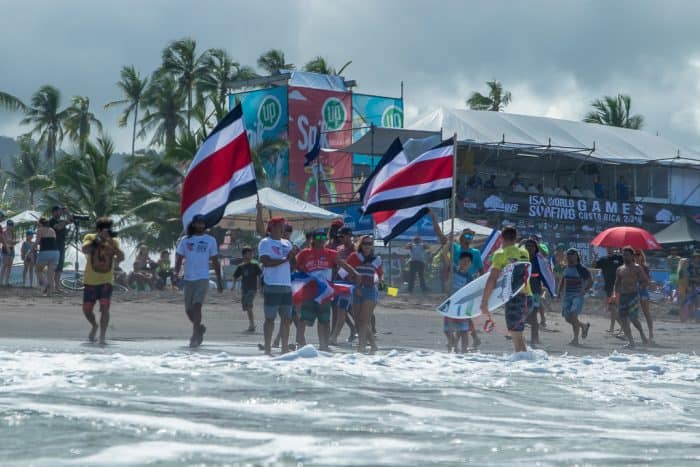 King is one of five riders still left in competition for Costa Rica. The two headliners of the group, Carlos "Cali" Muñoz and defending men's individual champ Noe Mar McGonagle, remain in the winner's bracket heading into Round 4 of the men's main event.
Muñoz came in first place for his third consecutive heat on Wednesday, although it wasn't without some drama. The 23-year-old was again blowing out the rest of the riders in his heat when he was nearly called for an interference that likely would have sent him down into the repechage rounds.
Judges decided Muñoz got out of the way of another surfer in time and did not assess the penalty, leaving the Esterillos Oeste native with a score of 15.00.

Muñoz enters Friday's Round 4 heat against Portugal's Guilherme Fonseca (No. 273 in QS), Japan's Takumi Nakamura (No. 85 in QS), and Francisco Bellorin of Venezuela (unranked in the World Surf League).
The Costa Rican should be considered the favorite in the heat that earns the top two riders with a spot in the quarterfinals. The controlled way in which Muñoz is currently riding is putting him on the fast track for the podium in the men's individual category.
In his quest for a quarterfinal spot, last year's first place finisher, McGonagle, could have a much more difficult time. Though he's been surfing well the past few days and has topped riders like Nakamura and Brett Simpson of the U.S., he has a huge challenge in front of him when he goes against Argentina's Santiago Muñíz (No. 30 in QS), Miguel Tudela (No. 104 in QS) of Peru, and Lucca Mesinas (No. 123 in QS) also of Peru.
In the team's only misstep so far, Costa Rican national champion Anthony Fillingim was eliminated in Wednesday's repechage. The shocking elimination for Fillingim came one round after the Santa Teresa native was bumped out of the winner's bracket by a last-second ride from Argentina's Leandro Usuna (No. 79 in QS) that put Usuna in second place in the heat.
On the women's side Thursday, Emily Gussoni was knocked out of the winner's bracket and into the repechage on Thursday. Gussoni's repechage Round 4 matchup will be extremely complicated as it pits the 16-year-old against South Africa's dynamic surfer Tanika Hoffman (No. 72 in women's QS) and Australia's Codie Klein (No. 43 in QS).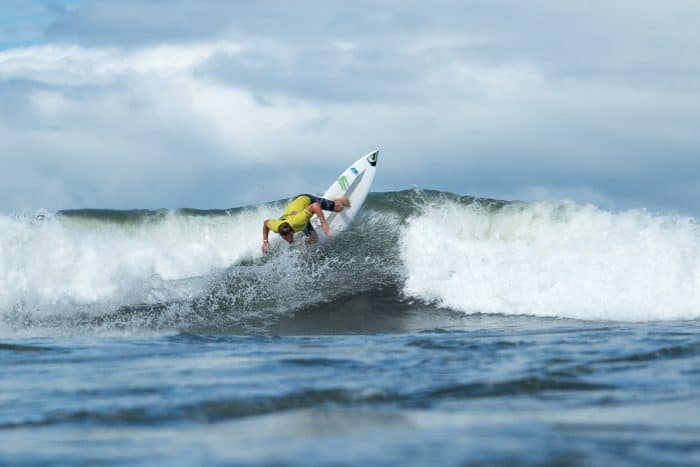 In her repechage heat, Leilani McGonagle finished second to remain in the competition and advance to Round 4 of the women's repechage bracket. There, McGonagle will be matched up against France's Pauline Ado (No. 14 in QS), the long-time Championship Tour surfer who has tallied two of the top three overall heat results in this year's World Surfing Games with scores of 17.93 and 17.77.
If Costa Rica can fend off elimination again Friday, as it did with its three repechage riders on Thursday, it should be sitting in a great position for its second consecutive overall team title at the World Surfing Games. The major contender to the Ticos' throne is Portugal, which is the only other country besides Costa Rica with five riders still in the competition.
The Portuguese are also the only team with two surfers left in the women's main event. Other team medalists could be South Africa, Japan, Peru and France – which all have four riders left in the contest heading into Friday.
Event organizers are expecting a large turnout of spectators this holiday weekend: up to 500,000 people. Mother's Day, Aug. 15, is an official holiday here.
According to the online surf conditions site SurfLine, a rather decent swell is starting to move in on Jacó that should ramp up the waves a bit. Wave action has been predictably small since the tournament started on Sunday.