SANTA ANA, San José — Suppose you had only one day to spend in the (usually) sunny valley of Valle del Sol. What to do?
We asked this question of three longtime residents of the Santa Ana area. If someone had just one day to visit, what should they do, where should they eat and where should they stay? Here are their suggestions.
Tatiana Rodríguez, trip advisor extraordinaire
With 47,697 readers on the world's hottest travel site, Tatiana Rodríguez has positioned herself in the very top ranks of Costa Rican Trip Advisor advisors. She currently works as a consultant on compensation and benefits for a U.S. company, and in her spare time she paints and pursues organic agriculture. Visit her website at http://www.viajetrip.com, or contact her at tatiana@viajetrip.com. Here's what she recommends:
1. Eat breakfast at Restaurante Valle Sol.
With strategically located open-air tables surrounded by a backdrop of green near the City Place mall, Valle Sol has a wide variety of natural juices to get your day started with lots of energy. The breakfast menu is varied and full of ideas, but like a good Tica I prefer the gallo pinto.
2. Take a tour of Costa Rica's Craft Brewing Co.
This experience is unique — you learn a little history, you learn how to make beer, and then you drink beer. It's like being back in college. The craft brewery is in Brasil de Mora, and can be done in English or Spanish. The tour usually starts at 11 a.m. and it's best to book in advance.
3. Eat lunch at Doris Metropolitan.
Located in downtown Santa Ana, Doris Metropolitan is a meat lover's dream. The presentation of the smaller dishes is a special pleasure, generating great expectations for the palate that pays off in the tasting.
4. Spend an afternoon at the windmills.
Las Eólicas is a ridge lined with windmills in the mountains of Santa Ana with an incomparable view. The site is wide open and has no buildings, so bring a blanket to sit on the ground and a jacket for the wind. On a clear day this a great spot to watch a sunset, and you might want to bring a bottle of wine or champagne to toast the end of the day.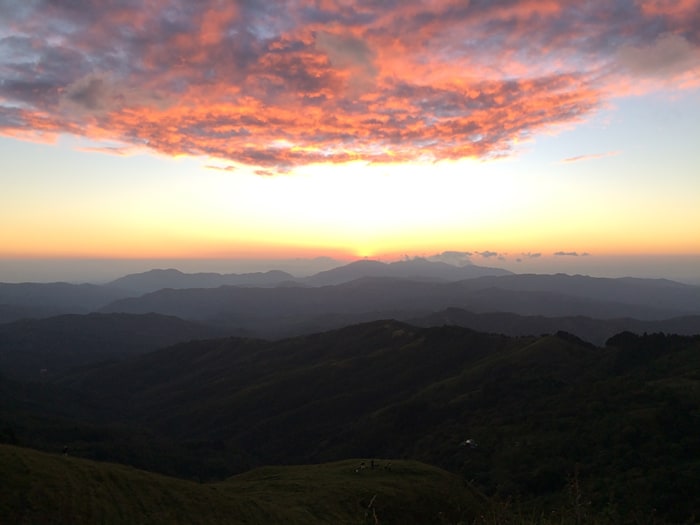 5. Eat dinner at Machu Picchu
Machu Picchu, on the old highway from Santa Ana to Escazú, will remind you why Peruvian cuisine is considered among the five best in the world. The menu is exquisite from beginning to end. You can eat dinner inside the restaurant or on the terrace, but I recommend you sit outside and take in the view of the valley by night.
6. Head for the Tico Pub.
Located in the Momentum de Lindora mall, the Tico Pub has a very pleasant atmosphere. It has a patio adorned with climbing plants and dim lighting that makes this the perfect space to relax and have a quiet conversation. Add good service and the variety of drinks to the reasons you can spend a fantastic evening here.
7. Spend the night at Hotel Intercontinental.
In addition to its great location in Escazú, the Hotel Intercontinental is distinguished by its excellent service. Rooms are comfortable and will allow you to sleep like a king. In the morning, enjoy a delicious breakfast and take a dip in the beautiful pool to cool off.
Eliot Greenspan, veteran travel writer
Eliot Greenspan has lived in Costa Rica for almost 25 years and in Santa Ana for 12. For more than two decades, he wrote the Frommer's guidebooks to Costa Rica, and he now runs a personalized trip planning service and boutique travel agency, Costa Rica Custom Trips (www.costaricacustomtrips.com). He is a former film and restaurant reviewer for The Tico Times and was the first editor of its online edition, uploading and encoding the content in HTML using Notepad. Contact him at info@costaricacustomtrips.com.
1. Eat breakfast at Picnic.
For years — no, decades — I've lamented the lack of a breakfast and brunch culture in Costa Rica. It's one of the few things I get homesick for. So, when we're looking for a treat, we head over to Plaza Futura and Picnic. This rising local star is also a favorite of mine for takeout lunch sandwiches, but they really come through for me when I'm looking for something aside from pinto, huevos and natilla to start the day. Their take on eggs benedict features gently poached eggs on a fresh baked muffin, with guacamole, artisan smoked bacon and fresh Hollandaise sauce. My wife usually orders the Parfait, a layered tall glass of yogurt, homemade granola, fresh fruits and honey. There's a skilled barista who makes my cortado just right, and a selection of fresh baked pastries, pies, cakes and cookies that require an extra two trips to the gym after any meal here.
2. Spend the morning at a wildlife refuge.
To get close to some local fauna and help a good cause, we love the Refugio Herpetológico, a small wildlife rescue center located on the winding old road between downtown Santa Ana and Escazú. Growing out of the private passion of local enthusiast Rodolfo Vargas Leiton, the Refugio is now a recognized rescue center with more than 55 species of Costa Rican wildlife on display. Many are brought here by the Environment Ministry after confiscations or rescues. You'll find crocodiles and caimans, spider and squirrel monkeys, macaws, turtles, and a wide range of both venomous and non-venomous snakes. My favorite residents are Oleg and Alik, a pair of ocelots. Entrance fees are $20 adult, $10 child (3-12 years of age) for tourists, and ₡4,000 local and resident adults, ₡2,500 child.
3. Eat lunch at Tap House.
Another of my homesick longings — good barbecue — was nicely satisfied a few years ago by Tap House. While it's always been more or less possible to scare up a decent rack of ribs, Tap House won me over instantly with its perfectly prepared pulled pork and smoked brisket sandwiches, served on fresh baked pretzel buns. There's a wide range of bar food on the menu. The hamburgers here are also pretty darn good, and my family can't get enough of the thin-cut sweet potato fries. As the name implies, there's a wide selection of craft beers on tap and in bottles, and most of them are locally produced. Tap House now has two locations, one on the back road to Pozos from downtown Santa Ana, and another in the new City Place mall, off the Lindora road. We generally like the original location, as it's now less crowded and more intimate, but for our purposes here, let's go with City Place, because after lunch, we're going to catch a flick.
4. Catch a movie.
I used to almost hate going to the movies in Costa Rica. Most of the cinemas are found in large malls, with insufficient parking and gridlocked traffic at the entrances. That's right I'm talking about you, Multiplaza and Avenida Escazú. However, Studio Cinemas in the City Place mall is a delight. A relatively small four-plex, this place boasts large screens, comfortable seating, an excellent online reservation system and most important (for me) ample and easy parking.
5. Eat dinner at Bacchus.
For a truly delicious and elegant dinner, head to Bacchus. Housed in a traditional adobe house that dates back to the late 1800s, this place features an open kitchen, wood-burning brick oven and a long menu of antipasti, pastas and main courses. The pizzas are called tavole and are large rectangular creations big enough for two. I like the seafood pasta with wood-oven-roasted octopus, mussels and other seafood in a light white wine and olive oil sauce. There is seating inside, but I recommend reserving a table in the open-air patio facing the kitchen. The walls of the many interior dining rooms often host an art exhibit by a prominent local artist.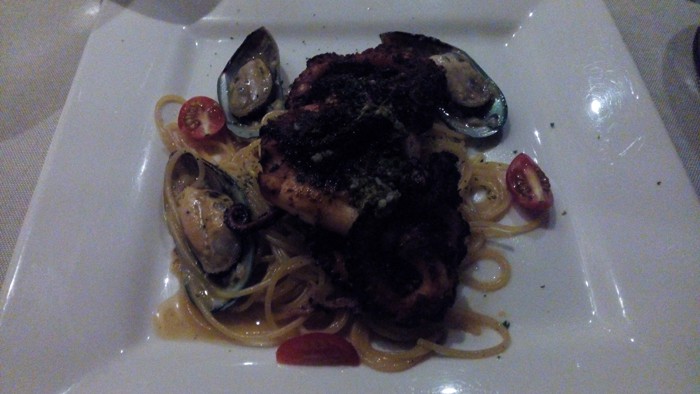 6. Have a nightcap at alTapas.
For a nightcap, for me, nothing in Santa Ana beats alTapas. This Spanish-owned tapas bar is both understated and atmospheric. There's dim lighting, a long wine list, and a mouthwatering assortment of traditional and not-so-traditional tapas. The tortilla española is good, but for a potato dish, I prefer the papas bravas with spicy sauce. If you're adventurous, get the oxtail stew. There's always live music at night, either soft jazz, boleros, or authentic Flamenco. When you've had enough, getting to your bed couldn't be easier, as the hotel I recommend is right next door.

7. Spend the night at Studio Hotel.
When we have guests and no spare beds, the Studio Hotel is our go-to choice. This small boutique hotel is a mini-museum with an impressive collection of classic and contemporary Costa Rican art and sculpture in all of the common spaces and adorning the walls of the rooms. You'll find works here by Isidro Con Wong, Rafa Fernández, Lola Fernández, Rodolfo Stanley and Francisco Amighetti, among others. The rooms themselves are well-lit, ample in size and have comfortable, plush beds. There's a small pool on the rooftop patio, with a peaked tented awning in the style of that found at Denver International Airport. This place is right across from the City Place mall, and has at least a dozen or more restaurants within a two-block radius, and downtown Santa Ana is less than a 15-minute walk away. Prices are right, starting at around $120 per night, double occupancy, with breakfast included.
The management of Hotel Alta Las Palomas
This itinerary was compiled by various collaborators associated with this standout hotel in the hills between Escazú and Santa Ana, including owner Alex Khajavi, Juanita Miranda and José Cortés. If you'd like to get something going on in the romance department, look no further than booking a "staycation" in which you and your significant other will spend a night at Hotel Alta Las Palomas, with dinner and more included, for $198 plus tax. If you're brave enough, the hotel will send a man in a hotel uniform to hand-deliver the invitation to your intended at her home or workplace beforehand. If she goes home Sunday with a new ring on her finger, she wouldn't be the first. In fact, she may want to come back to get married here.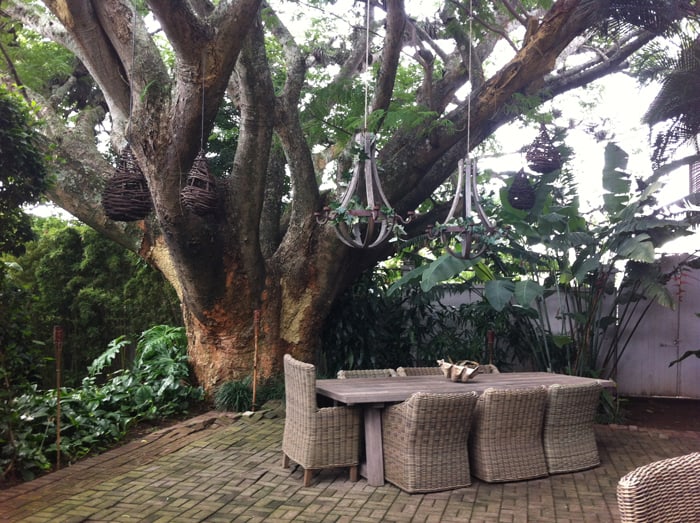 1. Eat breakfast at Wö Kàpi. 
Start your day off with a delicious, healthy and unique breakfast at Wö Kàpi. This enchanting spot on the Santa Ana end of the Santa Ana-Belén road specializes in organic, hand-crafted food. Try the tostada desayuno especial (eggs, onions, mushrooms, cheese, turkey, avocado and chili sauce) or the amazing WOWffles, a new take on waffles with fresh honey and red fruit jam.
2. Take the Passghaleh Coffee Tour.
If visiting during the dry season (it's closed in winter), take a tour of the Passghaleh Coffee Plantation and learn how Costa Rican coffee is made, from the soil to the cup. Owned by the Khajavi family and named for the Castle Pass in Iran, this 12-hectare finca supports four local families and grows both first-class coffee and fresh vegetables for the Alta's La Luz restaurant. The $60 tour includes a visit to a pottery shop and to a macaw rescue center in Salitral, plus lunch at La Luz and transportation. Inquire at the Hotel Alta.
3. Eat lunch at Andiamo La
Andiamo La, just across the road from Wö Kàpi, is one of the best Italian restaurants in Costa Rica. Savor a cold cocktail while you study the mouth-watering menu, which is bursting with traditional Mediterranean flavors. If you are a fan of pasta or pizza, you'll love this place.
4. Take a walk around downtown
Pay a visit to the beautiful Catholic church in downtown Santa Ana, completed in 1880. This is the historic heart of this region, with the soccer field and public school to its west and the sturdy but unpalatial municipal "palace" diagonally opposite. Get an ice cream at Pop's, stroll around, do some people-watching and get a feel for the pace of an old pueblo that has become a very happening town.
5. Eat dinner at La Luz Restaurant
Before sunset, head up to the Hotel Alta, where around 5:30 La Luz serves traditional tapas at sunset. If you've ordered the "romance package," it comes with a glass of wine and a three-course dinner (plus breakfast). La Luz serves local, international and Mediterranean cuisine using fresh produce from its organic garden, and there's live music Thursday, Friday and Saturday.
6. Spend the night at Alta
If you've come this far, you've got it made. The Alta is king of the hill in this valley for its architecture, design and views, and it was recently certified by the Rainforest Alliance for its sustainability practices. The room where you end up — somehow modern, medieval and tropical all at the same time — will be a fitting end to a splendid day.
This article, one in a series on "Costa Rica's Least Known Greatest Places," is sponsored by Hotel Alta Las Palomas, a boutique luxury hotel between Santa Ana and Escazú, featuring the award-winning La Luz Restaurant. Contact Hotel Alta at info@thealtahotel.com or at 2282-4160.
Contact Karl Kahler at kkahler@ticotimes.net