LA URUCA, San José – When we were standing in line to enter Costa Rica's National Amusement Park, my girlfriend decided it would be the perfect time to tell me about the time when a little girl died at the theme park in her home city of Medellín, Colombia.
"They had to close it down for six months afterwards," she went on to say, confusing my anxious silence for attentive listening.
It was my first time going to a theme park in Latin America, and I was really more worried about how fun it would be than how safe.
I grew up in Ohio, which is famous for three things: It's the birthplace of aviation; it once had a river that caught on fire because it was so polluted; and it's home to some of the best roller coasters on planet Earth. I lived an hour away from The Beast, which is the longest wooden roller coaster in the world, with a ride that lasts over four minutes, and Cleveland's Cedar Point is home to highly regarded coasters like Millennium Force, which has been named the top steel coaster in the world 10 times.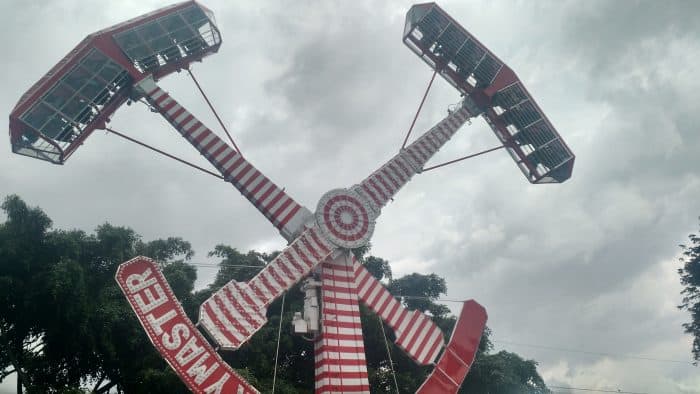 Usually this Costa Rican park is open only from Friday to Sunday, with sporadic openings in between for special events or holidays. We went during a weekday while the park was open for Costa Rica's midyear vacations. Despite the high volume of kids on school vacation running around, we never had to wait longer than 15 minutes in line for the rides.
We first went on the Bocaracá, which is a Vekona Whirlwind ride, which I guess is technical roller coaster jargon for something that takes you on a lot of vortex turns. The ride itself only lasts 20 seconds and is nothing special.
The fun part came when we were waiting in line and singing the cheesy amusement park theme song with uncomfortable-looking Ticos to either side of us.
"Parque, Parque Diversiones / Parque, está lleno de emociones…"
I joked to my girlfriend Jacque that this would be the song playing at our wedding and she quickly replied that I would never have to worry about that moment.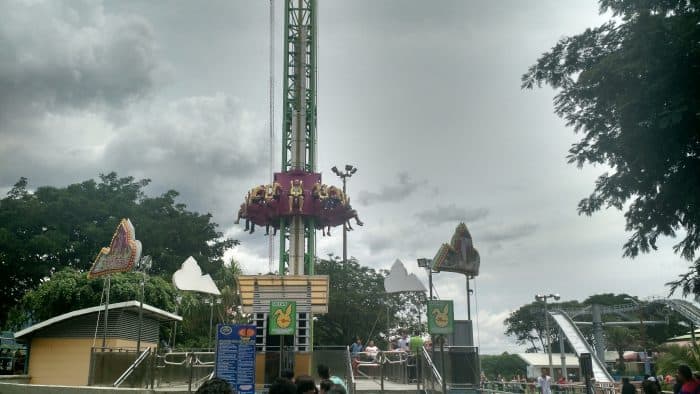 After being at the park for a few hours and going on a handful of rides, I'm still not sure what the theme of this theme park is. It's sort of just a strange mesh of generic-looking animal mascots with names like Uncle Coyote and Aunt Hen alongside a heap of other different motifs like space and antiquated Costa Rica.
The rides have equally common names, like the Torre (tower drop) and the Tornado (a swinging, pendulum-type ride). It's as if the park couldn't decide between using names that describe the rides or names that honor Costa Rica, as others have Tico-centric names like a rapids ride called the Pacuare, a train named the Pachuco Train, and a log flume named after Costa Rica's Reventazón dam.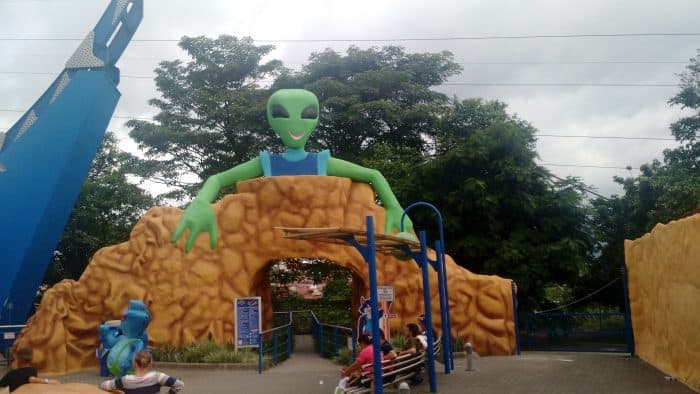 Regardless of the confusion in names, the best ride is the Boomerang, or Búmeran as the Ticos say. The ride starts off by bringing you up backwards to the top of a hill before dropping you into a series of loops and turns. Halfway through you're climbing another hill before being dropped again, this time going backwards, into the same path of loops.
I remember Jacque yelling, "¡No soy capaaaaaaaz!" or "I caaaaaaan't," in the middle of the first drop, although she denied it afterwards.
The ride opened in 2012, accompanied by this unsettling advertisement with mimes that is infinitely more stomach-churning than the ride itself:
As it seemed the only worthy thrill ride in the park, and as there was virtually no line, we rode Búmeran twice in a row. We then ended our day on the aforementioned Tornado, where riders sit in two rows on a platform that is lifted up into the air and does spins and twirls.
It should be mentioned here that at 6 feet 4 inches, or just under two meters tall, I was uncomfortable on almost every ride I took. (If they have a too-short-to-ride sign at the beginning of each line, you would think the opposite should apply.) But it wasn't until getting on the Tornado that I was painfully uncomfortable. The overhead bars dug into the top of my shoulders while the tiny seat below with a wedge in the worst possible spot applied constant pressure to a part of my body where I would rather not have constant pressure.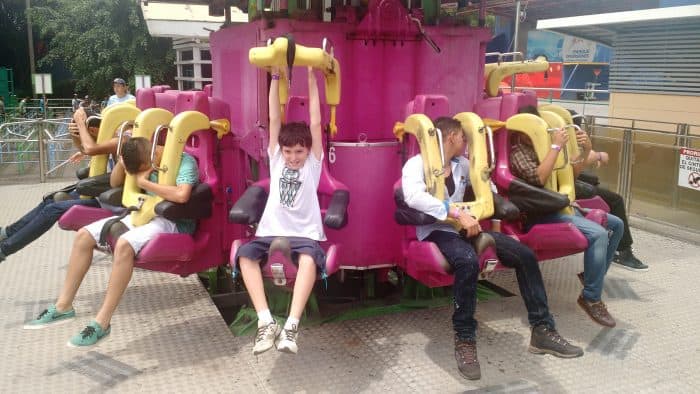 Overall, besides leaving its mark on me, it's a solid place to go if you have kids or if you and a date don't have time to get to the beach. Plus, you're giving to a good cause as profits made from the National Amusement Park go to support Costa Rica's Children's Hospital in San José.
So although it may not be as exciting as many U.S. theme parks with massive coasters or coherent themes, it's a fun little spot in a central location in the city where you get a chance to act like a kid for a day: by singing stupid songs in lines or going on rides that you are entirely too old, or tall, for.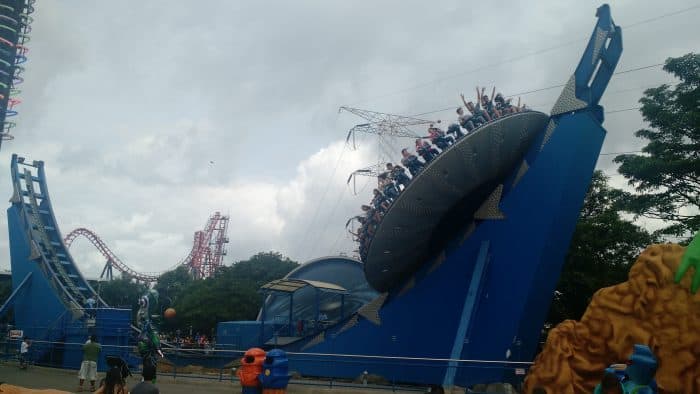 IF YOU GO
Getting there: The National Amusement Park is located off of Highway General Cañas in La Uruca.
Hours: Open Friday, Saturday, and Sunday from 9 a.m. to 7 p.m. Check web site for holiday openings.
Cost: Tickets cost ₡7,850 per person, plus parking.