Heavy rains on Monday morning in various regions of Costa Rica were the result of a low-pressure system, the National Meteorological Institute (IMN) reported.
The weather phenomenon caused scattered showers in the Central Valley and the northern Pacific region for at least six hours, resulting in accumulated rainfall up to 60 millimeters (2.5 inches) in these regions.
The low-pressure system caused rains in other regions during the afternoon, including the Caribbean, and southern and central Pacific.
The IMN said that a similar system on Tuesday will continue affecting the Caribbean region as well as the northern and eastern parts of the Central Valley.
Heavy showers over the weekend caused flooding in parts of the capital San José and increased trade winds over the Central Valley and the northern Pacific region.
The Water and Sewers Institute reported that heavy rains and the excess of garbage collapsed the city's sewers on Saturday and Sunday. Flooding affected several businesses and public buildings downtown, including the National Children's Hospital.
Hospital Director Olga Arguedas said rains flooded the basement as well as the nutrition, X-ray and emergency rooms. Hospital staff had to relocate 26 patients from those areas and various pieces of equipment, including X-ray machines, CT scanners, and an angiography machine got wet, she said.
The Red Cross and the Firefighters' Corps said they received emergency calls from people in Guadalupe, San Sebastián, Desamparados, Ipís, Escazú and Santa Ana, where the floods reached up to 30 centimeters (1 foot), the IMN reported.
The Municipality of San José said it would perform maintenance on the capital's sewer system on Tuesday, but asked citizens to cooperate by avoiding littering the streets and sewers.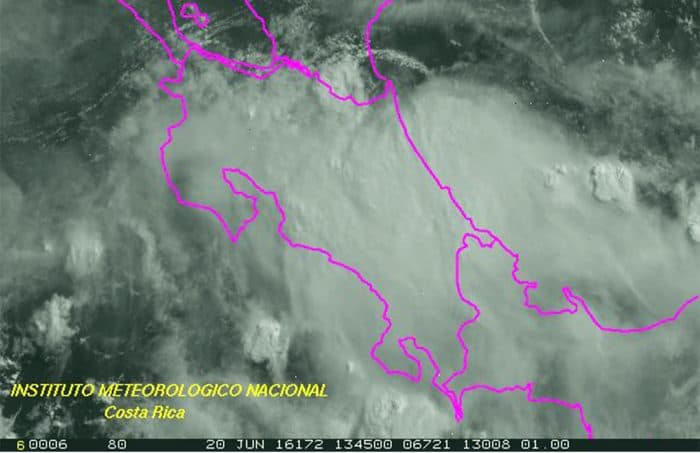 Cyclone season
The IMN forecasts that at least one tropical cyclone could directly affect Costa Rica this year.
Four cyclones have been recorded in the Atlantic and Caribbean oceans this season, and at least 10 more are expected for the rest of 2016. Two of these will originate in the Caribbean, and IMN experts believe at least one could reach Costa Rican territory.
At least 17 tropical cyclones are expected in the Pacific over the next six months but none is expected to directly affect the country.