Turrialba Volcano again spews ash and vapor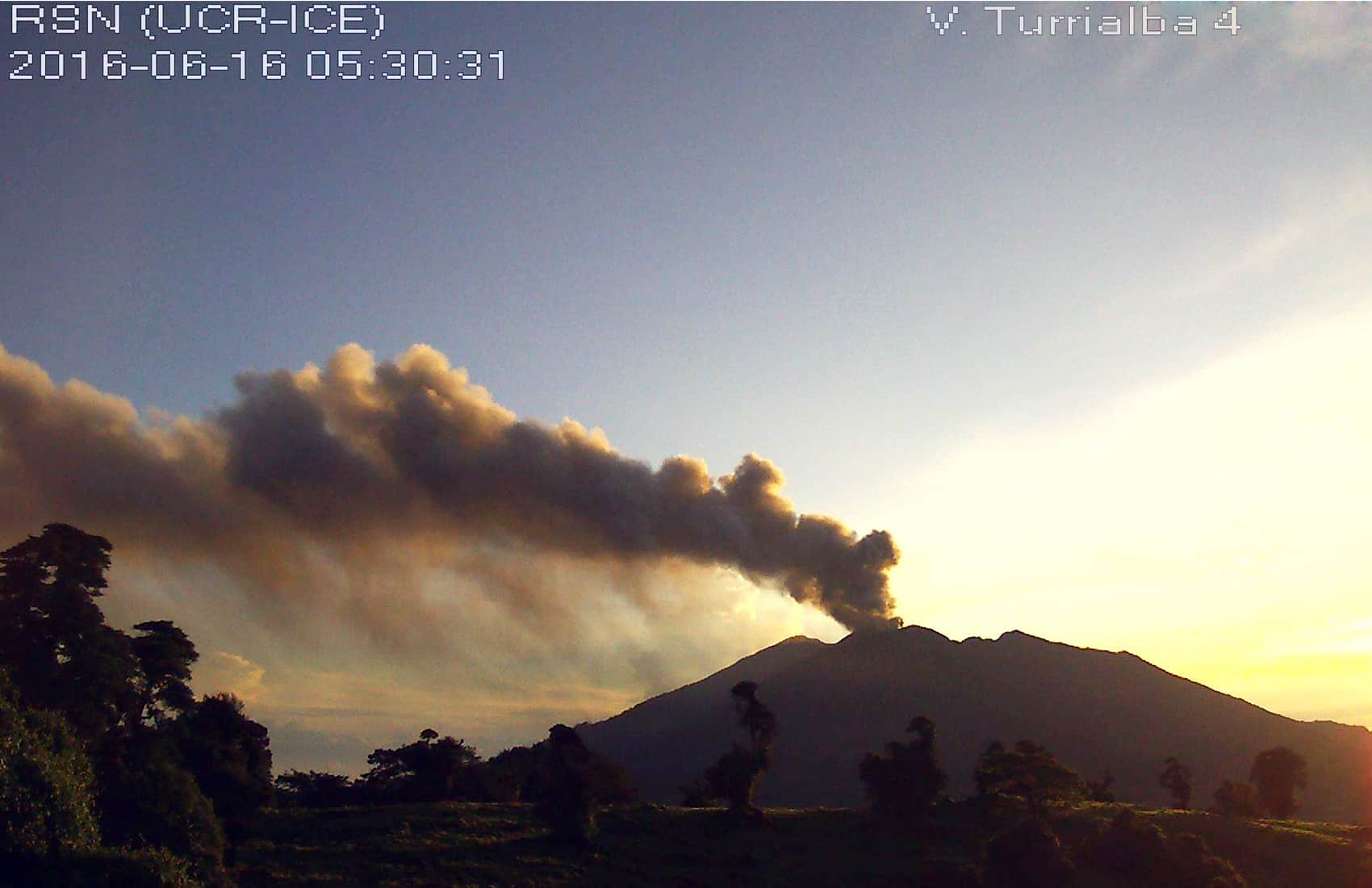 Sustained tremor activity that started at 8 p.m. Wednesday marked a new spike in activity at Turrialba Volcano. At 1:45 a.m. Thursday the crater began spewing ash and vapor, experts from the Volcanological and Seismological Observatory of Costa Rica (OVSICORI) and the National Seismological Network (RSN) reported.
The gas and ash plume reached some 1,500 meters (4,900 feet) above the crater of the volcano, located some 50 kilometers east of San José.
Emanations remained constant until 7:15 a.m., OVSICORI volcanologist Eliécer Duarte said.
Two more ash spewings occurred at 8:05 a.m. and 9:05 a.m. and lasted 20 and 10 minutes respectively, Duarte reported.
OVSICORI's report states that "wind conditions during the morning caused ash to disperse from the volcano at about 12 kilometers (7.5 miles) northwest of the crater."
Ash from the plume reached communities north of Cartago and San José provinces, and as far as Braulio Carrillo National Park.
Residents of the northern Cartago canton of Oreamuno and from various communities north of Heredia province reported a slight smell of sulfur Thursday morning on OVSICORI's Facebook page.
At 3:59 p.m. RSN monitoring stations recorded a new burst of ash that lasted about seven minutes and reached some 2,000 meters height (6,560 ft).
2016.06.16, 17:20: Durante la tarde de hoy se generó una nueva emanación de ceniza en el volcán Turrialba a las 15:59 la cual se prolongó por unos 7 minutos como se observa en la cámara de la RSN ubicada 5 km al oeste del cráter activo. La RSN se mantiene al tanto de la evolución de la actividad de este volcán. Informa: Dr. Mauricio M. Mora

由 Red Sismológica Nacional, Costa Rica 发布于 2016年6月16日
Turrialba Volcano since October has recorded important activity, with dozens of explosions of ash, gas and rocks that increased in late April, some of which extended for several hours.
The National Emergency Commission (CNE) in May established a 5-km restricted access area around the volcano. Entrance to the Turrialba Volcano National Park has been closed to all visitors since 2014.
Materials expelled by the volcano have reached communities in San José, Alajuela, Heredia, Cartago and Limón provinces.
The CNE maintains a yellow caution alert for the Cartago cantons of Turrialba and Alvarado.
You may be interested