NOSARA, Guanacaste – When I drove into Nosara and saw the first sign for a yoga institute, I took a deep breath and braced myself for what I thought would be inevitable.
I imagined an onslaught of preachy foreigners with granola breath to appear out of nowhere and walk slowly toward my car like an army of zombies. They would have names like Sky and Wolf and peddle coconut oil or vegan soap, while mispronouncing "pura vida."
Nosara, from what I had assumed, was a cynic's nightmare. And for me, someone who had been rightly labeled as a curmudgeon and hopeless contrarian by the age of 10, I was preparing for a long three-day vacation.
Coming into my first-ever trip to the small beach town on the Pacific coast of Costa Rica's Nicoya Peninsula, I entered Nosara with some preconceived ideas about this yoga and surf mecca that seems to attract so many expats. But, after intentionally avoiding both the yoga and surf scenes in order to find what else Nosara has to offer, I left with a surprising appreciation for the diversity of activities found in the oft-pigeonholed area.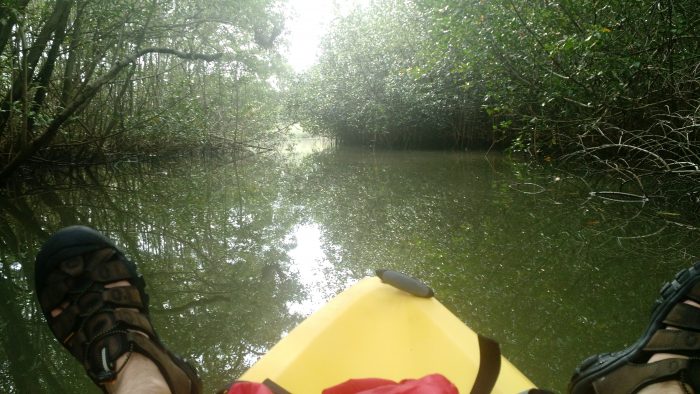 Biological reserve
It started when I visited the Nosara Biological Reserve during my first day in town. Although German-born owners Beate and Hawe Klossec were away, Gabriela Brendle, a fellow German and tour guide for the Klossecs' Boca Nosara Tours, took me through the 90-acre reserve and on a kayak ride on the Nosara River.
With Guanacaste's historic drought hopefully ending soon, Brendle spoke at length about how natural causes have changed the reserve area in recent years.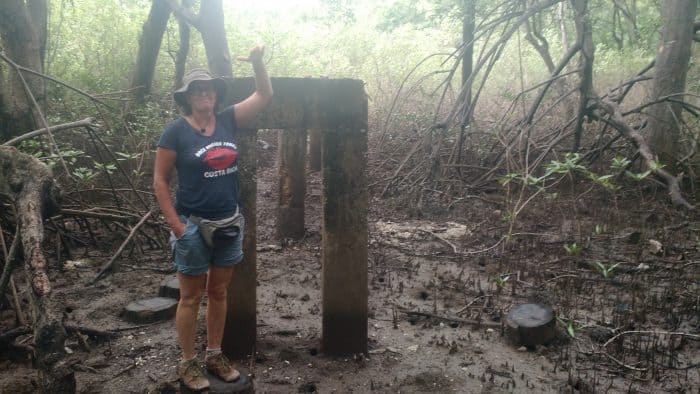 "It's not only the drought, but I would say what has had more of an effect was the earthquake," she said, referring to a 7.6 magnitude quake that rocked the area in 2012. "Ever since then the water level has been extremely low and never recovered."
As we walked through the reserve during a late afternoon in May, we passed stone pillars nearly six feet off the ground that used to support a bridge just above the water. She postulated that strong winds have also had some effect on water levels and overall wildlife numbers.
Still, she said, during the peak season of November to April, there remains an abundance of birds, more than 250 species in total, and other creatures native to the area, like monkeys and crocodiles.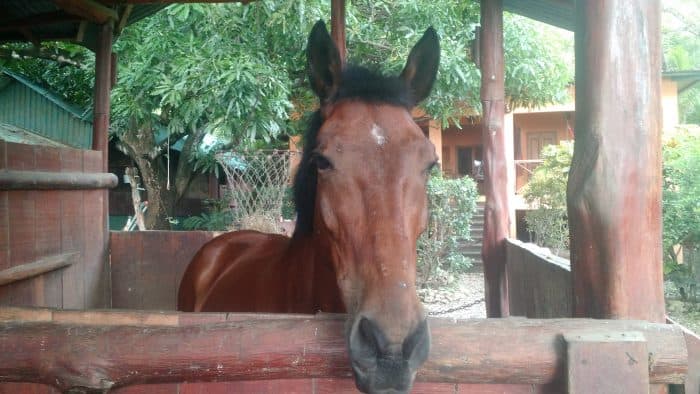 Brendle has been giving tours of the Nosara Biological Reserve for eight years to both tourists and local schoolchildren through educational outreach programs. She said though Nosara's climate has changed for the worse because of declining water levels, its respect for the environment has gotten much better. On the first tour she ever did for local kids, she said some of the kids brought along slingshots to shoot rocks at the monkeys.
"After that first time I did a tour, I swore I would never do one again," Brendle said. "But the mindsets are changing. They're learning not to harm or scare the animals, and learning why this wildlife is important. More than anything now on tours, I have to make sure kids aren't spending the whole time on their phones."
Boca Nosara Tours, which is tied to the reserve and the Lagarta Hotel (currently closed for renovation), also offers horseback and ATV tours.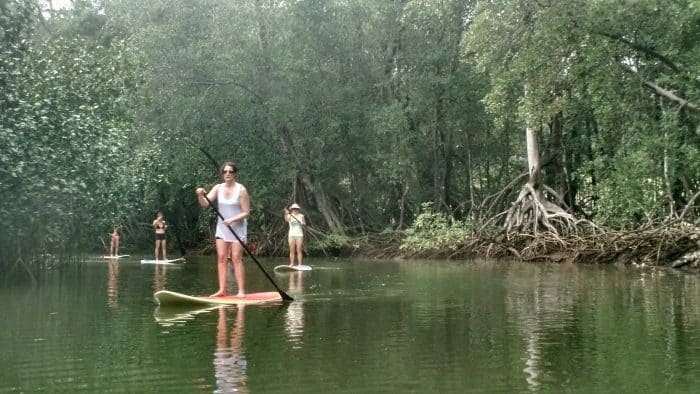 Canopy tour
Another alternative to the yoga mats and ocean waves in Nosara is ziplining through the mountains with Miss Sky Canopy Tour. The zipline company has 21 lines measuring between 300 to 750 meters, according to the Miss Sky website. While zooming above the dense forests and Nosara River, travelers are treated to views of the Pacific Ocean and the region's vast greenery.
Early one morning, I went with a group of six tourists visiting from the United States. After a 20-minute ride up the bumpy dirt roads leading to the first line, we had a quick training session, where nerves for the collection of mostly first-timers, excluding myself and one other person, were starting to get more and more noticeable. The tour guide assured us, "The only thing you really have to do is use your hand to brake. We do the rest." And with that we were sent down the first line, where a concrete block has the words: "No Way Back" spray-painted in red.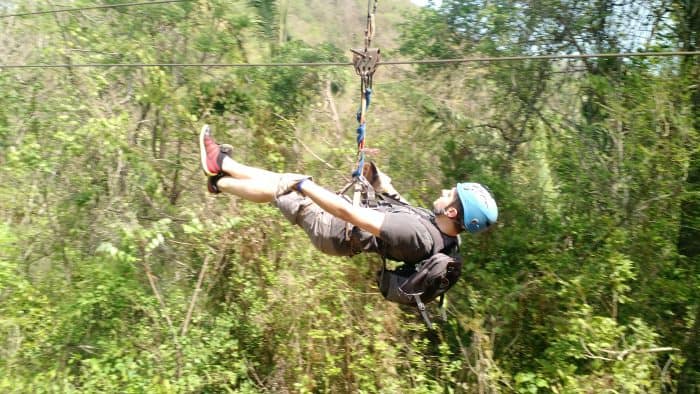 After the first few lines, our group started to experiment with riding in upside-down positions and attaching our lines together with trains of three or four people at a time. On the line that tour guide Jeremy Varela said was the highest in altitude of the entire course, he took my phone and recorded as I latched on with father and son Darrin and Brandon Griffin.
We glided over the dense greenery of the forest below, sailing at the same plane as birds of prey, on the near-minute-long track.
"Thank you for flying Jeremy airlines," Varela said when we safely reached ground again.
The three-hour tour, headed by a team of five young but experienced Costa Rican guides, was extremely organized yet very laid-back. The team at Miss Sky, which does up to three tours a day in the high season, was the perfect set of guides for a canopy tour.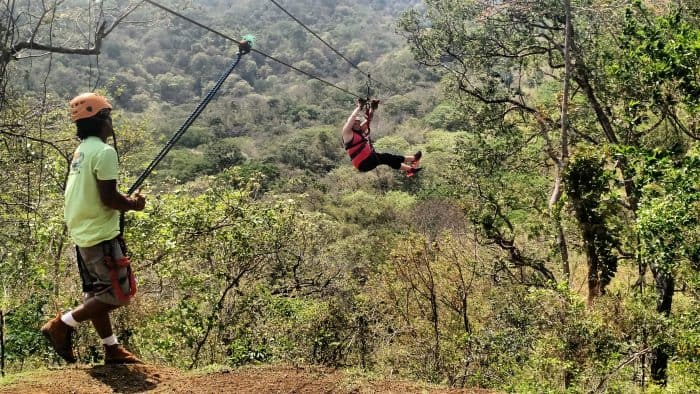 Wildlife
When I wasn't racing above treetops or navigating through the mangroves in Nosara, I was spending time with adopted monkeys up in the hills just a 10-minute drive from the popular Playa Guiones.
Much like the Nosara Biological Reserve, the Sibu Wildlife Sanctuary highlights the incredible amount of wildlife in this part of Costa Rica. Owners Vicki and Steve Coan currently house more than 20 rescued monkeys from all over the country, as well as other animals, including a stout peccary that feasts on mangos.
As more resorts and restaurants pop up all over Nosara, it means clearing forest area where monkeys live and putting up power lines, which Coan said kill or injure monkeys in the country every day. Sibu, as pointed out in our recent feature on the rescue center, regularly takes in monkeys that suffer serious burns from landing on the power lines, or face more terrestrial harms from dogs or cars.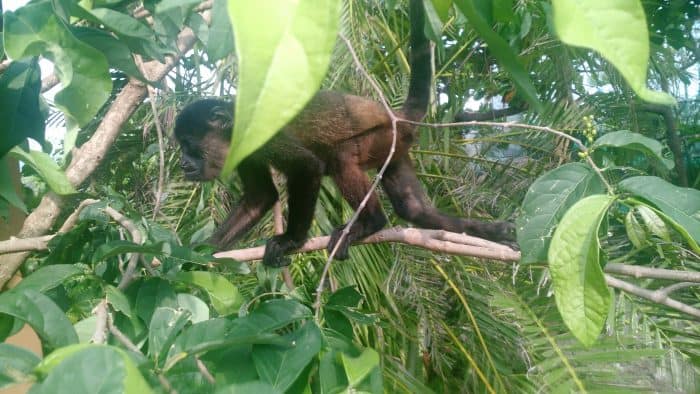 Coan, who tends to stay in her 50-acre property while working full days to care for the rehabilitating monkeys, has been living in the area since 2000 and said much of Nosara feels almost unrecognizable to her.
"If I go down to Guiones I feel lost now," she said. "There's all these new resorts and restaurants where trees and jungle used to be."
A trip to Sibu Wildlife Sanctuary is an eye-opening experience for any traveler to Nosara. As Coan put it, the monkeys now being threatened by development are a key attraction for visitors wanting to see the biodiversity that makes Costa Rica what it is.
"These animals get people coming and provide jobs in tourism," said Vicki Coan. "They provide an industry and activity that gives us more than just yoga and surf."
Contact Michael Krumholtz at mkrumholtz@ticotimes.net.