In what could be a major change to real estate law in this country, the Costa Rican Chamber of Real Estate Brokers (CCCBR) is working on a proposal to require mandatory real estate licensing by the government.
At a conference with some 80 attendees Thursday night called "Costa Rica: Global Impact and Opportunities," an international representative of the U.S. National Association of Realtors (NAR) discussed the advantages that close cooperation with the association could generate for the Costa Rican real estate market.
Alejandro Escudero, director of global alliances and business development for the NAR in Europe, Central America and South America, was invited to the conference by Ofelia Ulloa, international director of the CCCBR, which has been promoting closer cooperation between the two groups for the past four years.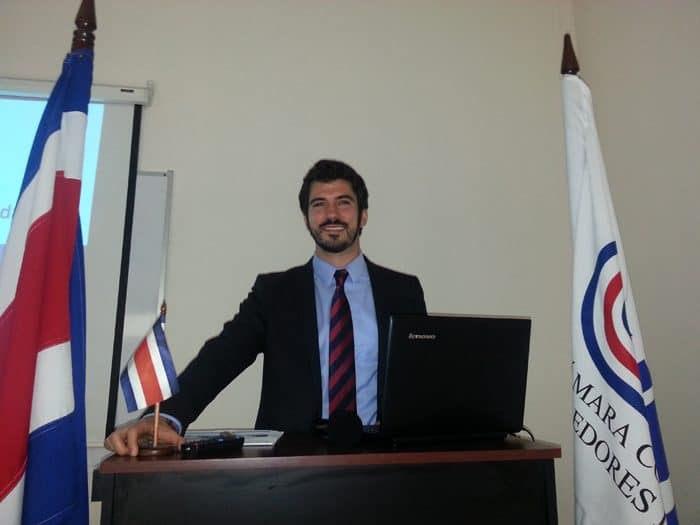 The CCCBR presented the NAR with a letter requesting support in promoting Costa Rica as a destination for international business in the real estate sector among NAR members worldwide.
The Costa Rican Chamber of Real Estate Brokers has long promoted mandatory real estate licensing, and the Costa Rica Global Association of Realtors (CRGAR) has for years been educating its members on NAR benefits, such as the ability to legally call themselves by the name "Realtor," a registered trademark.
Panama regulated real estate by law in 1993 and other Central American countries have done so in recent years, while Costa Rican initiatives for mandatory real estate licensing have languished. On Thursday, Citizens' Action Party lawmaker Franklin Corella, also present at the conference, promised to lend a hand if the proposal is correctly presented.

The CCCBR is preparing to present the proposal to the Costa Rican National Assembly and is looking forward to positive results. Allen Lungo, president of CRGAR, said Thursday that he is very happy with the way things are moving along, as the association has been promoting professionalization of the trade for years.
A legal licensing requirement would oblige real estate agents to undergo continued education and would instill new confidence among buyers and sellers of real estate in an agent's services. It would require real estate developers in Costa Rica to use the professional services of a licensed real estate agent to sell their properties.
Formal licensing would also oblige existing real estate boards to create a functional multiple listing service (MLS) that would have all properties for sale listed on every member's website, as is common in many other countries.
The fiscal advantages for Costa Rica could also be significant, as a new law could allow transfer taxes on a property to be paid when the shares are transferred, which is how most real estate developers sell property.
Ivo Henfling founded the American-European Real Estate Group, the first functioning MLS in Costa Rica with affiliate agents from coast to coast, which has been in operation since 1999. Read his blog at https://www.american-european.net/Costa-Rica-Real-Estate-Blog or contact Ivo at (506) 2289-5125 / 8834-4515 or at ivo@american-european.net.