President Rafael Correa tried to lift spirits by saying the country will overcome "these very difficult moments" but also added a sobering message that the full extent of Saturday's magnitude-7.8 quake was still unknown.
The death toll would "surely rise, and in a considerable way," Correa said as rescue teams struggled to reach the quake zone, where some areas were cut off by landslides and buckled roads.
Ecuador's security minister, César Navas, told the Teleamazonas channel that the death count had reached at least 350.
Correa — who flew directly to the area after breaking off a trip to the Vatican — described the earthquake as the worst natural disaster to hit Ecuador since a 1949 quake in the Andes killed more than 5,000 people.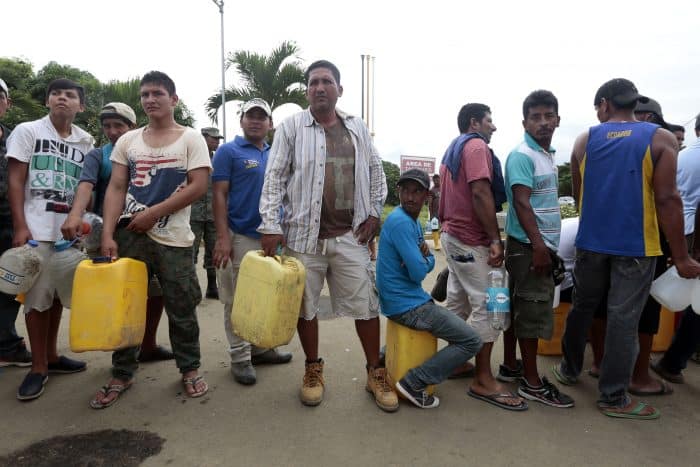 In the seaside town of Pedernales, the quake's epicenter, survivors spent the night in tents or on mattresses arranged outdoors. Broken fragments from a fresco on the town's church were scattered nearby.
At first light, some people gathered by ruined buildings to watch firefighters and rescue crews search the rubble for victims — more than 135 from Pedernales.
As rescuers pulled out yet another body in the town's central square, residents crowded along barricades. The body, covered with a white sheet, was loaded into a fire brigade pickup.
"My God, my God, it can't be, it can't be," screamed a woman ringed by aid workers trying to calm her.
Others began the work of trying to save what they could.
Vicente Vera, 23, oversaw friends and relatives as they heaved bulk bags of sugar out of his uncle's wholesale store.
"If we don't get the stock out, it will go bad, and we'll lose even more than we already have," Vera said.
Four more storage rooms awaited them, filled with beans, corn and other supplies. The family plans to drive the bags to a nearby town until they can clean the building.
"I still haven't slept," Vera added. "The earthquake was terrifying. Luckily we were outside, so we're all alive."
He then listed the needs for Pedernales: "medicine, water, tents. Everything."
"It was only after the earthquake finished that we could get out of the house," said Angélica Valencia, 30, clutching a gallon of water and surrounded by her three young children on Sunday. "It was terrifying, and now we're sleeping on the street."
The Esmeraldas oil refinery, key to the oil producer's economy, halted output after the quake.
A bridge in Guayaquil, Ecuador's largest city, collapsed after the quake. Other bridges across the country were undergoing safety checks.
Residents who were evacuated from coastal towns because of initial fears of a tsunami would be allowed to return, said Vice President Jorge Glas, who visited disaster sites Sunday.
"No Ecuadoran is alone," Glas tweeted. "We will come out of this emergency stronger."
© 2016, The Washington Post