TAMARINDO, Guanacaste — A couple years ago, those who walked, ran or drove the trails behind Tamarindo noticed a major construction project underway on top of the highest hill. When the locals learned it would be a large chain hotel, many thought, "Just what we need, another hotel in Tamarindo." This became almost as common a refrain as "Do we really need another souvenir shop in Tamarindo?"
Yet the Esplendor opened its doors in March last year, and a few months later, in September 2015, manager Santiago Magno arrived. Magno, having run successful Esplendor properties in Uruguay and Argentina, set about establishing this hotel's proper place in the Tamarindo landscape.  He is employed by Fen Hotels, a franchise and hotel management service for the chain.
While Fen describes its Esplendor brand as a boutique hotel, this 104-room, 3-tower property stretches the definition.  The first thing you notice when you walk into the entrance is a magnificent panoramic ocean view just past the pool.
"The architects did a great job with design for the sunset," Magno said. They also did a nice job with the structure surrounding that view: all of the rooms in the art deco edifice face that way.
If you look carefully, the second thing you will notice at the hotel's entrance is the 5-star plaque on the wall, a certification bestowed on this hotel just recently, making it the highest-rated hotel in this area.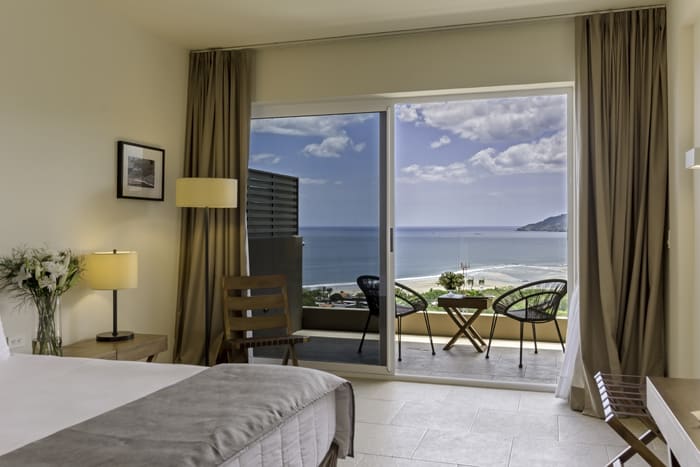 Keep in mind that there is no internationally compatible star rating system, and the one in Costa Rica is determined by the Costa Rican Tourism Board (ICT).  The five stars awarded to Esplendor mean it offers extraordinary service, gourmet food, striking architecture, gym, beauty spa, and top-quality linens, towels and mattresses.
Let's talk about those mattresses.  While the rooms offered include one queen, one queen and one single, two singles or three singles, one would be hard-pressed to call these beds "queen" or "single." In fact, the pillow-top mattresses are sized uniquely for Esplendor: the larger actually slightly smaller than a king, and the smaller slimmed down from a full. With the specially sized mattresses comes custom-made high-grade bedding.  These beds sit in simply designed modern rooms with all the amenities of a five-star hotel, including telephone, bath kit of shampoos and soaps, free Wi-Fi, safe, bathtub, hair dryer, air conditioning, flat-screen TV, minibar and of course the endless Pacific vista.
In order to get down to that beautiful ocean, the hotel has worked out a deal with the established tour company Jacamar to provide free shuttles every half hour to the Langosta Beach Club. That facility, which usually charges non-members for the use of its pool, gym and oceanfront amenities, is offered as part of the stay at Esplendor.  Jacamar is also represented at the Esplendor's front desk, offering its full range of tours, including kayaking, horseback riding, ATV, canopy ziplining, day trips to Arenal and many more.
One of the first things Magno accomplished when he arrived at Esplendor was opening the Pura Vista restaurant, making a deal with Arnaul and Magaly Vignon, who oversee the restaurant at Langosta Beach Club, to provide delicious food for hotel guests. They also run the swim-up bar located outside in that gorgeous pool.
The high-end luxury spa in downtown Tamarindo, Coco Spa, has also opened a branch in Esplendor. The dark wood facility has a delightful aroma greeting guests who want a massage, a visit to the steam rooms, a mani/pedi or a stop at the small gym.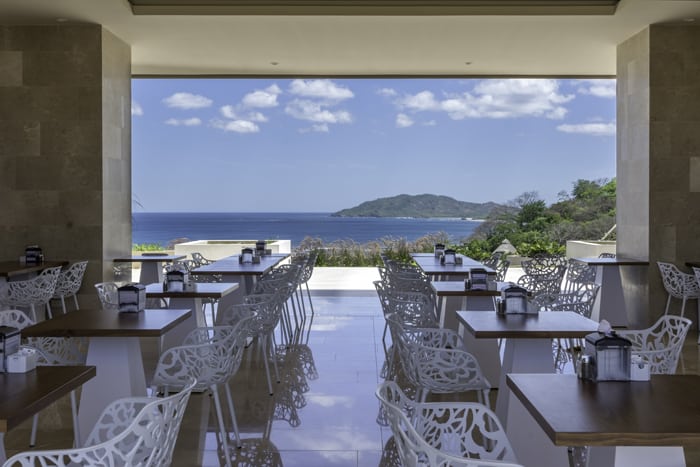 "The past 6 months we've had great occupancy," Magno said. "It's important for us to settle into the area. I mean, the Diriá has been here for like 40 years. We need to make our own space."
One would think that being part of a chain of 38 hotels (with Esplendor and Dazzler brands in North, Central and South America) would make the task of establishing a local identity a bit difficult. After all, Fen Hotels, which manage all these properties, have certain guidelines. For one, the Esplendors are mandated to be operated like a boutique hotel, an artsy and even trendy experience, compared to their sister Dazzler Hotels, which are more corporate, and boxy by design.
Regardless, all hotels are individually owned, but managed in this similar manner by Fen Hotels and its boss, Patricio Fukos. When a group of investors opens a hotel like Esplendor in Tamarindo, Fen comes in and manages the property and hires employees from the local area.
Even more unusual, Esplendor Tamarindo is more of a cooperative: All of the rooms are actually condominiums, which were sold to private owners. Fen is in charge of filling them with patrons. They were originally sold for between $150,000 and $160,000.
The hotel's room rates range from $140 plus tax in the low season to $180 plus tax in the high season, and up to $400 for Christmas and New Year's.
"A lot of marketing was done to determine that this hilltop was a great spot," said Magno.
Tamarindo's Esplendor is the first hotel on a beach that Fen has managed. And things are going so well that the same group of investors will be building two more towers behind the existing buildings, adding 90 more rooms sold as condos, and operated as a hotel. In about five years, they plan to build down the hill in front of Esplendor, and these units will strictly be condominiums and not hotel rooms.
So how does Magno see the Esplendor competing with Tamarindo's many other hotels?
"If you look at the hotels in Tamarindo, many look the same, many on the beach side have great service, but there's no option here in town for someone who wants to relax and to be away from town, enjoy a view away from the noise, but still in Tamarindo," he said. "We have a well-known name, and we are now in a well-known area, and there's a lot of benefits of being on the hill, but we also have the shuttle and the beach club."
While some might disagree with Magno's assessment of his competitors — you'd be hard-pressed to find two hotels in town that "look the same" — one could hardly disagree with his assessment of Esplendor's typical client.  He targets 55- to 70-year-old couples as well as younger families, eschewing students on spring break or any young, single person adventuring to Tamarindo for a party. Guests are primarily from the U.S., Europe and Canada.
"As a matter of fact, right now we're working with Air Canada, offering a package with their flights and our hotels for a 7- to 14-day vacation," he said. "In April, we are hosting the accommodations for the national volleyball tournament here in Tamarindo."
Magno is definitely a go-getter.  He's made many cold calls to get to know the local residents, businesses and vendors, and the results have been 80 percent occupancy for months since his arrival.
In a town filled with hotels boasting their own unique character, from rustic hostels to luxurious lodges, the Tamarindo version of the Esplendor chain has carved out an impressive niche.
For more info: https://www.esplendorhoteles.com/en/hotels/costa-rica/hotels-in-tamarindo/esplendor-tamarindo/
Contact Ellen Zoe Golden at ellenzoe@aol.com.