Pole trainer, dancer, mother of a 7-year-old, and marketing and operations chief at a film distribution company: Elena Hütt, 28, somehow manages all these roles with a smile on her face, fighting against the taboos surrounding her passion.
Hütt has been practicing pole dancing for approximately seven years, and has been teaching it for over a year. She and her sister, Paola Hütt, started Ü GYM Pole & Yoga, where both sisters and four other teachers offer 10 kinds of yoga and pole dance classes.
The Tico Times visited Ü GYM in Los Yoses, just east of downtown San José, to talk to Hütt about her immersion in this sport. Excerpts follow.
How did you start practicing pole dancing?
[I've been practicing it] since my son was born. But it hasn't been seven years in a row: I mean, I went to classes and then left it and came back after a while, and so on. I was more likely to do yoga. I came back to pole because I was passionate, but I was always taking meditation and yoga workshops.
Actually, [I got into it] thanks to Rosita Cajas, a pioneer of pole dancing in Costa Rica. It was my birthday and I always like to "throw the house out the window" [pull out all the stops], but I was running out of ideas. I had already done everything! And, I had seen on Facebook something about pole dance [at Caja's Company], and I thought it was really interesting, so I called Rosita and told her I wanted to celebrate my birthday there. At that time I worked in radio, so I also invited her to talk about this topic and raise awareness about pole dancing.
One thing led to another. I took the class, the party was a success, and it was like an innate talent. I was able to go up and do many things up there on the pole, so I realized it was something that not only held my attention but also something where I could develop my abilities.
What do you like the most about pole dancing?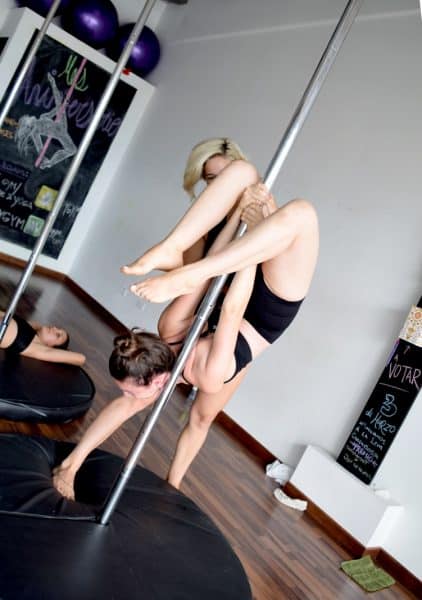 The challenge. I never stop learning. In pole dancing you can actually see your progress because you fight and fight and set goals. Suddenly you can do a pose you couldn't before, and you find yourself doing a split in the air, and you think, "Oh my God, this is me!" and you cry with happiness. I love the effect it has on people. You notice it when a girl first comes here and she is so shy and don't want to talk to other girls – let's remember that a girls' only environment is not that easy to handle – but then you see the opposite begin to emerge. You see fellowship, because the girl next to you understands that it hurts and she wants to help you. All of them applaud their achievements. I love it. It also makes them more confident. They are no longer the shy girls who started. It's just thanks to the fact of believing in them.
It's so hard. After a while you get used to the bruises, the pain, the scrapes. The hardest thing is getting used to be held up by your skin, because after all, that's what it is. But it's all about technique, practice… then you will get used to it. You will tone parts of your body you didn't even think were possible. It hurts, but it's a satisfying pain.
All the 'I can't' become 'I can,' and that's the best.
How did Ü GYM get started, and how do you work?
I got involved to help [my sister Paola]. It was her dream: she was going to be in charge of the pole dance classes and I was going to teach yoga. But she got pregnant, with high risk, so I had to take all the classes. I was teaching six classes per day.
Our classes are full of energy, different from others where people are like, "Keep the position, don't talk, follow the teacher, don't interrupt." Not at all! Here we are all friends, we are chatting, laughing… it's an environment full of music, full of happiness. I'd say that's the secret: to be ourselves. I like to laugh all day… to give the students a sanctuary where, even though they had a bad day, they can come and feel good, in contact with themselves, who they really are.
We want to make the best of each student. At the end what remains to you as a teacher is to train people to be better than you are. That is the thought that every teacher should have: if they are better than you, that is the best legacy you can leave.
I don't like to limit myself to be just a pole dancing teacher. I like to include everything I know. Nobody has a manual of how things should be done on pole, and I like to do it differently, my own way.
What is the pole dancing community like in Costa Rica?
It is really small, but growing and getting united, which is really important because at the end we are all fighting for the same objective: to get rid of taboos.  We just organized the first "Get Together," a meeting between all the academies. Here in this academy we have 50 students, from a 6-year-old girl to a 63-year-old woman, who is amazing! I love her. Just imagine that if pole dancing is a taboo for people born in the '80s, she was born in the '50s when society was a hundred times more repressed, and the fact that at this age she has the courage to practice such an extreme sport is awesome. And she is so good at it.
What misconceptions do people have about pole dancing, and how can that be changed?
I say I'm a pole-dance trainer and people look at me like as if it were the worst thing ever. Some girls who have studied here have even had to struggle with their parents or other people who had told them not to come because they saw it as something wrong. [But] there are different categories. Exotic [pole dancing] is more traditional, burlesque, using high heels, more sensual movements, less acrobatics. But there's also pole fitness, which is the one we practice here. It includes more acrobatics, gymnastics and strength.
I think it's about doing what you want, not listening to what other people say. If you are called by this art – which is a beautiful art – then try it. The worst that can happen is that you don't like it, but you tried it.
Nobody takes her clothes off. We are all doing our best.  The International Pole Sports Federation is even fighting to get us included in the Olympic Games. It should absolutely be included: it's gymnastics on a vertical pole! Of course there should be guidelines so performances wouldn't be provocative and no one in the public would be alarmed. It's a sport that really needs people's attention.
Our "Weekend Arts Spotlight" presents Sunday interviews with artists who are from, working in, or inspired by Costa Rica, ranging from writers and actors to dancers and musicians. Do you know of an artist we should consider, whether a long-time favorite or an up-and-comer? Email us at kstanley@ticotimes.net.