Gloriana Villalobos, who first joined the Costa Rican Women's National Soccer Team at the age of 15, has always been ahead of the game. Now 16, the young phenom is already getting serious looks from major college programs in the United States, where she hopes to play after graduating from the high school ranks here in Costa Rica. That is, if she doesn't jump straight to the pro leagues, which the talented midfielder may have the ability to do.
Last year, when she was included on the roster for the Ticas' first ever World Cup appearance, she became the youngest Costa Rican player ever, female or male, to be invited to the World Cup. The wunderkind also debuted for club power Saprissa when she was just 12.
In an extensive interview with The Tico Times, Villalobos discussed how she balances such a heavy load of football with high school, how nervous she really was playing on the game's biggest stage, and why women's soccer is steadily gaining popularity in Costa Rica. Excerpts follow.
How did you get into soccer, and what do you like about it?
I started playing soccer with my brothers. I saw them play and got interested. At the start, it was about spending time with them and not so much because I liked it; then it became a passion. What I like the most about soccer is that it's not only about what you do on the field, it's also about meeting new people. Many people think it's just a hobby, but it teaches you life lessons. This has changed me as a person and I've become more mature in many aspects.
How do you balance school and soccer?
The truth is that I wouldn't have accomplished what I have without my school's help. The Colegio Metodista has helped me a lot. I've had to ask for permission to train since eighth grade. I'm in my senior year now. The school has given me the necessary permissions and has made everything possible to help me.
Has this balance helped you develop your discipline, both in soccer and school?
Of course! Soccer has helped me a lot with discipline. Sometimes in which I've got to wake up at 5 a.m. to go to school and I don't want to. For two and a half years I had to wake up at 3 a.m. to go train. There were days when the alarm went off and I just wanted to break it. I was very tired, but I remembered the responsibility I had and the motivation. That's what made me wake up. Now that I train with La Sele, we train at dawn. It has become a habit to wake up during those hours without indisposition. You already know that you're doing what you like, so you wake up.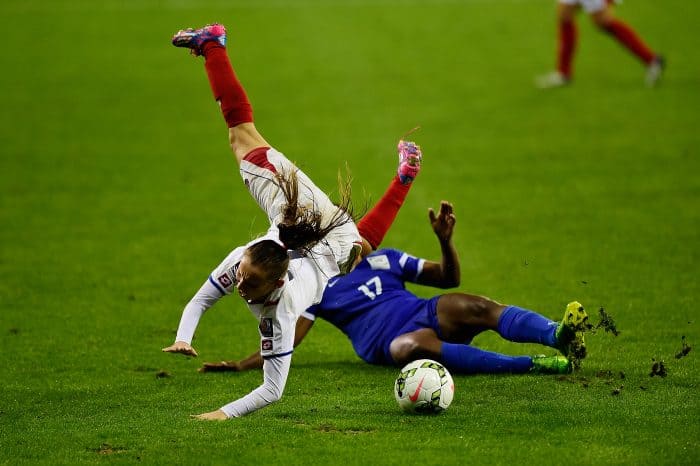 What was it like to play in the World Cup?
I remember when I was in the locker room and heard all of the people in the stadium shouting.
Now people do support women's soccer. This has changed, but it's not supported as much as it is for men. However, my teammates and I had gone from playing at a match at Proyecto Gol, in which there were 15 people watching including our family members, to a match with 35,000 people watching and waiting for you to do you job well. It was a harsh change. I remember coming out of the locker room, going into the tunnel and watching the fully-packed stadium in the background. I felt an emptiness within me, as if I were going to pass out. I was nervous. However, as time passed I told myself that this was what I had prepared myself for, over a long period of time. You always get nervous.
What does it feel like to represent Costa Rica on such a big stage?
It's always an honor to be able to represent Costa Rica. When you leave the country bearing that flag, you've got a great responsibility because you always want to raise up Costa Rica worldwide. It's always a privilege to wear the jersey and know that you've got the name of a country and millions of people who have deposited their faith in what you're going to do.
How do you feel about having accomplished so much at an incredibly young age?
I've always been very thankful to God for the blessings He has given me: being able to play with two selecciones and being able to play a major world cup at the age of 16. I always try to learn. I like it a lot when I can go out with La Sele because they're my idols. When I began playing with Saprissa when I was 11 years old, I trained next to Katherine [Alvarado], Raquel [Rodríguez] and Carolina [Venegas]. I watched them and said, "They are so good!! Being able to play on a team with them is a great dream come true.
Since you were called to play with La Sele, how have things changed?
Everything has changed. I remember the first time I was with the team: it was in 2014 at the UNCAF in Guatemala. I didn't know my teammates and I was beginning to get into this world. Now, they're like my sisters and we're a family.
Which is the next accomplishment on your checklist?
Representing the country is always a motivation. My objective is to play with La Sele and remain a constant fixture on the team. My next objective would be able to study in the United States. Even though you love soccer, it's not going to grant you everything in your life. You're going to get to a point in which it will end. Physically, you won't be able to do the same things. It's important to have an education plan as well. I want to study physiotherapy or be a fitness trainer. I want to keep it within the sports area.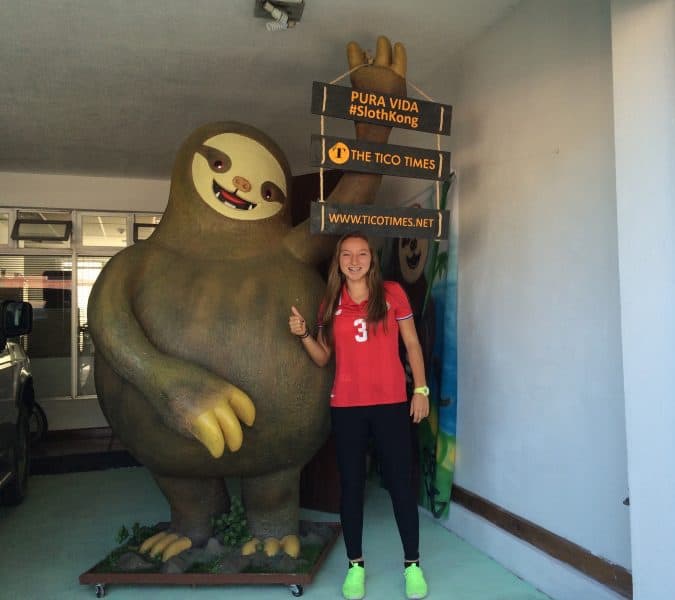 How can women's soccer be more supported on a national level?
There has been a before and after. I can bet that before the Under-17 World Cup, which was held here in Costa Rica [in 2014], there were lots of people who didn't know women's soccer existed here in our country. Afterwards, everything changed. People have noticed there's a women's league and that there's a match every Sunday. In July and December there's a national champion from those matches, and at the end of the year there's one champion. Many people don't know about this, but there are also people who have informed themselves about it. The media has given more coverage to the women's soccer, and it has advanced and progressed.
Our dream, for us players, is to be able to see a fully-packed stadium on a Sunday with people watching women playing. Maybe it's not about watching us play, but watch the future generations. Maybe when we're 60 years old we'll see a packed stadium watching women play.
Do you think that your generation can have a better team in the future? Could you compete against USA and Canada at the CONCACAF with this next generation of rising stars like you?
Yes. Before, when Costa Rica played against the United States, the scores would 8-0 or 10-0. Now you watch the matches and it's 3-0 or 2-0. It's not such a big difference. That's the purpose of the under-17 tournament: to prepare young players who can reach their best level when they're 20.
When you began playing soccer, you started playing with boys. How has that been an advantage or disadvantage?
Playing on a boys' team helped me greatly. All of us began that way, and it helped us a lot. Boys don't like it when a girl is better than they are. I had to struggle a lot with that, because in more than one match there were boys who would pull my hair, kick me and call me things. That helps you to build character. I was getting into what was a "boys' game" during that time. I tried to behave like a boy on the field: I had to bump into them and knew that the boys I played against would not feel pity towards me. They would play harsher against me because they would say: "So, you want to play a 'boys' game'? Feel what it's like to play with boys." That helped me a lot.