Costa Rica's annual car show, ExpoMóvil, kicked off its 10-day event Thursday, offering consumers special financing deals and a chance to inspect nearly every new car and motorcycle on the market here in a pleasant, easily walkable space. Recreational vehicles and heavy machinery are also on display — and for sale.
"Unlike other big car shows, like Detroit … this is more like a big sales event," explained Ana Lucrecia Vargas, marketing director for Grupo Danissa, which represents Nissan and Audi in Costa Rica.
Vargas said more than 30 percent of Danissa's annual sales happen during ExpoMóvil.
Still, those who just want to look are welcome, and some dealerships are showing cars that will end up in many more cell phone pictures than garages. Motores Británicos, for example, is showcasing two Morgan Three-Wheelers, an early 1900s car upgraded for the 21st Century.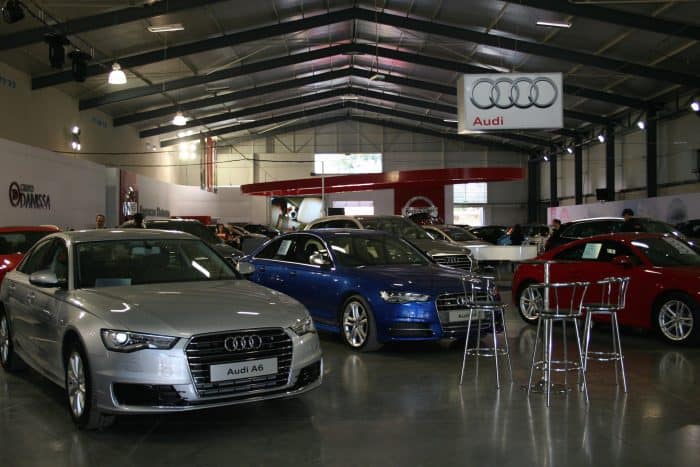 But mostly, Vargas said, it's a time to buy, principally because banks and other lenders, in partnership with car dealers, offer great financing options at the show.
Nearly a dozen local and international banks are at ExpoMóvil, and most say they can approve financing within an hour — if a buyer can show she has the funds and is firmly established in Costa Rica. Some lenders start offering deals around the time of ExpoMóvil but continue to offer them after the show is over.
A virtual army of bank representatives are present throughout the show and have booths set up at dealerships to explain the options to potential customers and let them compare.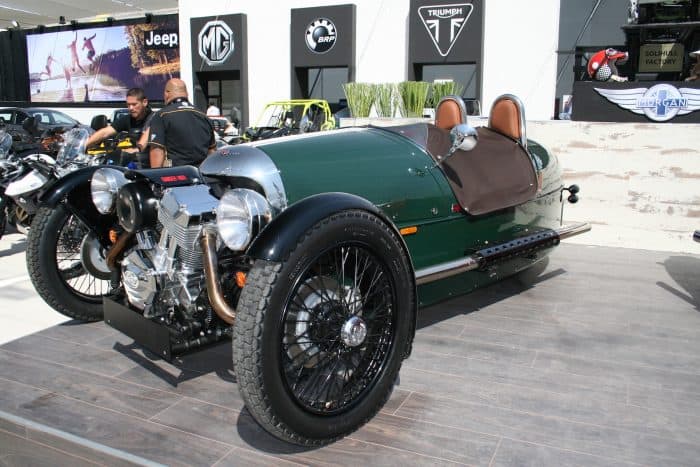 Financing elusive for non-residents
For foreigners in the process of establishing residence in Costa Rica, however, financing can be hard to come by. Most banks and finance companies won't lend to anyone who doesn't have permanent resident status.
One possible exception is Davivienda, a Colombian bank that purchased HSBC's operations in Costa Rica a few years back. Mariela Córdoba, assets and sales manager at Davivienda, said the most important thing is to establish one's physical and financial roots in the country.
Other lenders, including Banco de Costa Rica, Scotiabank and Lafise, said residency was a requirement for financing.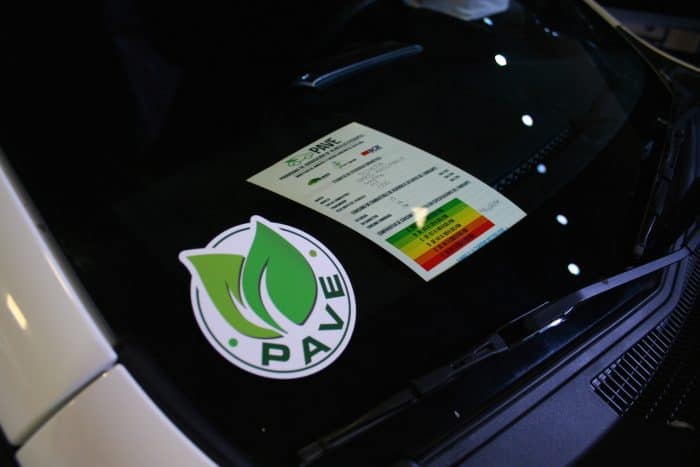 Fuel-efficient, low emissions cars aplenty
Buyers looking for fuel-efficiency and a smaller environmental footprint will find lots to choose from at Expomóvil, plus incentives that go beyond a clear environmental conscience.
The government is making a new push to get consumers to buy fuel-efficient, low emissions cars through its Acquisition of Efficient Vehicles Program, or PAVE. Bank of Costa Rica (BCR) is offering 100 percent financing and an initial interest rate (for the first two years) of 6.25 percent on dollar loans for cars that meet the program's criteria.
The 63 vehicles that qualify for the program, which are identified with PAVE stickers at the expo, must have a fuel efficiency of 15 kilometers per liter (35 miles per gallon) and a maximum weight of 1,800 kilograms.
The program also includes a dump your clunker component: a $1,250 bonus for turning in your old vehicle for a new one.
In PAVE's first year, however, only 100 people opted to retire their old cars for the bonus. In general, some 500 cars have been financed under PAVE.
Olman Fallas, commercial manager at BCR, hopes the program will gain more interest at this year's ExpoMóvil, as more people become aware of it. He also admitted that most people can sell their cars for more than the bonus that's offered under the program.
"Maybe the bonus is too little," he said.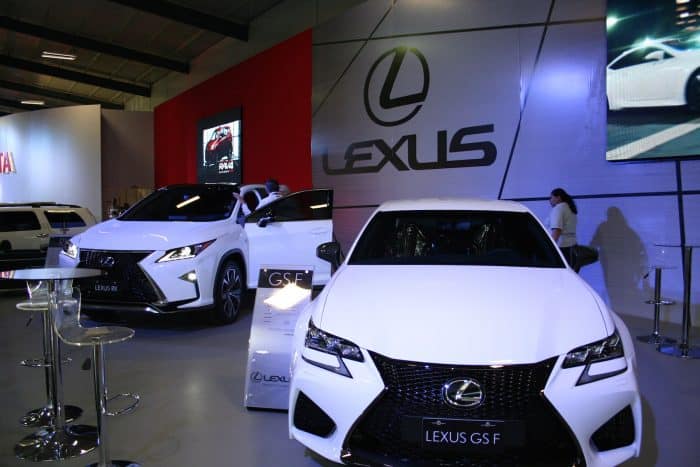 Hybrid-lovers will find a variety of options at the expo. If you're looking to buy a Lexus, you can get a hybrid for the same price as a gas-powered Lexus thanks to a tax break. Lexus general manager Jorge Guerra said 80 percent of the cars Lexus sells here are hybrid.
Besides saving on gas, hybrid cars aren't subject to the once-a-week vehicle restriction rule in the capital. All of Lexus' cars at ExpoMóvil are available with hybrid motors, he said.
Nissan's all-electric Leaf, popular in the U.S. but as yet absent from Costa Rican roads, is on display at the expo, but not for sale. Vargas from Grupo Danissa said the company is ready to offer the Leaf here, but the regulatory environment and infrastructure necessary to make electric cars practical are still lacking.
If you want to pollute less and get around traffic, Freedom is advertising a 100 percent electric scooter, which it says charges in eight hours at home and can go up to 55 kilometers on one charge.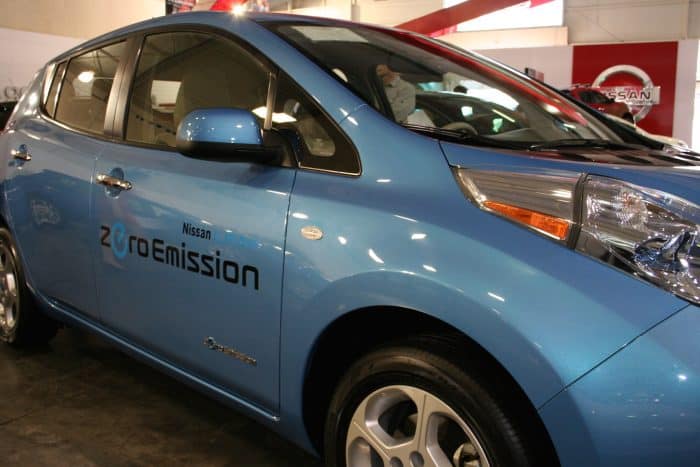 New cars are the new trend in Costa Rica
Despite how expensive cars are in Costa Rica compared to the U.S., or perhaps because of it, the trend here is toward buying new cars rather than used ones. Last year, more than 70 percent of imported cars were new compared to 40 percent in 2003, according to the Association of Vehicle and Machinery Importers, which organizes ExpoMóvil.
The shift toward new cars is in part a result of government regulations designed to reduce pollution and keep roads safer. But it's also thanks to more attractive financing plans, with lower interest rates and longer terms. Many of the lenders at ExpoMóvil are offering terms up to 84 months.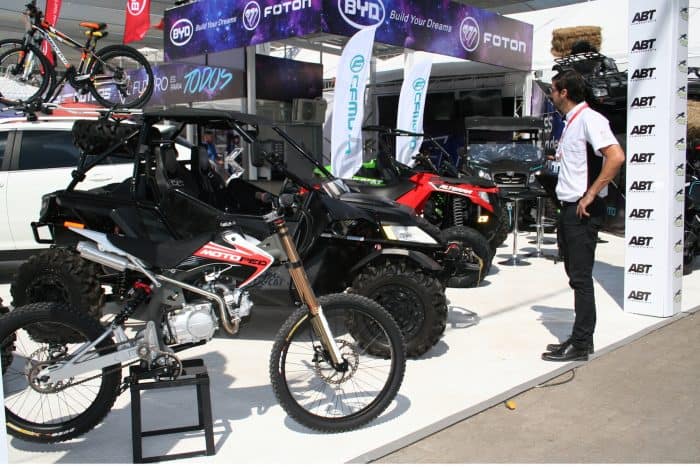 At the inauguration of this year's expo, Guillermo Charpentier said more newer vehicles means the government can collect more taxes on their higher price tags and move closer to meeting its international pledges for reducing greenhouse gas emissions.
That may be true — if people retire their old cars. Currently, Costa Rica has more than one car for every three people. The average age of vehicles on the road is 16 years, according to the vehicle inspection agency RITEVE.
If that average defines your car, maybe it's time to think about putting it to rest and seeing what ExpoMóvil has to offer.
If you go:
ExpoMóvil takes place March 3-13 at Centro de Eventos Pedregal in Belén, Heredia.
Entrance costs ₡3,000 (adults and seniors are free).
If you're planning to buy and need financing, you need to bring proof of income and physical presence in Costa Rica.
If your Spanish isn't so great and you're worried about getting lost in translation, don't be. Many agencies have bilingual salespeople on hand.
If you're worried that all that car shopping will make you hungry, don't. There's an ample food court with everything from Pizza Hut to casados to ice cream.