"Mi familia me espera." My family awaits me. That's one of the main messages shared recently on social media, cycling jerseys and other merchandising items as part of a campaign to raise awareness among motorists about the need for respect for cyclists on Costa Rica's roads.
The campaign is a joint effort by private companies Safetti Costa Rica, Garnier & Garnier and ACONVIVIR, a citizen group that promotes the rights and duties of all those who use the roads.
Safetti Costa Rica manager Jorge Carvajal said the company's main goal is to raise awareness among motorists so that they not only see someone riding a bicycle, "but also see a human being – a mother, a father or a son whose family is waiting for him at home," he said.
Statistics from Costa Rica's Traffic Police show that 69 cyclists died on the roads in the past two years, about 10 percent of all deaths in traffic accidents. The number so far this year, according to a report on Friday, was nine cyclists killed.
The campaign also seeks to raise funds for ACONVIVIR's activities, which include educational talks at companies and with citizens groups regarding road safety, the benefits of bicycling as transportation, and the need for civility and respect on the roads.
ACONVIVIR visits communities throughout the country to deliver lectures to local residents, and the group donates reflective vests and helmets to people unable to afford them.
The group's most recent event took place on Feb. 21 with a recreational bike ride through the Orosi Valley, in Cartago, during which members donated their security packages to locals.
The campaign includes selling a special pack for cyclists that has a cycling jersey displaying the campaign slogan, "My family awaits me," and others such as, "I'm somebody's dad," and "I'm somebody's mom." They also display "Respeto" and "Dame 1.5 m," asking motorists to respect a 1.5-meter (5-foot) distance when passing.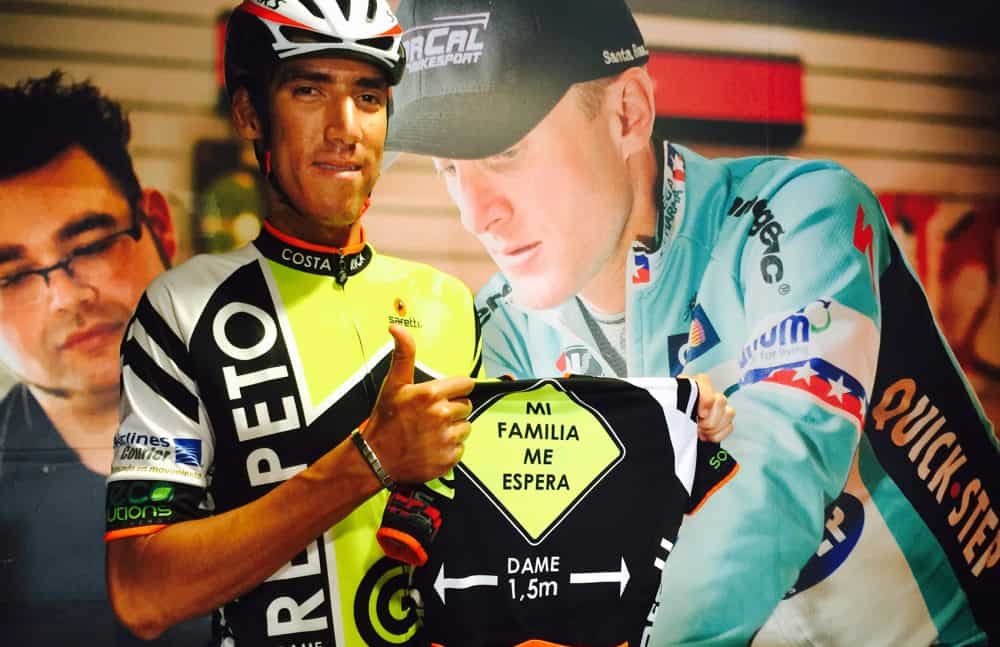 The pack also includes a drawstring bag, a bicycle cleaning kit, a water bottle, deodorant, beverages, snacks and other items.
ACONVIVIR President Mauricio Alvarado said the group will receive part of the funds for each pack sold to "help us keep working on our campaigns to promote better roadway safety, better safety infrastructure and legislation for cyclists and more support for the sport."
The campaign has been endorsed by renowned Tico athletes such as triathlete Mauren Solano, cyclists Paolo Montoya, Federico "Lico" Ramírez – Costa Rica's former Cycling Tour Champion – and Andrey Amador, who last year became champion in Spain with his team Móvistar and was 4th overall at the Giro d'Italia.
The campaign aims to boost the use in the country of bicycles as a means of transportation. According to the Program of Urban and Regional Planning of the Greater Metropolitan Area, people on bicycles represent only 2 percent of travelers on the country's roads, and ACONVIVIR is hoping that figure will increase to 10 percent by 2030.
Those interested in purchasing the packs or participating in future bike tours can contact Safetti Costa Rica at: 2276-4400 or by email at: ventas@safetti.cr.