Mauricio Grande dedicates his life to making people laugh by telling stories. The comic cuentacuentos, 36, is pursuing his doctorate in Dramatic Arts at the Universidad de La Salle in Costa Rica; he also works as an actor in his native Colombia, where he has appeared in telenovelas and a some national films. What's more, he is also a teacher at two univesities in Colombia, and has performed his shows throughout the Americas and in Europe.
Grande is wrapping up a three-day performance of his favorite show at Impromptu Giratablas Theater, in San Pedro, with a final appearance today, Feb. 14. The Tico Times talked to him about his career, the show and how he became a storyteller, a talent he says is a perk of being a Latin American. Excerpts follow.
How did you get started in this field?
There was a theater group near my house, and my mom  told me: "You go to do theater or you start cleaning the floors around here." And, so, here I am. Ever since I was really young, like 15 years old, I have been interested in theater, and then I got interested telling stories and I started to mix the two.  I have a degree in Dramatic Arts from the District University of Bogotá, and there's when I started telling stories. It was approximatelly in 2000 when I took it seriously and started telling stories professionally.
If you studied theater, why did you decide to become a storyteller and not a conventional actor?
Well, Colombia is a very "oral" country, and Latin America is a very "oral" region. We Colombians ascribe great importance to the oral tradition. From that point of view, I'd say I have it in my DNA, as many Latin Americans do. What I did was to scrutinize my roots and mix that with what I knew about theater, and that made my show grow in a particular way. So, it was because of genetics. We Latin Americans are made of words. What I did was to listen to my genes.
What is your show like?
My shows address [a range of people], up through college students and adults, [but] I started with children. I did my first four years of storytelling in schools. That's where I got my experience. I have two shows for children, and the rest are for adults.
[The show I'm performing this weekend] is about a personal experience, a disastrous love experience. You know, there's nothing like laughing at others' misery. People identify with me and laugh with me about what happens as the story goes on; the epicenter of the show is a broken heart. We all have had a broken heart, so that's the meeting point of the show, where we laugh at ourselves, which is another characteristic of the Latin Americans. We can laugh at ourselves. This show, I started telling it as an anecdote, and then after a lot of work it became a story, and then became a staging. And, well, then it resulted in this show that I have performed for more that six years, more than 200 performances.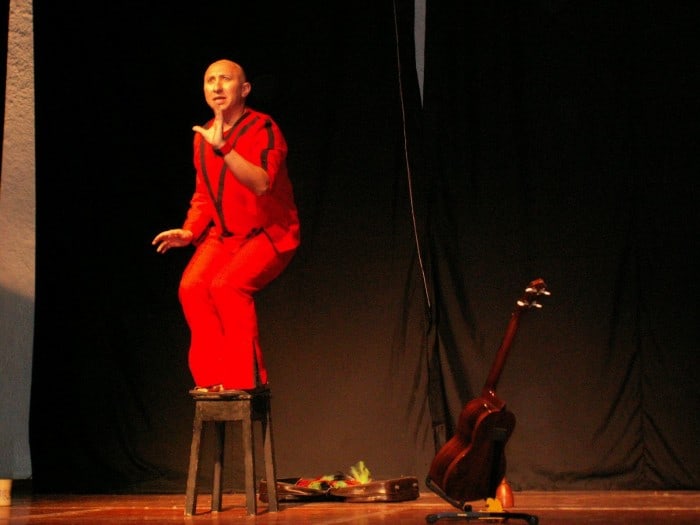 What makes your show different?
This career has no bounderies, so in my show sometimes I act, sometimes I play myself, and sometimes I tell a story as an omniscient narrator. This show has no bounderies. I think that with my show people will recognize themselves. They will identify with the stories, the university, their city, the corner store, all those things that make us Latin Americans, that make us brothers and sisters. And it's performed in a really particular way. I don't just tell a story. It's a comedic exercise. People come to have fun.
[What I like the most about my career] is the proximity to the public, and the travel, of course, and knowing that people identify with what I feel. I think it's very important to feel that people really identify. I think I will die doing this.
Can you compare the Costa Rican and Colombian cultural scenes?
Well, according to the theater that constitutes my immediate surroundings, the difference may be quantity. In Colombia, the offerings are wider, because there are more people. I think that Costa Rica's educational environment is really high-quality, as well as its scenic areas. I also think that Costa Rican theater groups have a lot to do. There's a universe of possibilities here in Costa Rica.
Storytelling is a relatively [new] career that got started in Colombia approximately 20 years ago, the same as in Costa Rica, I think. The storytelling movement here in Costa Rica is quite interesting, and strong. Maybe it's wider in Colombia, but Costa Rica is on its way. There are incredible people leading those processes. There are excellent storytellers in this country. Costa Rica seems to me to be a country different from others in Central America because of its nature, its environment, and the educational environment, too. I love it, and that's what brought me here.
Mauricio Grande wraps up his run today, Feb. 14, at 6 p.m. at the Impromptu Giratablas Theater, San Pedro, east of San José. ₡4,500 ($9). More information: 8383-3920 or 2225- 6001, or the theater's Facebook page.