MANUEL ANTONIO, Puntarenas — We were a half-hour from Manuel Antonio doing 100 kph when my left rear tire exploded with a "POW!" like a rocket-propelled grenade had just hit us.
Son Jordan, 25, dozing beside me, awoke with a cry and braced for impact.
"Couldn't have happened in a better place!" I exclaimed, proving that I'm a glass-half-full type of person. It was broad daylight, we were on a wide, flat highway, and there was even a bus stop for me to pull into to change the tire.
Had it been the front left tire, and had it happened as we were approaching an oncoming bus, we could have both been killed. (Glass half full.)
Also, we had just returned from driving some of the worst roads in the country, to Drake Bay and Carate, where we could have been stranded by a flat tire on a steep hill, in the middle of a stream or on a one-track road where our mishap would stop all traffic.
If this was the worst disaster to befall us during Jordan's 10-day visit, it was more like "disaster lite."
We got out of to assess the damage, and what we found was not a flat tire but a tire explosion, in which literally all the tread had blown off, along with part of the metal framework in the wheel well.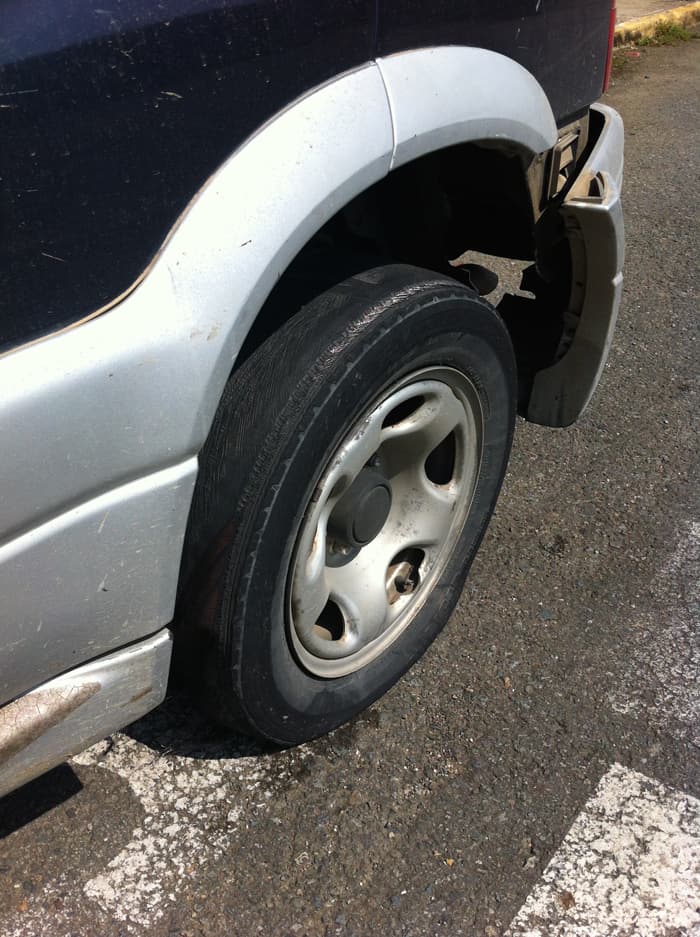 The left side of the rear bumper had been torn free of the vehicle, and the lower half of the taillight was bashed out. (But the hazard lights still worked; glass half — you get the idea.)
"Good thing I've got two jacks," I said. When I bought my Suzuki Grand Vitara, the Blue Demon, in March in Tamarindo I didn't notice the hidden compartment in the rear where a jack was secreted away. Therefore, I didn't think I had a jack, so I bought one in Monteverde two months later.
I dug it out and tried to remember how it worked, but I couldn't figure it out, so I asked Jordan to try while I dug out the other jack. This one was a simple scissor jack, with a couple of steel loops at the end that if cranked clockwise separated the part that touched the car from the part that touched the ground, elongating the whole thing into the shape of a diamond.
I found a part of the frame close to the tire to place this jack and started cranking.
"Oh, Dad," said Jordan, "don't you want to loosen the lug nuts before you lift the tire off the ground, so it doesn't spin when you try to loosen them?"
"Good idea," I said. "Do that." I had forgotten how to change a tire.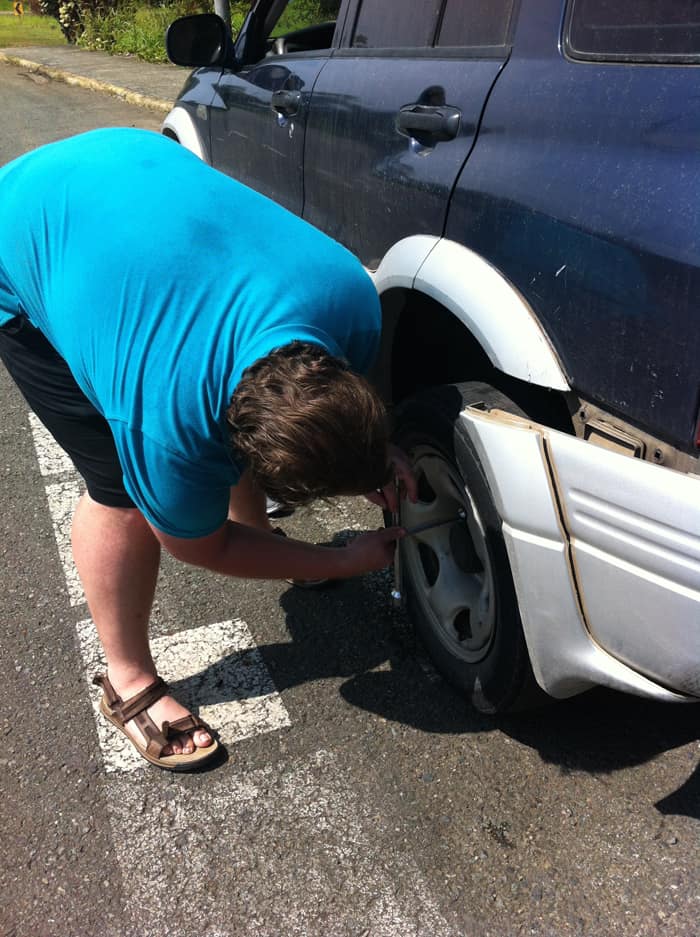 While Jordan loosened the lug nuts, I looked at the highway behind us and saw a lot of tire tread we had left behind. I didn't want other people to get into accidents swerving around my debris, and I'm a good human being, so I jogged back and removed it from the road.
To my surprise I found a large, three-dimensional metal plate that had blown off the wheel well when the tire went boom — something that definitely could have flattened someone else's tire, and a piece I would need to rebuild my car properly, a rare auto part would now cost me $0. So I was glad I went back.
I also picked up a huge half-moon of tire tread, and as I carried my debris back to the car, a big rig at my back honked in sympathy. I gave the driver a thumbs up. Love this country.
Back at my stranded car, I got the top of the scissor jack snug against the frame. Then I couldn't turn it with my fingers anymore, and I realized I didn't have the long steel pole with the crank handle usually used to do this job.
I could have made do with a screwdriver, but I had foolishly left the few tools I have in a box at home.
I tried to MacGuyver a solution by sticking a sturdy pen through the steel loops and twisting it clockwise. That worked for a while, but as the jack lifted more and more of the car's weight, the pressure suddenly bent the pen in the middle. It was a great pen, and though now bent at a 90-degree angle it still writes (glass half — oh, never mind).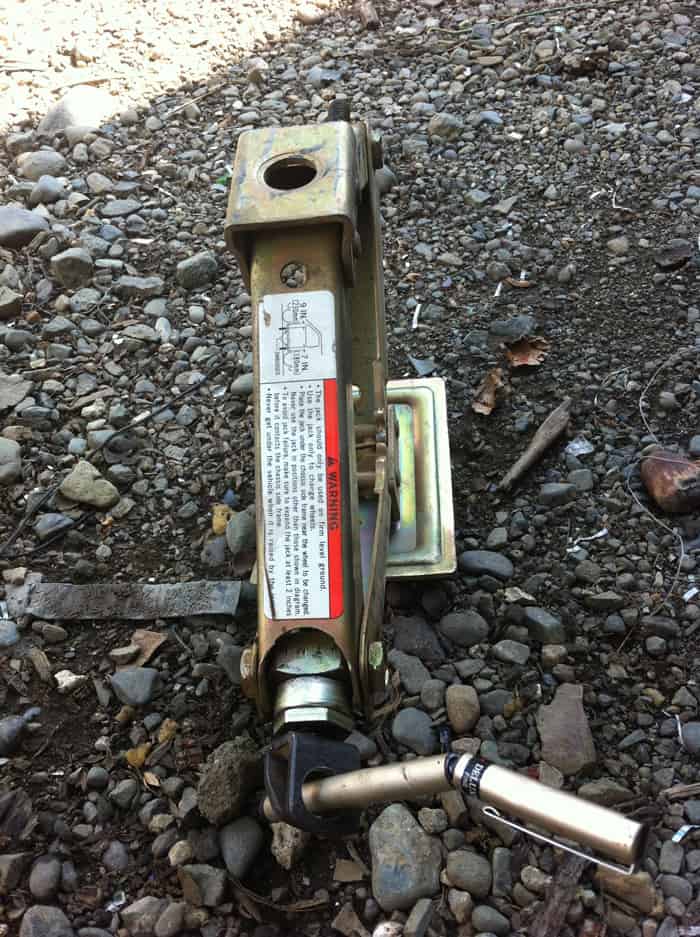 By now Jordan had figured out how to operate my hydraulic jack from Monteverde, and when we entered it into service we were able to raise the car high enough to remove the flat tire, though not high enough to replace it with the inflated spare.
Jordan's superior intellect deduced that we needed to remove the jack, unscrew the screw all the way with our fingers and start over.
We worked hard in the midday heat, and there were moments I feared I would faint from the heat and the exertion. I was completely soaked in sweat and my face was turning red, so much so that Jordan insisted on spelling me.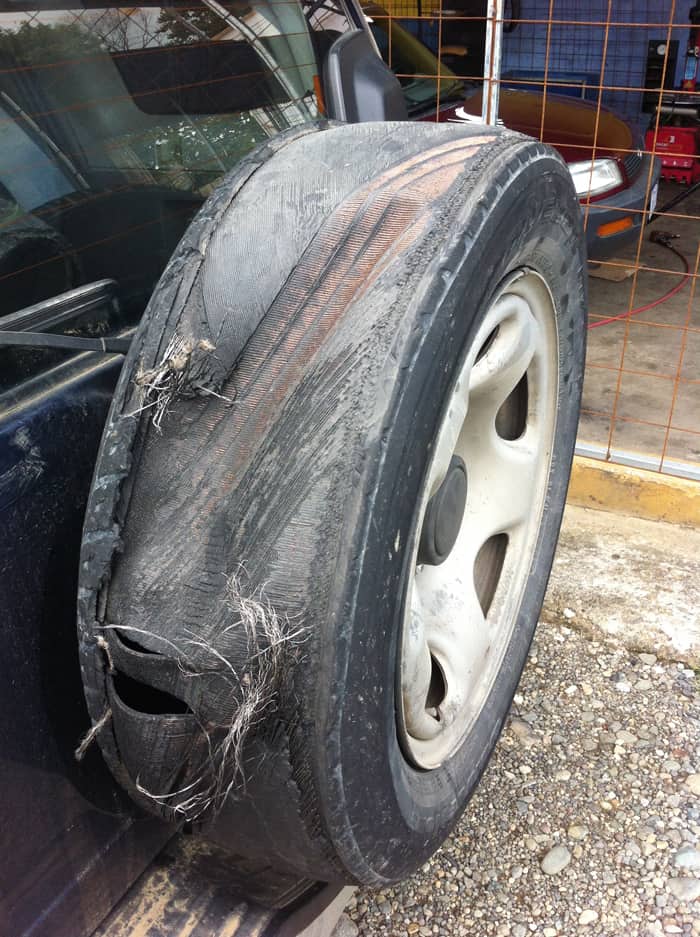 Finally we managed to raise the car high enough to fit the spare onto the wheel, and we replaced and tightened the lug nuts.
I lifted the ruined tire onto the back of the vehicle to reattach it, at which point the tires' newly exposed steel wires cut into my wrist, adding a red ribbon of  blood to an extremity already blackened with dirt and doused in sweat.
Just when we were ready to drive away, I realized there was another problem: The left side of the bumper was completely loose, jutting out from the car three inches, and it was plastic and flimsy. On closer inspection, we noticed that five screws supposed to affix the bumper to the rear of the car were missing.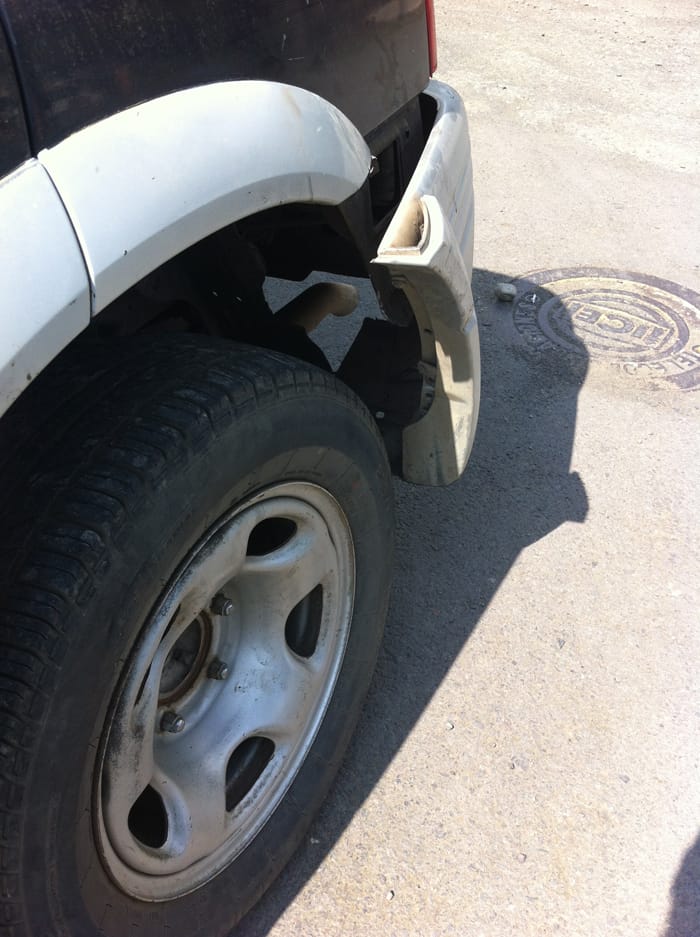 So as soon as we started driving, the wind would start catching the bumper and pulling it backward, and once we got up to highway speed, the wind shear would rip the bumper completely off the left side of the car.
We spent 10 minutes trying to MacGuyver a fix. Duct tape? None. Rope? Nope. Tools? Neither.
Jordan, concerned that my sweat-drenched face had reached the color of cooked lobster, told me to sit down in the shade on the park bench and take a break.
Happily, a man came walking toward us, southbound in the northbound lane of the Costanera Sur, and I asked if he knew where there was a taller near here with a mecánico. He said there was one in Matapalo, 7 kilometers behind us, while Quepos and Manuel Antonio were 22 km in front of us.
We turned around. I drove 50 kph, watching my fluttering bumper in my side-view mirror and pulling to the shoulder for cars behind me with a need for speed.
Reaching Matapalo, we found a garage and asked the man and woman sitting in front if they could help us with some repairs. The man said they were closed for lunch and would reopen at 1:30.
"I'll pay double," I said.
The man explained that the mechanic was out for lunch and wouldn't be back for a half-hour. But he helpfully added that there was another shop right down the road, just past the bridge.
We thanked him and drove on, and just past the bridge we found a garage with a sign advertising tire repair. Buena nota.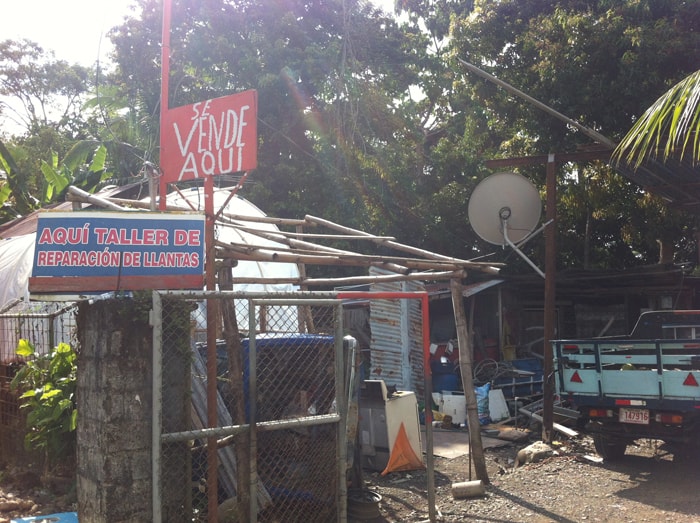 I pulled up and asked a man under a car if he could help me with some repairs. He said sure, I just had to wait until he was done with this car.
The middle-aged mechanic, whose name was Jorge, finished with his current job and turned to mine in about 20 minutes. I explained what had happened and asked if he could screw the left side of my bumper back onto my car. Jorge went to work.
Jordan told me my face was bright pink. I was still completely covered in sweat, and my hands were filthy.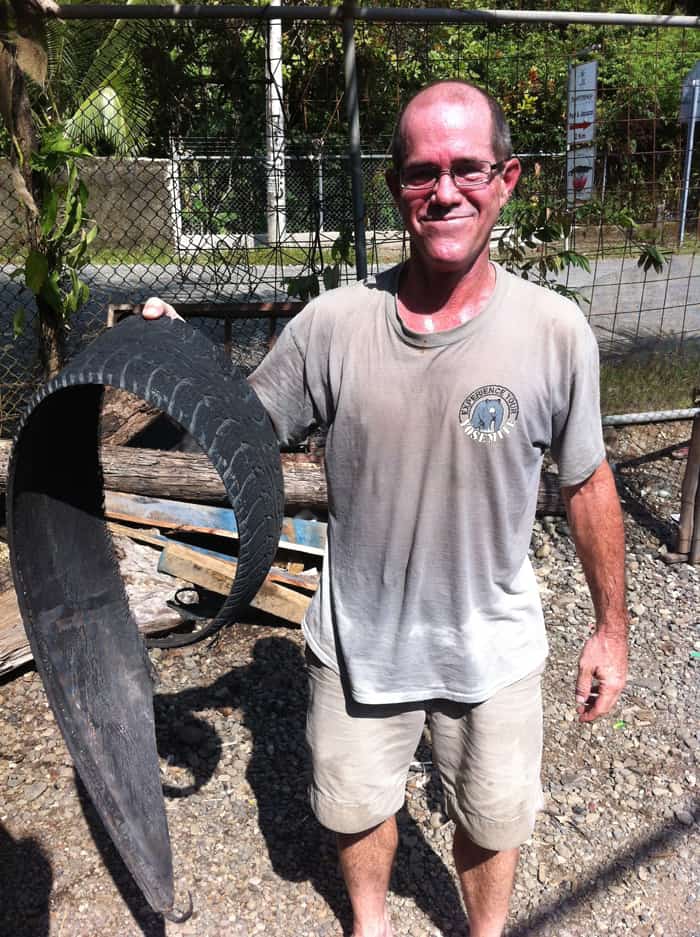 "Mucho calor," Jorge said. I told him I just had to change a tire on the highway in the sun.
Jorge, who turned out to be a comedian as well as a mechanic, asked if the giant Jordan couldn't have acted as a shade tree for me while I was changing the tire.
I asked Jorge how much he would charge me to save my bumper. He said, "¡U! Cien mil colones," 200 dollars. He was like the Rodney Dangerfield of mechanics.
Within 45 minutes of our arrival at his gates, Jorge had reinserted the steel frame I found on the highway and battened down my flapping bumper with actual screws. I asked him how much I owed him and he said 2,000 colones — $4.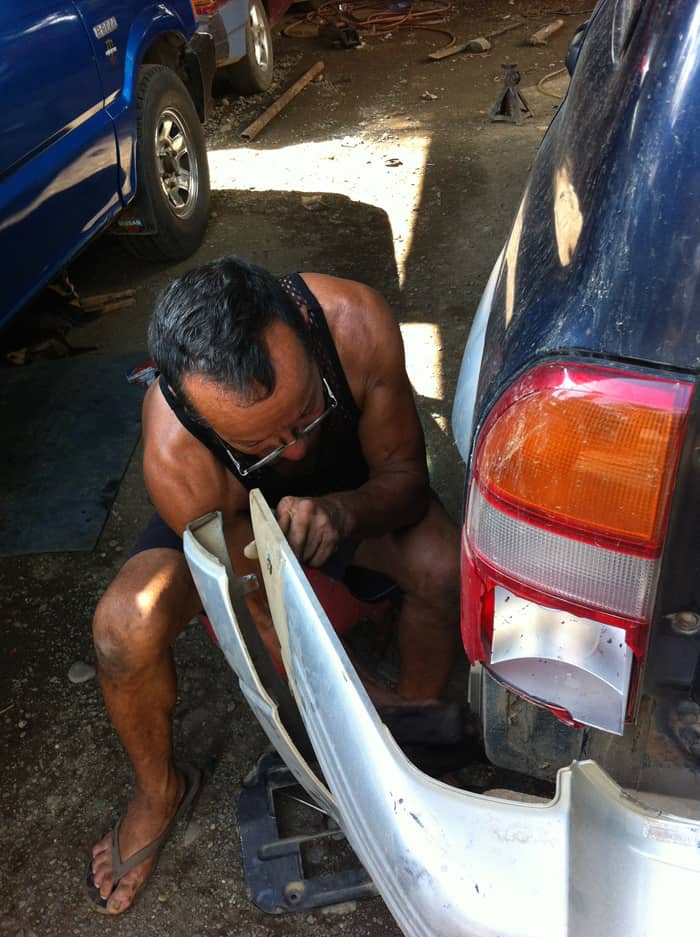 I told him that wasn't nearly enough and gave him 3,000, and I would have given him more if I had any bills smaller than 10,000.
Jordan noted that this would cost at least $50 in the U.S. And people say Costa Rica is expensive.
I'm sure you would like this story to end soon, and I would too, so I'll just cut to the endgame: After leaving Jorge's place we spent an hour and a half driving to one, two, three and four llanteras, tire repair shops in Quepos, before we found one that had a 235/60 R16 used tire in stock to serve as our new spare.
I paid 16,000 colones, about $32, for this tire, and we were rolling again after a three-hour delay.
Remind me to get four new tires first chance I get.
But you can quote me on this: If you have to suffer the inconvenience of a flat tire anywhere, you couldn't pick a nicer place to do it than Costa Rica.
Contact Karl Kahler at kkahler@ticotimes.net.