If you've got any room left in your belly after the delectable tamales most of us will eat this holiday season, you might find yourself searching for the perfect location for a Christmas Eve (or Day) feast – but what's open, and what will strike the right festive note? Here are a few pics for a special meal.
Grano de Oro 
In western San José, the Grano de Oro's warm and cozy hotel restaurant is offering a special menu throughout all of December. The menu consists of an appetizer, which can be thinly sliced pig trotter, fennel puree, parsley pesto, lemon vinaigrette and wasabi salad; or slow braised, shredded suckling pig, grilled squash, roasted artichoke and cilantro jus. For the main course, you can chose between brown butter roasted smoked Congrio, wild mushrooms, swiss chard and suckling pig jus; or slow roasted suckling pig, blood sausage, salt-crusted vegetables and squash gratin. Top off your meal with a selection from the famous dessert menu and take in the gilt-edged holiday decor.
The special menu is offered every nights throghout December at the Grano de Oro Restaurant, Paseo Colón district, San José. 6 p.m. – 10 p.m. Costs vary depending on selections made. More info: 2255-3322.
Intercontinental Hotel
The hotel will offer different Christmas dinner options at its three restaurants:
Alfredo: Traditional Italian appetizer followed by glazed baked leg of lamb in red wine or stuffed chicken. For dessert, traditional Panettone Milanese served with chocolate and vanilla sauce.
Factory: A mesclun snd arugula salad with grapes, almonds, pears, apples, cottage cheese and citrus dressing, followed by roasted pork leg. For dessert, crispy coconut orange cream and chocolate truffle with black chocolate mousse and Grand Marnier, or a chocolate basket and champagne cream with macerated fruit.
The Market: Appetizers will include shrimp with avocado, olive octopus, salami kebabs, and turkey with asparagus, among others. Main course options will be roasted whole turkey or pork leg. To finish the night, choose from the same dessert options offered at Factory, above.
Christmas Dinner at Real Intercontinental, Escazú, takes place Dec. 24. 6:30 p.m.- 10 p.m. $40 – 48 (₡20,000 – 24,000). More info: 2208-2100 or website.
El Patio Restaurant
Located in the heart of San José, the Balmoral Hotel's restaurant El Patio invites you to celebrate Christmas with a varied menu.  On Dec. 24-25 El Patio will delight you with mixed salad, potato salad, and a selection of cold meats, followed by roasted pork, cranberry sauce, chicken breast with mushroom sauce, rice, mini vegetables cooked in wine, smashed sweet potatoes with marshmellows and stuffed tomato with palmito. The meal includes two glasses of wine and Brazo de Gitano for dessert.
Dec. 24-25 at El Patio Restaurant in the Balmoral Hotel, Ave. Central, downtown San José. $36 (₡18,000). 7 p.m. – 9 p.m. More info: 2210-7236 or elpatio@balmoral.co.cr .
Mangroove Hotel
The luxurious Mangroove Hotel in Guanacaste offers a Christmas dinner on Dec. 24 set alongside the breathtaking beach scenery of the Pacific coast. The hotel's Makoko Restaurant will serve a family-style meal that includes artichoke gratin with coriander sauce, a green leafy salad that includes dried cranberry, grapes, red onion, Parmesan cheese, brioche croutons and a raspberry dressing. The main course includes a delicious roast turkey with roasted gravy, corn bread and pecan stuffing, along with caramelized pumpkin, green beans, mushrooms and an orange-cranberry sauce. You also have the option of pork tenderloin with spiced grape sauce accompanied by ñampí, smashed potatoes, swiss chard and bacon. The dinner comes with a glass of sparkling wine.
The Mangroove Hotel's Christmas dinner takes place Dec. 24 at the hotel's Makoko restaurant in Guanacaste. $40 (₡20,000) for adults and $20 (₡10,000) for children. Starting at 6 p.m. More info: reservations@elmangroove.net or 2291-7750.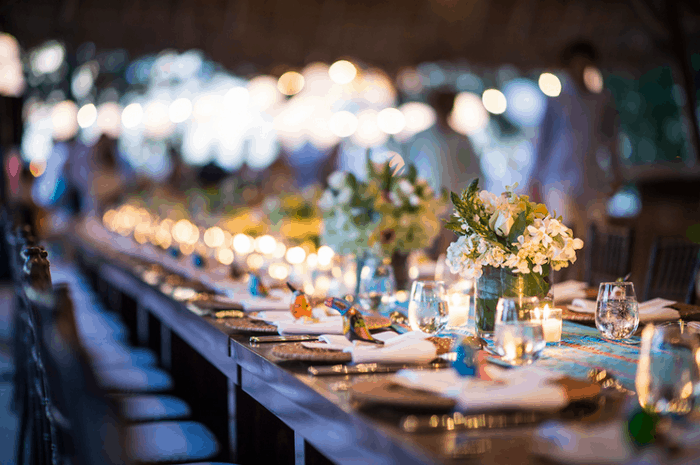 Barceló San José Palacio Hotel
This San José hotel will offer a wide array of choices for Christmas dinner, including pork shank with plums, lobster biscuit in whiskey, roast chicken leg with orange, gourmet filet of trout, filet mignon in port wine, chicken breast stuffed with cheese and spinach, mushroom skewers, vegetable fettucini and roasted sweet potato, among others. Dessert options include stuffed grapes, creme Catalan, a kiwi and mango frozen shot, Parisian glass of fruit with syrup, chocolate chips cookies, pistachio tiramisú, traditional Christmas cake, and more.
The San José Palacio Christmas dinner takes place Dec. 24 at Barceló San José Palacio Restaurant. Starting at 6:30 p.m. Adults $40, and children $20 (₡10,000). More info: 2220-2034, ext. 715.
Marriott Hotel
The Marriott Hotel, located in La Ribera de Belén in Alajuela, will host its Christmas dinner Dec. 24. A fresh, varied salad bar leads the way into an appetizer of leek soup with bacon and chives, followed by main course options such as salmon fillet glazed with tamarind and pineapple sauce with chives, stuffed chicken with mushrooms, radiccio and bacon with a creamy Jamaica flower sauce, and ossobucco meat cooked in a wine sauce. On the side you have penne pasta with shrimp and cheddar cheese, smashed sweet potatoes with herbs and crispy onions, green beans with almonds and cranberries, chicken risotto with cherry tomatoes, and dried herbed pork rinds. Dinner options also include stuffed turkey with cranberry sauce and gravy, grilled ribeye with pepper and herbs, herbed bread, chimichurri aioli and radish cream. To finish off your night your dessert options include tronco navideño, chocolate bourbon, raspberry cream Genoese, apple pie with orange sauce, ginger and raspberry pie, and a Baviera plum pie.
The Marriott Hotel's Christmas dinner takes place Dec. 24 in La Ribera de Belén, Alajuela. $56 (₡28,000) per person. 6 p.m. – 10 p.m. More info: 2298-0207 or 2298-0206.