PUERTO JIMÉNEZ, Costa Rica — The rustic wooden sign at the entrance to the rickety footbridge separating me from my little cabin in the rain forest was clear as day.
"Careful — slippery!" it warned in Spanish. "Watch where you walk. Use closed shoes."
It was the end of a very long day that had begun along the Pacific coast near Uvita, where our group of foreign travel writers had spent the previous afternoon whale-watching and photographing rainbows at Ballena Marine National Park. Only now it was night, the rain was coming down hard (it was, after all, a rain forest), and vague, screeching animal sounds could be heard in the distance.
As one of the few males in the group, it was just my luck that the staff of the Danta Corcovado Lodge would assign me to Chirenga — the very last bungalow in a random scattering of cabins smack in the middle of the forest.
It was also inevitable that, uncoordinated klutz as I am, I'd slip on the rain-slicked wooden surface while attempting to balance on my left shoulder my photographer's bag containing a Nikon D200 camera and three expensive Nikon lenses, and on the other shoulder my 13-inch MacBook Pro laptop.
Only the scarlet macaws, yellow warblers and tree frogs heard me curse and scream as I tumbled onto the narrow footbridge, my possessions spilling everywhere.
Thankfully, nothing valuable ended up in the creek below. (That had already happened a few days earlier, when a pricey polarizing filter mysteriously fell off my D200 as I stood on a bridge over the Río Tárcoles, photographing hungry crocodiles. The filter plunged into the murky waters of the croc-infested river, never to be seen again.)
The next morning, over a delicious breakfast of scrambled eggs, toast, papaya, rice, beans, coffee and fresh-squeezed orange juice, Merlyn Oviedo introduced himself as Danta Corcovado's founder and owner, while his 4-year-old daughter Monserrat tried to engage us new arrivals in conversation.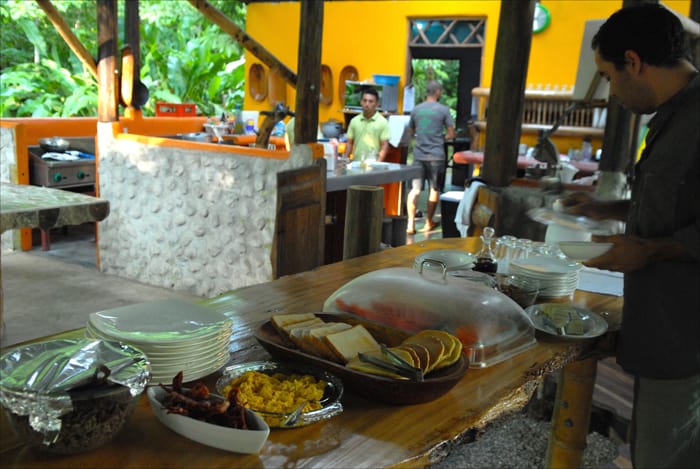 "My father came here 45 years ago by boat, before there were any roads," Oviedo said. "He was looking for gold. At that time, there was a mini-gold rush and people came streaming into the area, but the experience wasn't for him."
Before returning to the capital, Oviedo's father, Juvenal, decided he liked it here and would become a farmer.
"The forest didn't really belong to anyone back then," he said. "The law was, if you wanted land, all you had to do was clear it, and it was yours. Many farmers did just that."
Oviedo, 40, grew up without electricity or roads, attending primary school in La Palma, three kilometers away, and high school in Puerto Jiménez — a one-and-a-half-hour bus trip each way back then.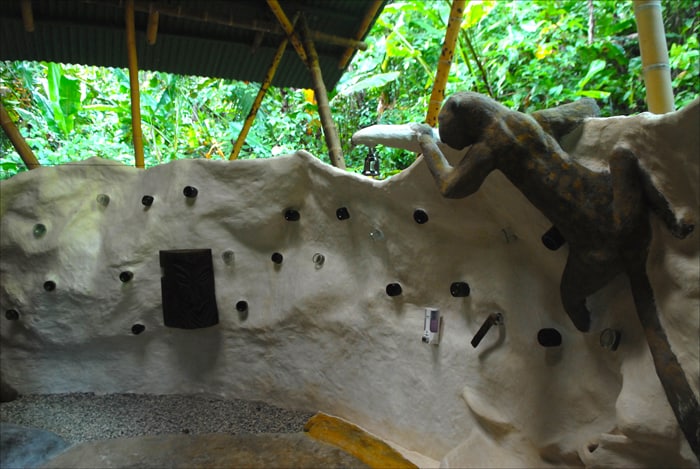 "When I was 15, I moved to Heredia, finished high school and learned how to be a welder. I never went to university," he told us. Oviedo went to Portland, Oregon, and learned English, then spent two years in San José working as a professional welder — but eventually realized he wasn't happy living in the city, with its noise, traffic and stress.
It was time to return to his roots on the Osa Peninsula.
"My dad was the only one still living on the finca, but as a finca it no longer functioned. I was never really a farmer, so our family saw tourism as an option," he said. "It was kind of a gamble, because there was not much tourism in our area, and we didn't know anything about tourism. But I had the energy and we had a 30-hectare farm, and I knew how to build."
Oviedo spent two years remodeling the existing family home since he didn't have the cash to build a brand-new structure. In the spirit of sustainability, he fashioned all the benches, chairs and tables at Danta Corcovado from discarded timber.
"Six months after I decided to come back, a program from Switzerland was established in the Osa Peninsula to train 25 young people," he said, noting that 12 of them eventually started their own businesses. "For us, this was fundamental, because I was a welder and knew a little about construction, but knew nothing about business, accounting or administration."
Today, the resort employs 10 people, and even though it's closed during low season, its workers have year-round jobs because there's always something to do.
"When we began, there was no tourism," he said. "Puerto Jiménez had a lot of international investment, but here where we are, nobody was investing, so we had to train people from scratch."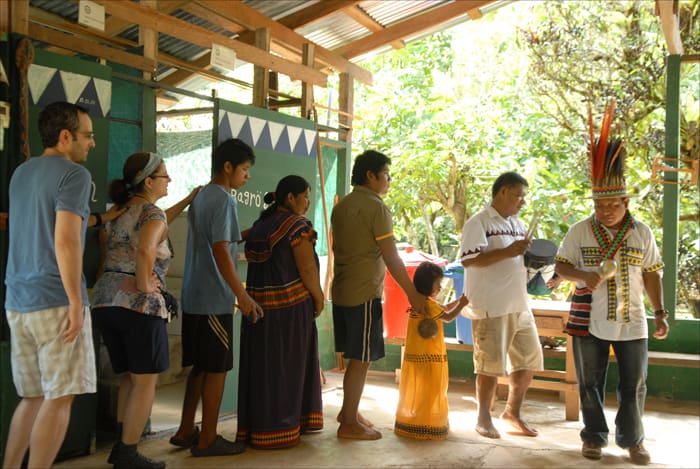 Danta Corcovado opened in November 2004, though there was never any kind of formal inauguration. Rather, he said, his first guest — a Canadian tourist — wandered in almost by accident and asked to stay a few nights.
"In the beginning, it was more word-of-mouth, then signs on the roadside, then getting into guidebooks like Lonely Planet and Fodor's, then a website. You have to learn to do everything, because it's very difficult to find somebody else to do it for you" — like learning how to manage an Internet presence.
The eco-resort now boasts nine rooms, six kilometers of private trails and an assortment of optional excursions. The average tourist stays at Danta Corcovado for three or four nights, though some guests stay up to a week.
A typical bungalow at the Danta Corcovado costs $137 per night for two people, including breakfast and taxes. Cabins are equipped with running water, electricity, mosquito netting, hammocks and funky outdoor garden bathrooms.
"Tourists are adventurous, but they want to sleep well," he said. "We don't have air conditioning and we didn't want to put in a pool. I wanted something natural."
Another thing the bungalows don't have is Wi-Fi, though guests can access the spotty Internet service from the dining area if they're lucky.
Excursions range from night jungle walks and bird-watching expeditions to a visit to the nearby Ngäbe indigenous village (which our group did, arriving to the village via tractor), a tour of the nearby Köbö cacao farm, and an overnight camping trip to Corcovado National Park's Sirena ranger station.
Although Oviedo says he's "doing well economically," in more than a decade in business he has yet to break even. "We maintain a policy of social responsibility, which is to not fire people. I have to save my money for salaries and insurance."
We asked Oviedo if he entertains any thoughts of expanding his little ecolodge.
"Not in the next two years," he replied. "If we can have one more room but with the same staff, I might do it. For sure, we will never have more than 12 rooms."
Contact Larry Luxner at larry@luxner.com