MANAGUA, Nicaragua – He hasn't officially started campaigning, but Daniel Ortega, president of Nicaragua, is widely believed to be aiming to extend his near decade in power by yet another term.
If that turns out to be the case in elections to be held in November 2016, the former Marxist rebel would be on track to tighten his grip on the Central American country, which is aligned with Cuba, Venezuela and Iran against U.S. "imperialism."
A high popularity rating, currently at 54 percent, and a fractured opposition would pave the way for Ortega's re-election.
Nicaragua is also fairly peaceful, especially when compared to neighboring Honduras, which has one of the highest murder rates in the world.
Ortega's wife Rosario Murillo, who is also the government's official spokeswoman and a Cabinet minister, is seen as either a partner in power or the éminence grise.
The president's Sandinista Front party has not yet designated its candidate, but analysts have little doubt that Ortega will be seeking a new five-year mandate.
"It's obvious he will run again. It's a sickness — he believes himself indispensable," a Nicaraguan sociologist, Cirilo Otero, told AFP. "He believes that. And we are facilitating him with our silence, fear or praise."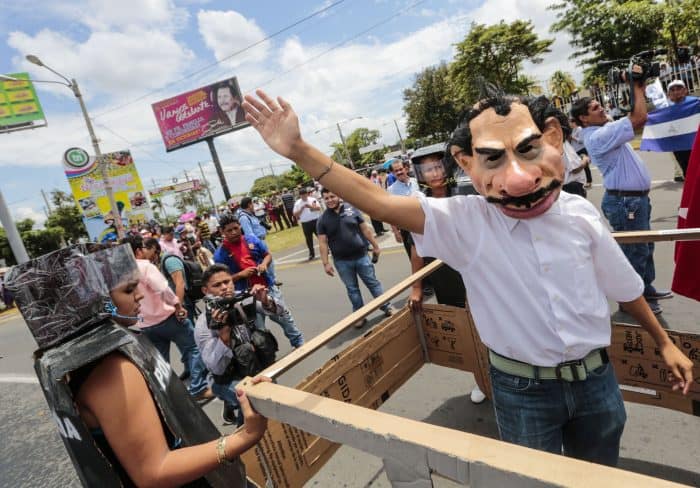 The former rebel
Ortega, today aged 70, rose to power in 1979 when his Sandinista rebels overthrew the U.S.-supported dictatorship of Anastasio Somoza in a revolution.
Ortega was soundly elected president in 1984 despite an unsuccessful CIA-backed effort to topple his leftist government, but he lost office in the next election in 1990, and failed in the three following polls to win it back.
After 16 years in opposition, during which his hardline stance mellowed, Ortega managed to regain the presidency in 2006. He was re-elected in 2011 with 62 percent of the vote after a ban on successive terms was lifted.
"I have not a doubt that while he's alive he will be the [party's] candidate, even if he's 90," said Dora María Téllez, a Sandinista dissident. "Because part of his power source is his grip on the candidacy."
Nicaragua is currently living through what looks curiously like an Ortega re-election push, even though its Supreme Electoral Council — stacked with the president's allies — has not called on candidates to be declared.
Ortega has been highlighting what he says are his government's successes, which include a reduction in poverty over the past five years and an improved economy that he boasts has been endorsed by international financial bodies.
But a political analyst, Óscar René Vargas, said the issues that Ortega highlights "don't reflect the daily reality" in the country. A CID-Gallup poll has found that poverty, lack of jobs and the high cost of living are the most pressing topics for the public.
"I don't want to say" that discontent "will result in a loss of votes, because it's still way too early to make forecasts," Vargas said. "But these social conditions could create a negative environment."
See: 'Trees of Life': Nicaragua capital transformed into first lady's new-age vision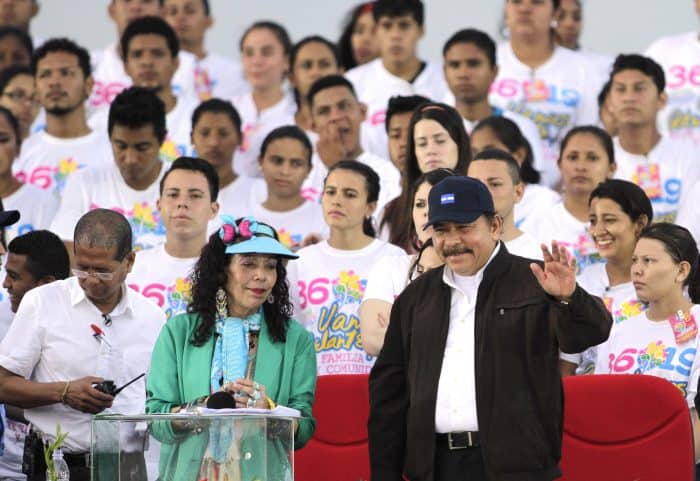 A call for fair elections
For the country's opposition, the problem is not whether Ortega runs again, but whether the elections will be free and transparent.
"If the elections are transparent and honest, if they are not stolen, then they [Ortega and the Sandinista Front] will lose," said Téllez, an ex-guerrilla commander who backed Ortega during his first stint in power.
A lawmaker from the opposition Liberal Independent Party, Eliseo Núñez, agreed. "He has already lost four times. Really, if the elections are free ones, he will lose again."
With just less than a year before the vote, the opposition is keeping up pressure on the government. Each week, small protests are held in the capital Managua and in other cities demanding electoral transparency.
However the opposition is split, unable to produce a strong leader to seriously compete with Ortega for the presidency.
"The big challenge for the opposition is unity," said Vargas. "But I don't see any indications right now that it has that."
Still, the silence of the Supreme Electoral Council has started to attract the opposition's attention.
"Once the electoral process is opened, political mobilization will intensify and Ortega wants to avoid that for as long as possible so as to keep his opposition under the club," Téllez said.
Other factors may also be in play, such as Sunday's legislative elections in Venezuela, Núñez said.
"It's not so much the results [of Venezuela's election] but the reaction of the international community if there should be some anomaly," he explained. "If the reaction is strong, we will have more transparent elections [in Nicaragua] than the ones in 2011."