Less than eight months after three masked men broke into her Playa Langosta hotel, beat her husband — who later died — and took off with their life savings, Suzye Lawson said she was beaten by another trio of men Saturday on her property, the Villa Alegre bed and breakfast near Tamarindo.
Lawson told The Tico Times that the invaders, who she did not recognize and didn't think were the same ones who committed the April break-in, assaulted her Saturday night around 6:45 p.m. while they "scoped out" the area in and around her beachside hotel. They found her in a back corner behind the hotel and attacked her, Lawson said.
"My dog was going absolutely wild but it was a different kind of angry barking," the 69-year-old hotel owner from California said. "I went over and thought I saw a shadow and turned around and that's when the guys jumped me."
She said a man with dreadlocks held her down, yelled at her to keep quiet, and began to beat her badly enough so that she was bleeding from the face by the end of the ordeal.
The men left the property without stealing anything, despite the fact that Lawson said one of the doors to a villa room was open and a guest's laptop was in sight. Lawson said she saw her doctor on Tuesday and that she is more "emotionally wounded" than physically.
"I have to sell the place because I'm just too tired to do this anymore," Lawson said. "I need to move from this place. It's going to haunt me now."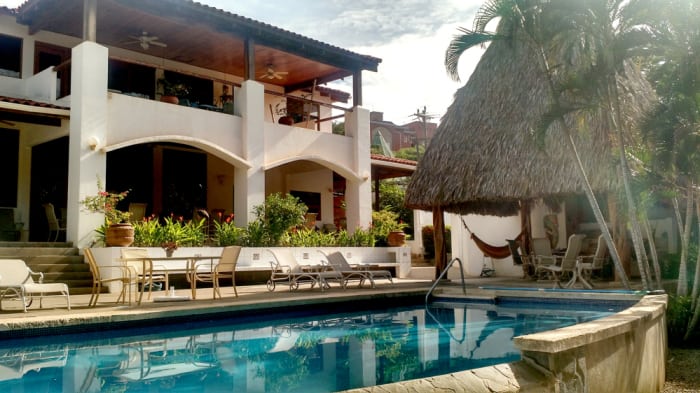 An official from the U.S. Embassy happened to be staying at Villa Alegre when the latest invasion and assault took place and immediately called police. Lawson said four officers showed up within half an hour of the call being placed.
On the night of the April break-in, none of the phone calls that Lawson and her husband, Barry, made to 911 after they were assaulted and robbed were answered. The couple lost nearly $40,000 of their savings, the majority of which was intended to fund a scholarship program for local schoolchildren in financial need.
Barry Lawson died less than a week later from head injuries sustained during the attack, according to a death report from the U.S. State Department.
Paradise marred: Who killed Barry Lawson?
A chief inspector from the Judicial Investigation Police (OIJ) branch in Santa Cruz confirmed Wednesday that investigators have received an official complaint about the latest assault at Villa Alegre.
"This case is being treated separately," OIJ inspector Rodolfo Vasquez told The Tico Times. "We have people working on this latest case but I'm not able to comment further because the investigation is still open."
Vasquez said OIJ has no suspects for the Saturday assault and added that there are still no suspects from the break-in in April that led to an uproar from Tamarindo residents worried about security in town and the apparent lack of police presence.
The Tico Times placed multiple calls to the cell phone of Santa Cruz police chief Noé Guerrero on Wednesday afternoon but the calls were all dropped. Guerrero said he wasn't getting good reception.
Guerrero told The Tico Times in October that police don't believe home invasions are happening at an alarming rate in the area.
There were eight guests staying at the bed and breakfast on Saturday, according to Lawson. She said one guest was sitting by the pool when the attackers came but that the guest went into her room and locked the door when she heard Lawson screaming.
Lawson said she does not know what could have motivated the latest group of men to come on to her property and assault her. She added that she does not have enough money to pay for a private security guard after most of her savings were stolen in April.
"I want people to be protected in the town I live in," she said. "It's out of control."