The beautiful scenery of the Old Market in Ciudad Colón, west of San José, is home to new edition of the Feria Verde. Every Tuesday from 3 to 8 pm, the organic food community reunites in this lovely cultural space. The Tico Times visited the Feria Verde and encountered a wide variety of people who love the organic lifestyle.
The Feria Verde is organized by the Asociación de Amantes de lo Orgánico (AAMOR) and first kicked off at the Polideportivo in Barrio Aranjuez, just east of the San José city center, in 2010. The organizers of this fair are Francisco Grau, Susana González, Manuel Oviedo and Faviana Scorza. This Ciudad Colón edition was inaugurated on July 29 of this year.
"An interdisciplinary group of people who wanted a space in San José that enabled both the sale of products and foods for a healthy lifestyle and cultural environment, got together," Manuel Oviedo explained to The Tico Times, referring to the initial impulse behind the Feria Verde.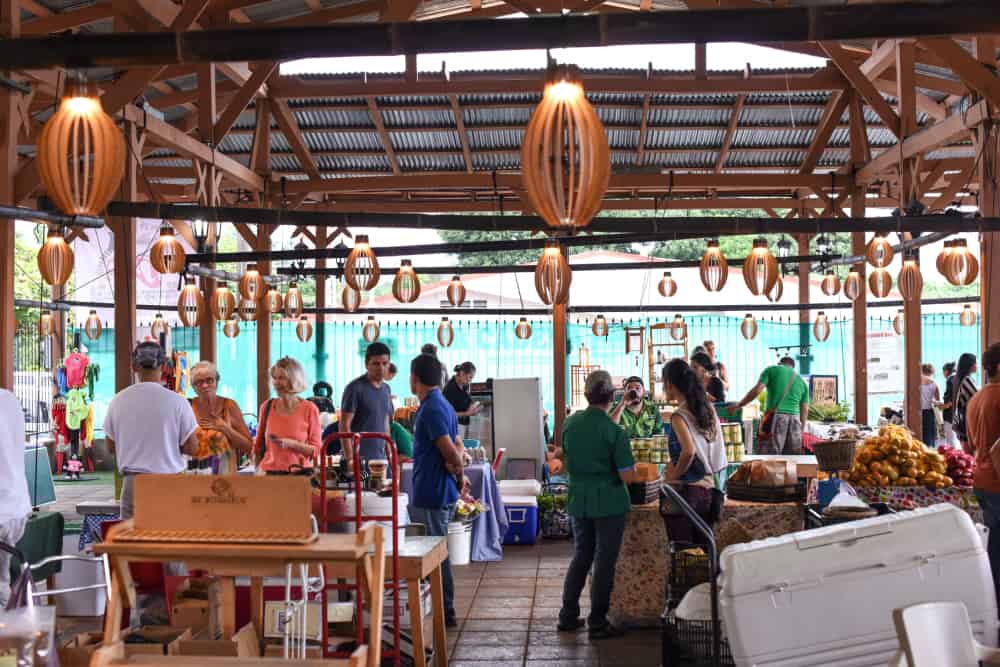 AAMOR seeks to establish various points of sale for organic products across the country.
"On the West side of San José we searched for a place in which there was consumer. Happily, we came across this place," said Oviedo.
As we strolled down the aisles of the market, we came across the booth of Finca Orgánica Tierra de Sueños. This farm from Zarcero, northwest of the capital, is owned by Brayner Paniagua and sells all sorts of organic vegetables such as lettuce, cabbage, and carrots.
The enthusiastic Daniela Quesada, saleswoman for Ninfa Products produced by Virginia Delbino, happily discussed her dehydrated fruit snack mix.
"The mix is made of banana and cocoa. The secret behind this snack is to eat it all together in order for the flavors to do their magic!" Quesada said joyfully. (A taste test proved that she was right.)
The Keep it Green Farms stand was right in front and caught our attention quickly. Javier Pelegero Dada offered us his delicious palmito and pejibayes.
"Our products are cooked, then preserved in salt and water. We have various products with different shapes, sizes, and flavors: palmito with chili, palmito without chili, and our pejibayes," Pelegero explained.
Susana Vargas, owner of La Carambola's, shared with us her delightful vegan aioli, served alongside the Keep it Green Farms pejibayes. La Carambola offers an exotic vegan sauce line.
"The ingredients all come from the [Feria Verde]. I purchase the ingredients from the farmers here and then I process all the products," Vargas explained.
Pan Jaguar was our next stop. Esteban Chavarría, alias Jaguar, is the owner and producer of this delicious bread. His line includes a varied range of flavored breads including rosemary basil, sunflower seeds with ground flaxseed, nuts with ground flaxseed, raisins, and onion and sweet pepper with basil. Jaguar recited his business slogan, "Pan Jaguar, en su hogar no debe faltar. Si a sus vecinos quiere impresionar, pan jaguar debe llevar" ("Your home can't be without Jaguar Bread. If you want to impress your neighbors, take some with you.")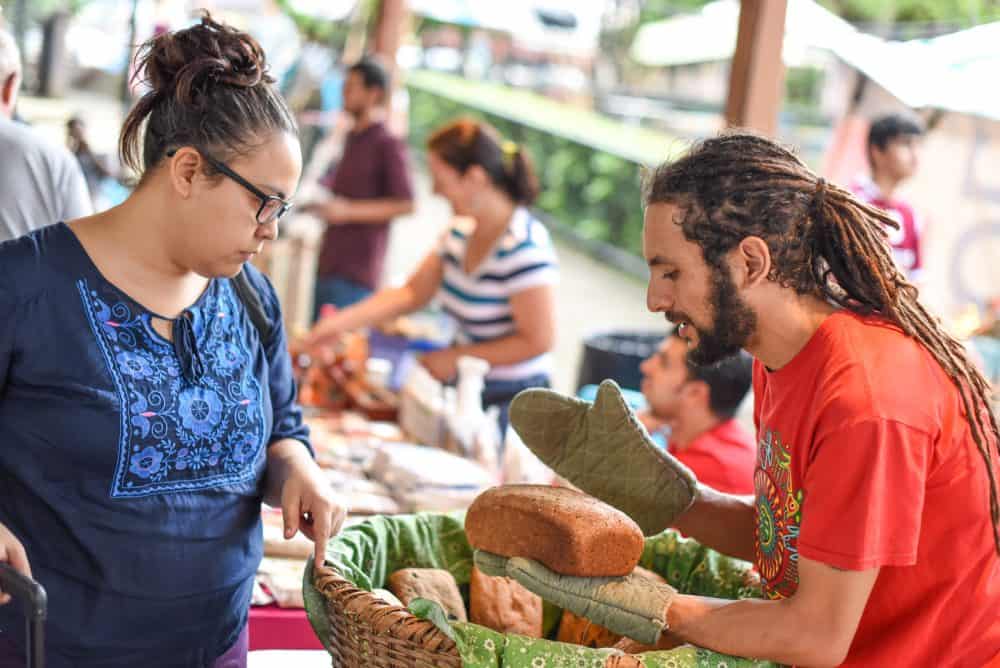 Next to Pan Jaguar was Francisco Chaves, Santé Raw Superfoods owner. His star products are three delicious snack bars: a protein bar with cashews, maca, cocoa, and dates; a potassium bar with cocoa, chia seeds, walnut, flaxseed, sunflower seeds, dates and coconut oil; and a mineral bar with spirulina, oats, walnuts, dates, and coconut oil.
"These are raw food products made with the dehydration technique and organic ingredients," Chaves explained.
Our next stop was Biobella, a natural cosmetic line owned by Bob Hara and Monika Bingen.
"These are naturally therapeutic cosmetics. We have sunblock, a great variety of scrubs, lip balm, facial products, deodorant, and foot cream. In the natural makeup line we have 16 different eyeshadow shades and 5 different eyeliner shades," Bingen explained. All of Biobella's products are handcrafted.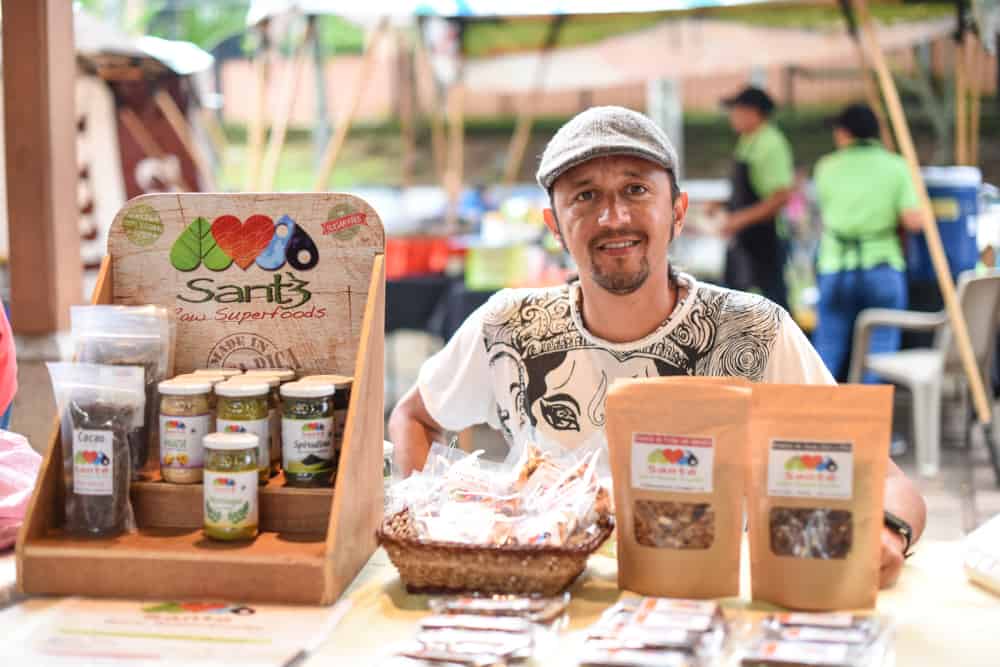 Our final stop at the Feria Verde was at the Café Verde Pura Vida stand owned by Silvio Bonomelli, of Italy.
"We are part of the innovation of a product that creates change, one cup of coffee at a time," Bonomelli told The Tico Times.
The Feria Verde takes place every Tuesday from 3-8 pm, and on Saturdays at the Polideportivo in Barrio Aranjuez, in eastern San José, from 7 am-1 pm. For more information visit Feria Verde's webpage.