When the Jacksonville Jaguars and Buffalo Bills face off this Sunday, perhaps only their loyal fans will care about the score.
The rest will be watching to see if Yahoo makes a compelling case that football can be just as good online as it is on TV. The company paid about $17 million for the rights to stream the game around the world from London at 9:30 a.m. EDT, according to a person familiar with the terms. By comparison, CBS paid about $37.5 million per game in its one-year deal to broadcast the National Football League on Thursday nights.
Still, why pay so much for a stakes-free matchup between two lackluster teams at an odd hour? Yahoo will play the game big across its various Web properties with video that automatically starts when visitors land on one of its sites, according to two people who requested not to be named because the plans are private. Yahoo has something to prove, namely that it can successfully stream the U.S.' most popular sport to a global audience without the delays and disruptions that have come to characterize so much of live online viewing.
Last June, for instance, ESPN's online stream of a World Cup match crashed, a problem the network attributed to excessive traffic. In April, an outage prevented subscribers to Dish Network Corp.'s Sling TV, which offers nearly two-dozen channels via the Web for $20 a month, from watching college basketball's Final Four.
Yahoo is placing a bet squarely on the future. Media companies like Twenty-First Century Fox Inc., CBS Corp., Comcast Corp.'s NBCUniversal and the Walt Disney Co.'s ESPN have locked up the rights to broadcast most NFL games at least through the end of the decade. But when those contracts expire, the NFL is likely to court partners who can deliver a football game to tablets and mobile phones along with TVs.
"This is an early testing ground to understand the Internet's capability to deliver something like this," said Rich Greenfield, an analyst with BTIG Research.
That could pit Silicon Valley giants against TV behemoths. As of now, the networks are at an advantage, in part because most people still watch sports on traditional TV and in part because they offset what they pay for the games with millions of dollars in subscriber fees from pay-TV providers like Comcast or AT&T Inc.'s DirecTV, said Dan Rayburn, an analyst at Frost & Sullivan who writes for the blog StreamingMedia.com.
While Yahoo or Google have plenty of cash to experiment, they can't rely on the same source of revenue as the broadcasters to sustain an online sports business. They would likely try to make their money back from advertising or charging fans a few bucks to watch the game, and it would probably be impossible for them to recoup their costs that way, Rayburn said.
"Do the math," Rayburn said. "There's no business value to it."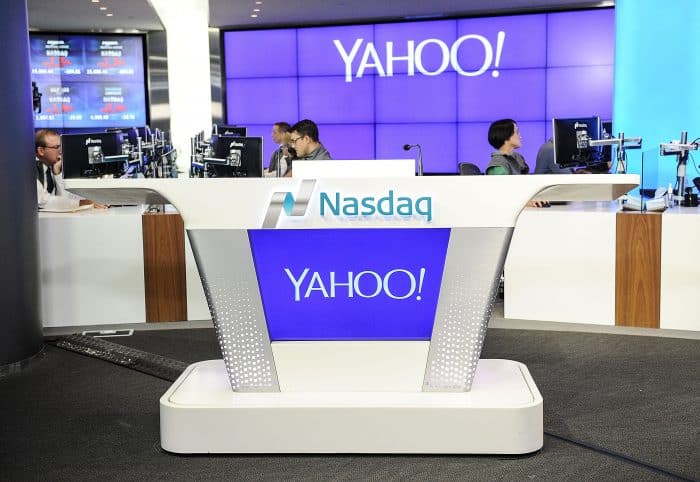 Nonetheless, Yahoo wasn't the only company interested in streaming the game. Its winning $17 million bid — $15 million for the rights, plus $2 million in marketing requirements — bested other tech giants. Twitter, Google and Amazon were among those vying for the game, according to another person familiar with the matter who wasn't authorized to speak publicly.
"We know our users will be very excited to see this game, and our advertisers have been, too," Yahoo Chief Executive Officer Marissa Mayer said Tuesday during Yahoo's quarterly earnings call.
American Express, Nationwide, Kohl's and Toyota are among the more than 30 brands that will advertise during the game, Yahoo said this week. Those companies will also have access to Yahoo's viewership data to target fans after the game. Yahoo says it sold out all of its game-day advertisements.
Broadcasting live events on the Internet is harder than streaming on demand because more can go wrong. Unlike with a traditional TV broadcast, a live stream relies on a third-party network of providers to deliver programming across the Internet, and those companies can have outages of their own.
Yahoo isn't making things easy on itself. The company's goal is to stream the game at a higher quality than some competitors offer, said Adam Cahan, Yahoo's senior vice president of video. CBS will be producing the game for Yahoo. "We want to have a broadcast-like experience at a global scale," Cahan said.
Live sports have a long history of legitimizing new TV platforms. The rise of ESPN boosted the popularity of cable TV in the 1980s and DirecTV's "NFL Sunday Ticket" introduced many fans to satellite TV packages, Cahan said. "We think this industry is poised for a shift," he said. "It's coming our way."
With assistance from Christopher Palmeri in Los Angeles.
© 2015, Bloomberg News