After a large mob of tourists made headlines worldwide for interfering with nesting sea turtles in Costa Rica earlier this month, thousands of olive ridleys have returned to Ostional beach this week. Unlike the last time, when mobs of tourists prevented the turtles from laying their eggs, the beach was mostly clear of visitors.
Residents in this small community on Costa Rica's northwestern Pacific coast were expecting the next turtle arrival, known locally as an arribada, next month. But on Monday night, a first group of turtles surprised locals, Ostional Tourist Guide Association coordinator Elmith Molina Parra told The Tico Times. On Tuesday morning, the arribada included about 2,000 sea turtles that nested along 2 kilometers of the 7-km beach.
"Being a weekday and following the media exposure we had last time, very few people were at the beach," she said.
This time, tour guides had no problems taking small groups of mostly local tourists to see the event. The only reported incident was a group of seven foreign tourists – Molina could not identify from which country – who accessed the beach through an unauthorized entrance. Guides requested help from National Police officers who escorted those tourists to the nature reserve's main entrance.
"We explained to them the regulations for entering a protected area, and after assigning them a licensed tour guide, they returned to the beach and watched the nesting," Molina said.
At 8 p.m. a small group of both national and foreign tourists took the last tour of the day.
"In total we had no more than 50 tourists here today," she said.
Environment Ministry (MINAE) officials reported that Tuesday's arribada was one of the largest this year with over 101,000 turtles nesting throughout the day and night.
On Wednesday morning, the number of turtle arrivals was bigger, but only a few tourists were present, Tomás Chavarría from the Ostional Development Association (ADIO) said.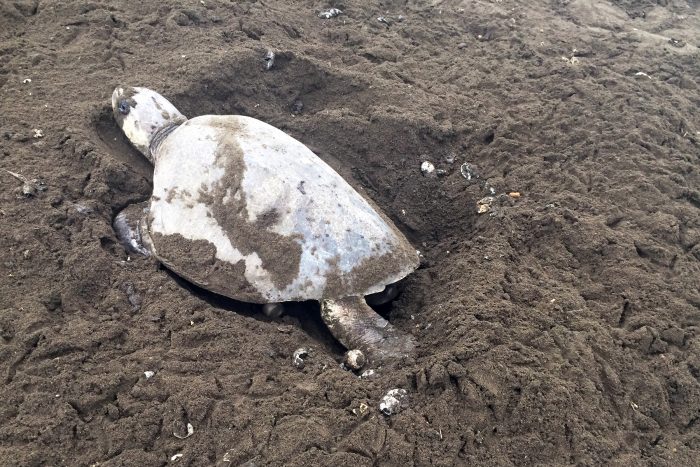 Boost in surveillance
Following the Sept. 5 incident, ADIO and other community leaders met with Environment Ministry officials and National Police officers and outlined a plan to prevent further problems during upcoming arribadas.
Measures include stricter surveillance of the six possible access points to Ostional beach in order to effectively control the number of tourists who will be granted access. Yeimy Cedeño Solís, director of MINAE's Environmental Education Program, said officials on Tuesday closed four of the beach's access points currently patrolled by staff members of the ministry's National Systems of Conservation Areas (SINAC), National Police officers and members of the National Police's Operational Support Group.
"Officers will remain at SINAC's facilities at Ostional so they don't have to return to their precincts some 20 kilometers or more away," Cedeño said.
The plan for upcoming arribadas also includes placing Traffic Police at checkpoints along the road to Ostional. Cedeño said Traffic Police officers began patrolling the area on Tuesday, following the confirmation of the new arribada. They will remain there throughout the week.
If a large group of tourists is spotted, officers will manage vehicle traffic in the community to avoid traffic jams, which brought transit to a standstill at the small beach town on Sept. 5.
Tourists will be allowed to enter the beach only when accompanied by one of ADIO's 30 authorized tour guides. Groups are limited to 10 visitors and can view the arribadas and nesting for no longer than 30 minutes. That is down from the previous allowance of one hour, when tour guides explain the arribada process and other community projects related to turtle visits.
ADIO members in recent days have begun informing residents and property owners that they will be fined if they allow tourists to access the beach through their properties.
SINAC officials are evaluating the implementation of crowd control measures to help improve the identification of unauthorized visitors at the beach. Options so far include providing wristbands or badges to tourists who enter the beach through one of the authorized entrances.
Ostional residents are the only people legally allowed to harvest turtle eggs for consumption and sale. They can take only eggs deposited within the first 72 hours of the arribadas, as the number of turtles – particularly in September and October – and the amount of eggs are so high that when new groups of turtles arrive, they often end up destroying the eggs from earlier nesting.
Elmith Molina said that despite these measures, the Ostional community still needs help to prevent further disturbing incidents. Molina said the Public Security Ministry's Tourist Police could assist them with on-the-beach inspections of groups to verify that they are led by a licensed tour guide and wearing whatever visitor ID system MINAE ends up enforcing.
Tourist Police Director Fulvio Fernández on Wednesday said officers on motorcycles began patrolling the beach's surrounding areas on Tuesday, and he is prepared to send more officers if alerted to an increased presence of tourists.