GUATEMALA CITY — During his third appearance in court on Sept. 8, Guatemala's disgraced former President Otto Pérez Molina remained characteristically composed. Even when Judge Miguel Ángel Gálvez formally charged him with illicit association, customs fraud and bribery and ordered him to be held in custody pending an investigation, his face showed no emotion.
Pérez Molina is accused of masterminding a massive customs fraud network known as "La Línea" together with his former Vice President Roxana Baldetti, who has been charged with the same crimes and is also being held in prison pending trial.
Throughout Tuesday's proceedings, Pérez Molina, who wore a dark blue suit, light blue shirt and striped tie, listened intently to Judge Gálvez with his arms folded. At one point, he repeatedly clenched his left fist, the only gesture that might have betrayed nervousness.
Judge Gálvez, a bespectacled man with graying hair and a sparse moustache, explained that the telephone calls recorded by investigators as well as the photographs of Pérez Molina with key members of La Línea prove that the former president pressured his former head of tax administration, Carlos Muñoz, to constantly change members of staff and appoint people who belonged to the fraud ring. The judge said these were sufficient grounds to charge Pérez Molina with illicit association.
Gálvez, who presides over one of Guatemala's "High Risk" tribunals, has shot to fame as the judge who charged former Vice President Baldetti and sent her to the Santa Teresa women's prison on Aug. 26. When he voted on Sept. 6 at his local polling station in Quinta Samayoa, a working class neighborhood in Guatemala City, he was immediately recognized by polling station staff and fellow voters, who welcomed him with cheers and ovation.
Despite his impeccable track record, Gálvez was passed over by a nomination commission established in 2014 to select the new Supreme Court and Court of Appeals magistrates. The process was notable for its lack of transparency as it was emerged that magistrates were chosen based on their political connections.
In 2013, Judge Gálvez ruled that former dictator Efraín Ríos Montt (1982-1983) and his former head of intelligence Mauricio Rodríguez Sánchez, should stand trial for genocide and crimes against humanity. And this year he ruled that former police chief Pedro García Arredondo should face trial for an assault on the Spanish Embassy in 1980 in which 37 civilians were burnt alive.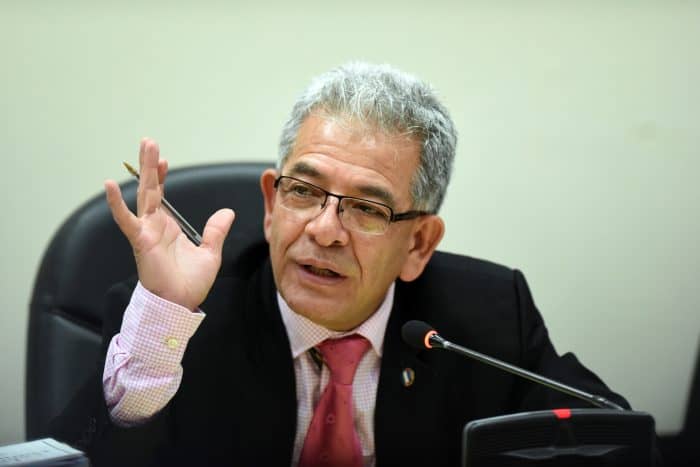 La Línea unravels
Judge Gálvez, who is known for being detailed and methodical when justifying his arguments for issuing a ruling, said that telephone conversations recorded by the prosecution prove that La Línea was divided into two parts: a hierarchical, internal network that began with low-level customs officers, included administrative staff and went all the way up to the head of the tax administration; and an external network that liaised with tax administration officials.
This external network included individuals such as Francisco Javier Ortiz Arriaga, known as "Teniente Jeréz," and publishing magnate Salvador Estuardo González Álvarez, known as "Eco." Ortiz Arriaga served as assistant director of the customs service from 1990 to 1994 and was allegedly the right-hand man of Salvadoran criminal Alfredo Moreno Molina, founder of a contraband ring called "La Red Moreno" (the Moreno network) that operated in Guatemala from the 1970s up until the mid-'90s.
According to the International Commission Against Impunity in Guatemala (CICIG), the Moreno crime ring — which was controlled by corrupt military, police and government officials and allegedly pocketed $90.6 million — never disappeared and over the years morphed into La Línea.
Wiretap recordings played in court on April 17, when the customs fraud scandal hit the headlines and tax administrator Carlos Muñoz and other top government officials were arrested, indicate that Ortiz Arriaga became part of La Línea at Pérez Molina's behest.
"Jeréz said to me, 'Look, what I'm about to tell you is serious. This became a market and that's why CICIG has information and that's what the president ordered me to change," Mynor Pineda, a former customs official who is on the lam, told Julio Aldana, another former customs official who's currently in prison awaiting trial.
In 2010, Ortiz Arriaga allegedly founded a company called Corpogold that started to get lucrative construction contracts when Pérez Molina came to power in 2012. According to CICIG, corrupt import businesses deposited the bribes, known as cola, in Corpogold's accounts. The funds were withdrawn the following day and distributed among those involved in La Línea.
During Pérez Molina's hearing, the court heard evidence of how Ortiz Arriaga helped to arrange a meeting between the former president and González Álvarez. It was "strange," said Judge Gálvez, that tax administration officials should discuss sensitive internal matters with people such as González, who did not have a role within the institution.
Another key figure in this external network was Luis Mendizábal, owner of an exclusive menswear boutique where members of La Línea regularly met and where prosecutors found key pieces of evidence, such as an organization chart detailing sensitive positions within the tax administration where individuals willing to cooperate with the fraud ring needed to be placed.
Former president behind bars
At 1 p.m. on Tuesday Judge Gálvez formally charged Pérez Molina with illicit association, customs fraud and bribery. The judge ordered Guatemala's former president held in prison while awaiting trial because he's a flight risk and because the former president could attempt to pervert the investigation.
Pérez Molina's defense attorney had practically no arguments to refute the evidence presented by prosecutors. He attempted to argue, unsuccessfully, that "preventive prison violates the principle of presumption of innocence" and that Pérez Molina should be given house arrest "on humanitarian grounds."
Two hours later, the hearing drew to a close. Besieged by reporters, Pérez Molina gave an impromptu press conference in the courtroom. He stood upright, stiff and stern-faced, as if he were still a head of state. Pérez Molina said the justice system was "afraid of CICIG" and was responding to a "supranational organization."
"We want independent judges. It's really frustrating to see judges who are afraid of the pressure exerted by CICIG," he said in his usual monotone voice.
"I don't understand why I've been charged and sent to prison. Not a single solid argument was presented in court, not a single piece of evidence that justified charging me, only conversations between third parties, references to other people, but there was no evidence that I was actually doing anything or giving specific orders," he said.
When a reporter asked the former president about his links to Ortiz Arriaga and Corpogold, Pérez Molina replied: "He [Ortiz Arriaga] had a financial planning firm that managed my personal assets." His defense attorney, César Calderón, looked extremely uneasy and motioned to him to end the press conference.
Prosecutors have three months to continue their investigation, and Pérez Molina will stand trial on Dec. 21. Meanwhile, he will be held behind bars at the Matamoros former army base in Guatemala City.
Read more stories about Guatemala and La Línea customs fraud scandal