It took head coach Óscar Ramírez just two games to get Costa Rica back in the win column.
Ramíez, who was hired just three weeks ago, helped Costa Rica end a brutal winless streak with a 1-0 win against two-time World Cup champion Uruguay on Tuesday night at San José's National Stadium. In its previous 10 games, the national team was 0-5-5 headed into the friendly, not having won since last October.
"La Sele" netted the game's lone goal when Joel Campbell lofted a pass into the box that captain Bryan Ruíz put home with a header in the seventh minute. Though he was relegated to the bench for most of Saturday's friendly against Brazil, Campbell started at striker over Marco Ureña and showed why he remains Costa Rica's best option at the position with his beautiful touch pass.
https://vine.co/v/etpZ6zPba1M
In the second half, Campbell had three more opportunities to score, the last of which came in the 67th minute when he got behind the Uruguay defense but had his shot veer just right of the far post.
"Not to disrespect Uruguay, but we had chances to score at least one more goal," Ramírez said in the post-game news conference.
Costa Rica, which quadrupled Uruguay's shots on goals in the first half, dodged a scare when goalie Esteban Alvarado made an excellent save to stop a Christian Stuani header from going into the goal.
Playing at home for the first time since March, when it tied with Paraguay, La Sele looked more comfortable and fluid than it has all year. Costa Rica controlled possession from the beginning while staying aggressive on offense, slicing through a very good Uruguayan defense that includes top-flight talents like Diego Godín and Martín Cáceres. Even though it took advantage early with the one-goal lead, Costa Rica kept pressing the Uruguayans on their side, nearly expanding upon the lead with a number of close calls at net orchestrated by Campbell, Johan Venegas, and Celso Borges.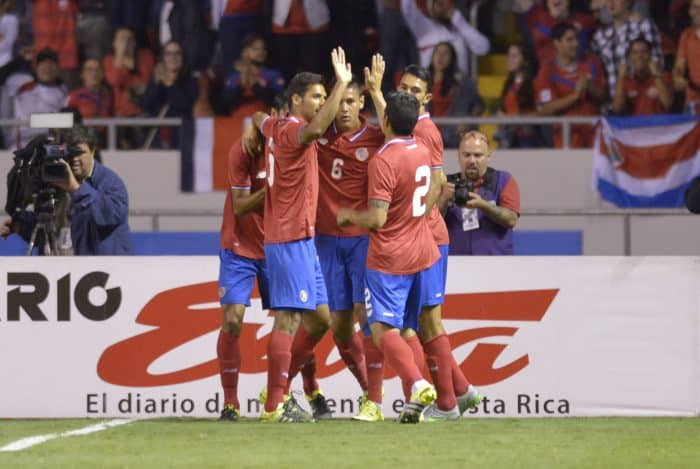 Before the match, Ramírez said his team would need to start dictating pace if it expected to beat the world's best, almost foretelling exactly how Costa Rica would play against Uruguay.
"We want to do what we do best and control possession, maintain defensive balance when the situation calls for it and keep feeding the ball back to ourselves," he said.
Even before Tuesday night's game, Costa Rica's defense looked to be immediately improved under Ramírez. The coach's first game on the sidelines, on Saturday, ended in a 1-0 loss to a Brazil team that embarrassed the United States 4-1 on Tuesday night. After being plagued by miscommunications and break downs on the defensive end for so long, La Sele's ability to hold back an aggressive Brazilian front gave fans plenty of reason for optimism. Even without key pieces like Keylor Navas and Bryan Oviedo, the defense overcame an early mistake on Brazil's goal to seal down that side of the field and look cohesive.
Alvarado started in goal on Tuesday night after Alajuelense's Patrick Pemberton played valiantly against Brazil on Saturday. The 6 ft. 4 in. goalkeeper continued his solid play from July's Gold Cup while shutting down an Uruguayan attack that was without its best offensive threats in Edinson Cavani and Luis Suárez. This is the third time that Costa Rica has beat Uruguay in the past 15 months, beginning with the 3-1 win in the World Cup group stages that sparked the Ticos' run to the quarterfinals.
La Sele will next take the field again on Oct. 8 when it plays South Africa in a home friendly.