MEXICO CITY – Mexico City was once seen as an island of refuge in one of the world's most dangerous countries for reporters, but the brutal killing of a prominent photojournalist along with four other people has shattered that image.
The death of news photographer Rubén Espinosa in an awful five-victim homicide has unleashed new fears for other journalists who, like him, have fled to the capital after receiving threats in their hometowns.
There are currently at least a dozen journalists from around the country sheltering in Mexico City because they fear for their safety in a nation where, according to Reporters Without Borders, at least 88 of their colleagues have been murdered in the last 15 years.
Once seen as a sort of ceasefire zone — or at least a place to hide out anonymously amid nine million people — Mexico City suddenly seems a lot less safe since Espinosa was found Friday with a bullet through his head, his hands bound and his body showing signs of torture.
Four women killed alongside Espinosa were found in similar condition. They included human rights activist, anthropologist and dance company producer Nadia Vera Pérez, who was sexually abused and tortured before she was killed. Just eight months ago, in a video interview with Rompeviento TV, Vera chillingly told her interviewers that if anything happened to her, members of her family, or members of her fellow activist collective, she held Veracruz Governor Javier Duarte and his "entire Cabinet" responsible.
"We want to be very clear: Our security is entirely the responsibility of the state, because it is precisely they who are ordering our repression," Vera, who was a member of the group #YoSoy132 in Xalapa, told her interviewers, who described her as extremely anxious and nervous during the filming.
Judicial authorities released surveillance footage of the alleged killers Tuesday night.
"This was the armored city, and now it's broken," said a colleague at Espinosa's funeral Monday who, like the slain photojournalist, hails from Veracruz.
The eastern state has been described as the deadliest in Mexico for journalists by rights group Article 19, which says 17 journalists have been killed there in the last 15 years — 13 of them since current Governor Duarte came to power in 2010.
In 2014 @article19mex documented 41 attacks against the press in Veracruz, the most dangerous state for journalism https://t.co/u1EYMibuWO

— ARTICLE 19 (@article19org) August 4, 2015
'No kind of life'
Espinosa, a photographer for the prestigious investigative magazine Proceso, had moved to Mexico City two months ago after receiving threats in Veracruz.
He had also been beaten by state police in 2013.
Another Veracruz colleague sheltering in the capital said Espinosa's killing had brought his old hometown fears back to his doorstep.
"After what happened to Rubén, your fear returns. We exiles don't feel so safe among the multitude anymore," said the political cartoonist, who spoke on condition of anonymity.
The cartoonist fled the state in 2012 after finding a threatening note in his car. "Calladito," it said — "Quiet."
That one word chilled his blood and convinced him to flee the country, he said. But he later returned to Mexico, counting on the sheer size of the sprawling capital to keep him safe.
Living in self-exile is "no kind of life," he told AFP.
"It's a life of constant anguish, nightmares, crying. It's a life of not telling people where you are, not arriving where you say you will, changing your phone number, mistrusting everyone, even your friends," he said.
Currently around 15 Mexican journalists are reported to be living in self-exile abroad.
The number of colleagues seeking to join them has increased substantially in recent years, said Philippe Olle-Laprune, the head of the Citlaltepetl House of Refuge in Mexico City, which shelters persecuted journalists and artists from around the world.
He called Espinosa's killing "a horrible wakeup call," adding that "the violence hits closer to home every day."
¿En qué país se escapa el narco # 1, matan 43 estudiantes en Iguala y 15 periodistas de Veracruz, descubren Casa Blanca…y nadie renuncia?

— JORGE RAMOS (@jorgeramosnews) August 4, 2015
'Flimsy' protection 
The Committee to Protect Journalists ranks Mexico the eighth deadliest country in the world for reporters.
Seeking to combat the violence, the government has launched a protection program for threatened journalists and rights activists, plus a special prosecutors' office for crimes against free speech.
But one former journalist enrolled in the so-called "protective mechanism," Balbina Flores, said the program "has a lot of problems," particularly its slow registration procedures.
The Inter American Press Association agreed, criticizing the program's "flimsy, inefficient performance."
Espinosa had opted not to register with the program, saying he did not trust the authorities.
His death has left journalists in the capital living in a climate of "fear, uncertainty and defenselessness," said Flores, who now heads the free-speech program at the city's human rights commission.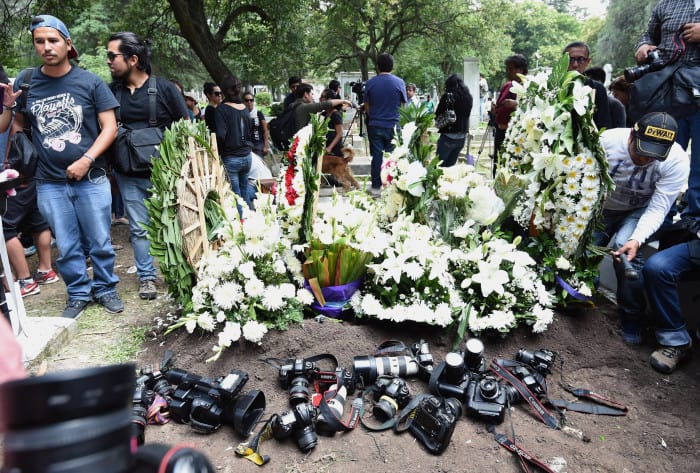 The Tico Times contributed to this report.