PLAYA HERMOSA, Puntarenas – Four by four, they launch themselves on surfboards into burgeoning waters like a disciplined and fearless army. All of the skinny soldiers — kids not more than 15 years old — emerge from the swell to tame seemingly intimidating waves with laughable ease.
Behind their mid-afternoon silhouettes dotting the sea, cloudy skies blend with the Pacific so that the western horizon fades away into a blue mesh that seems to have no boundary.
Today is the first day of the 2015 Grand Reef Final in Playa Hermosa, Garabito, where the country's top junior talent opens the competition for the older stars. This year, Costa Rica's national surfing championship brings together the country's best for a weekend that is both a celebration of a world title just won, and a peek into a golden generation of young surfers that is stirring up a tidal wave of buzz.
There's the 15-year-old girl with diamond eyes and a surreal instinct in the water. As she walks parallel to the shore, the ocean bends towards her. Once in the surf, she zigzags the water in search of the perfect drop-in before popping up on the board, which moves as if attached to her feet from birth.
Unlike most young surfers who wait in one spot for the right wave, Leilani McGonagle hunts for them with a strength that is impossible to imagine in a teenage girl until you witness it firsthand. And despite her age, the weekend's winner of the female junior category is already closing in on the world's top 100 women surfers in the World Surf League's Qualifying Series. Her older brother, 19-year-old Noé Mar McGonagle — absent from the weekend's competition — is currently the top-ranked Costa Rican surfer in the world at 17th in the men's Qualifying Series.
Then there's Carlos "Cali" Muñoz, the shaggy-haired surfer from Esterillos, dubbed by a popular surf magazine as the "Flying Costa Rican." At Playa Hermosa he lands an aerial spin amid collapsing waves to draw awes from the beachside audience.
Anthony Fillingim Abarca, the current Latin American surfing champion, came to the event early to coach his 13-year-old cousin competing in the grommet's category.
Along with now national title-holder Jason Torres and 12-time women's national champion Lisbeth Vindas, these young athletes make up what's come to be known as El Equipo Soñado, the Dream Team. And they're leading the way for a golden generation of surfers in a sport that has historically been neglected by the government. Even with the swell of collective talent, which came together to win this year's International Surfing Association (ISA) World Surfing Games in Nicaragua, Costa Rica is still struggling to find support for its prize-winning sport.
"You have an enormous amount of young talents who have the oceans as their courts, but they've been overlooked in favor of other sports," said ISA President Fernando Aguerre.
Born on a wave
Raised on the famous wave break of Pavones on Costa Rica's southern tip, Leilani McGonagle says she's too young to even remember the first time her surfer parents put her on a board, though they tell her she started when she was about 18 months old.
"It was either you go surfing or you sit on the beach and watch," she said, seated on the winding root of a palm tree at Playa Hermosa. "I decided I wasn't going to sit on the beach alone."
McGonagle and her brother, Noé Mar — children of a British father and American (U.S.) mother — led the way to Costa Rica's first-ever world championship win last month. Noé Mar's individual gold medal at the World Surfing Games, highlighted by a spectacular 9.93 run (out of 10), and Leilani's silver medal pushed the tiny country over perennial surfing powers like the United States, Australia, and Brazil. Together with the other four members of El Equipo Soñado, the McGonagles proved the future generation already has its footprints planted in the present.
Costa Rican Surf Federation spokesperson Carlos Enrique Brenes says surfing has taken off here in recent years thanks to surfer parents like the elder McGonagles. With built-in coaches training their kids on the waves before they're even potty-trained and taking them on international travels as they grow up, the country's young surfers have seen so much by the time they're teenagers that they surf without fear, Brenes said. It doesn't hurt that they share the waters with equally talented friends and siblings.
Brenes, who's been involved with the sport for 12 years, said international events used to be too big for Costa Rican surfers. That's changed.
"These kids aren't intimidated anymore," Brenes said. "They're friends with the best surfers in the world."
Overlooked and underpaid
Though Costa Rica is now on the map with some of the world's best competitive surfing nations, a few years ago the national surfing federation couldn't even afford to take a team to international championships. Severely underfunded and basically ignored by the government up until two years ago, federation leaders could barely scrape together enough money to pay for airfare, not to mention room and board for each athlete.
Surf federation president Randall Chaves said without a steady stream of support from the government, Costa Rican surfers have clear disadvantages going into international competitions.
"They don't have money to eat, they don't have money to sleep or to travel," Chaves said. Ideally, he said, "we always try to put them in their comfort zone so that the only thing they have to worry about is to compete and win."
This is despite the fact that the Costa Rican Institute of Sports and Recreation (ICODER) has officially recognized surfing as the country's highest performing publicly-funded sport. Costa Rican surfers have won nine world medals in the past four years.
Still, today surfing is in line behind cycling and track in terms of government funding, according to surf federation spokesperson Brenes.
International Surfing Association president Aguerre suggested the country's leaders had misguided sports priorities. "The game is here," he said during a recent phone interview, referring to surfing. "There are not many sports in which Costa Rica can compete for Pan-American gold medals and world gold medals. Well, they just won one of them with surfing."
But the sport is slowly demanding more attention. This year, for the first time, surfers became eligible to receive government scholarships. Ten surfers are currently getting scholarship money, according to Andrés Carvajal, head of ICODER's Sports Performance Department. The department has a half-million dollar budget to dole out annual scholarships to young athletes across the country.
Carvajal said the addition of scholarships for surfers was the government's way of recognizing the regional and global achievements that the athletes have garnered while carrying Costa Rica's flag.
On top of domestic sponsorships from the likes of Kölbi and the national beer company, international surf and skate brands also fund the surf federation's tournaments, helping to improve the sport's infrastructure. And, apparently, it pays off for those brands: more surfing merchandise is sold in Costa Rica per capita than anywhere else in the world.
Still, private sponsorships aren't enough to keep the sport advancing, said Aguerre, who co-founded Reef, the major surfing brand that hosts Costa Rica's surf finale each year. He said if the country neglects its young surfers by failing to provide long-term funding, pot holes will sprout up on their road to development.
"It's world-class talent without the world-class means," Aguerre said.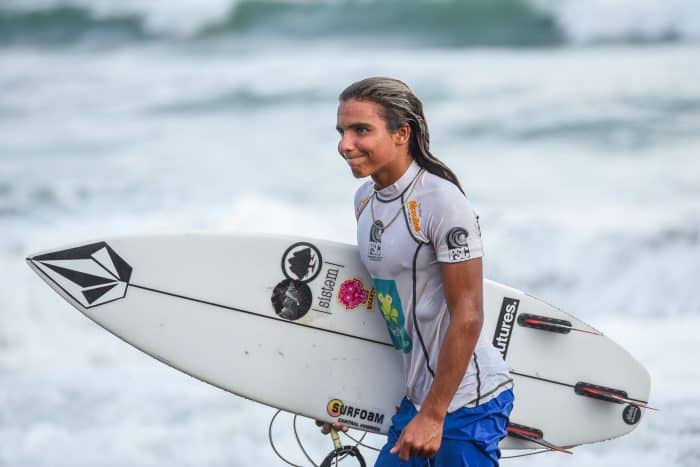 Surfers grab their place
At Playa Hermosa, the biggest waves hit "Cali" Muñoz when he comes out of the sea. An unrelenting swarm of fans, one after the other, crash upon the always-vibrant Muñoz. Each request for a signature or picture is met with gratitude and smiles from the country's biggest surf star.
Streaks of gold run through his dark, bushy hair, which sags heavy with water over a marketable smile that never wavers. A few miles away, his facade is plastered on a 20-foot billboard over Route 34 as it nears Jacó. With sponsorships from Red Bull, Volcom, and FCS in his pocket, the 22-year-old Muñoz is the humble rock star of Costa Rica's world championship team. As recognizable as he is talented, the surfer from Esterillos carries such an upbeat ethos that Aguerre says he could be an advisor to the pope.
It's easy to see why: sponsors give him monthly pay checks to do what he loves and help support his family. Muñoz says surfing kept him afloat when he could have sunk under bad habits.
"When I was young I had a lot of problems like anyone else," he said. "(Surfing) opened up an incredible culture for me, like traveling and doing your own things and also helping my mom. I think surfing is my whole life. It totally changed my life."
At his young age, Muñoz has already made it further on the individual circuit than any Costa Rican in history by competing in a World Championship Tour title event – the highest level of pro surfing. After winning a video contest thanks mainly to a large contingent of Costa Ricans who went online to vote for him, the popular surfer was elected to fill the wildcard entry at the 2014 Hurley Pro at Trestles surf competition in Southern California. At the tournament he entered the water with the sport's very best, including Kelly Slater — widely considered the greatest surfer of all-time — and last year's world champion Gabriel Medina.
But the fan pick didn't quiver under the towering presence of his idols. Muñoz, who bounces through chaotic waves in the tranquil way a frog bounces across a pond, beat Medina in the first round with 7.73 and 6.17 wave scores. By virtue of the first round win, he automatically advanced past the second round, but in the third round Medina got his revenge and knocked Muñoz out of the tournament.
"When I was leaving the water after Gabriel Medina won, I thought to myself for a second, I can't believe I did so well against these guys," Muñoz said. "For a kid from a little place like Esterillos to be in front of all the cameras, it was awesome."
Now, as his international image grows through connections with big-name brands and magazine photo shoots, Muñoz said he remains conscious of being a leader for the country's younger surfers.
At the Grand Reef Final last Saturday, after a winning heat, three teenaged boys tiptoed up to Muñoz while playfully shoving each other and laughing. They waited for him to finish posing for a selfie with a fan before greeting him with hugs and congratulations.
One of the boys was Malakai Martínez, a 14-year-old surfer from Tamarindo who Brenes calls one of the leaders of his age group. With Martínez, Oscar Urbina and Aldo Chirinos, the boys national champion (15 and under), the sport has a line of visible talent for years to come.
"These are the guys who are going to be world champs in four years," Brenes said. "At this stage they might be surfing even better than Cali (Muñoz) or Noé Mar (McGonagle) did."
Muñoz said he gets goosebumps watching the juniors, while 21-year-old Fillingim admitted that the next group is on the verge of bringing Costa Rica surfing to an even higher level.
"I remember when I was that age I was still dreaming about doing some of the stuff they're doing," Fillingim said. "But now they're like doing backside full-rotation airs and frontside full-rotation airs and getting rail gains. I think the younger generation is going to be even better."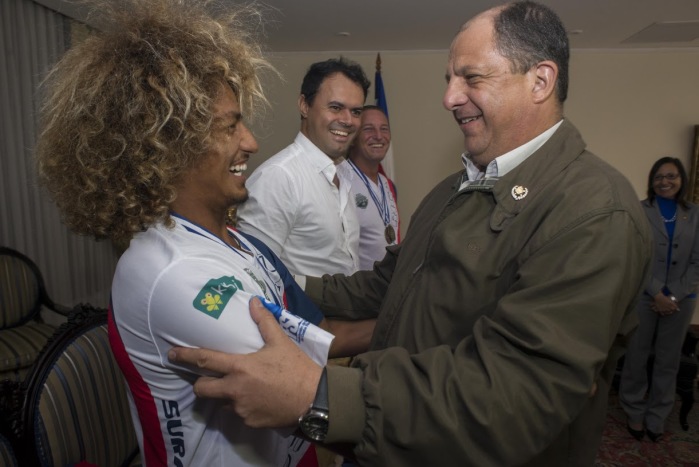 An olive branch from Casa Presidencial
Though it has overlooked surfing in the past, this year Costa Rica's government gave the world champion team the highest form of acknowledgment by extending an invitation to visit President Luis Guillermo Solís in Casa Presidencial earlier this month.
"These surfers are another example of this extraordinary talent that shines in many tough conditions," President Solís said while the surf team looked on. "These athletes haven't always received our support or understanding of what they've had the heart to take on in the sea."
From the sands of Playa Hermosa, the soft-spoken Fillingim said younger surfers can look up to the medal-winning team and now follow a blueprint for winning future surfing crowns. When he was a kid growing up on his hometown waves of Santa Teresa, the champion surfer said he didn't realize that his passion could be a vehicle, carrying him to his dreams on dry land. "Since I was little I wanted to meet a Costa Rican president, and thanks to surfing we just did it," he said.
Still, a short chat with the president does not make up for years of inattention. One way the government can strengthen its recent commitment to surfing is by investing in more major surfing events, which can, in turn, help tourism and local municipalities.
During his meeting with the team, Solís compared politics to surfing, saying that politicians choose which legal path to take the same way surfers decide which wave to ride. Now, policymakers at the Costa Rican Institute of Tourism have to decide whether or not to take up an offer to host the World Surf Games for the first time since 2009. Costa Rica is currently in back-and-forth talks with Aguerre and the ISA about hosting the event, which holds the promise of bringing more money to surfing and tourism.
In May, Costa Rica rejected the ISA's $800,000 charge to set up the event, according to daily La Nación. But Brenes said the government is rethinking its original decision and calculating how much revenue could be made from the event. In 2009, tourism numbers boomed as 100,000 visitors descended on Playa Hermosa during the week-long surf fest.
As talks between the government and the ISA continue, Aguerre says Costa Rican surfing needs more support from its public sector to build on the momentum established through its world title.
"(Costa Rica) is really benefitting from this but it's not investing much in terms of national resources," he said. "If you have the best restaurant in town but you don't promote it, then nobody is going to go."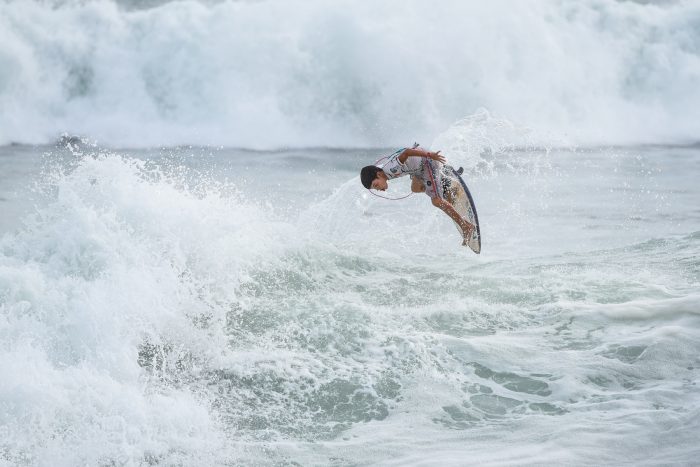 As one wave goes out, another forms
Though the highest possible team goal was achieved through the world title win, surfing's most sought-after honors are normally reserved for the individual pro circuit. So as the country's top surfers develop, they are likely to venture further away from national events, especially as they climb higher in the world rankings.
Muñoz and Noé Mar McGonagle (Mar opted out of last weekend's Grand Reef Final to surf in California) are ranked in the top 25 of the World Surf League's Qualifying Series halfway through the season. To break into the Championship Tour, however, they must finish in the top 10 by season's end.
Noé's sister Leilani ranks among the top female surfers in the world for her age group. And Fillingim, who said his goal is to break into the top 100 qualifier ranks next season, continues to rack up accolades throughout Central and South America.
Though the Dream Team may never come together again in international competition, it's left a golden mark on a country that's wavered in promoting it.
As ISA president, Aguerre was in Playa Popoyo, Nicaragua on the World Surf Games podium to lay medals on the champion riders. After Aguerre crowned the Costa Ricans, the young stars circled around with their right hands stretched into the middle.
"Who are we?" they shouted. "Ticos!" they answered in booming unison.
"Where are we from?"
"Costa Rica!"
"How are we?"
"Pura vida!"
Seven weeks later, past the sponsor tents and the onlooking parents camped on the black sands of Playa Hermosa, you could almost hear the chant coming from the waves as an 11-year-old surfer popped up above the crashing water before landing an aerial.
"Costa Rica surfing has shown that it can get to this level and continue going up," Brenes said. "It's not just once. There's so much material for years to come."