Update, Wednesday, 8:05 a.m.: Authorities released Orozco at 3:20 a.m. on Wednesday morning with three precautionary measures. He has been ordered not to leave the country pending the outcome of his case, not to approach the victim and to sign in with the court every 15 days. On Wednesday morning, Orozco's attorney, Hugo Navas, told radio host Amelia Rueda that his client is "calm and feels innocent." The attorney also requested a psychological evaluation of the victim, AmeliaRueda.com reported.
Original story continues here:
National Police officers on Tuesday evening detained former lawmaker and ex-presidential candidate of the Costa Rican Renovation Party (PRN) Justo Orozco Álvarez on charges of alleged sexual abuse and deprivation of liberty against a female victim for events that occured in a motel in Pavas, west of the capital San José.
The woman, a resident of the canton of Naranjo, Alajuela, told police officers that she had agreed to meet Orozco in San José for a job interview in the afternoon. According to a press release from the Public Security Ministry, the alleged victim said that following the interview at about 5 p.m., Orozco offered to take her to the bus station, but instead entered a motel and parked his car inside an empty garage at one of the rooms.
Once inside, he allegedly tried to sexually attack her. When he attempted to close the garage door, the woman escaped, but Orozco then chased her in his vehicle, police say.
The victim managed to flag down a police patrol, and officers quickly spotted Orozco's vehicle approaching. They arrested him on the spot.
The former lawmaker was then taken to a local police precinct in Pavas and to a Flagrance Court in downtown San José at about 6 p.m. Upon his arrival, several reporters attempted to speak to the former lawmaker, but Orozco covered his face with a bandana and stated, "This is a misunderstanding. … It's a setup. … I am innocent."
A few minutes later, the alleged victim also arrived at court to file a criminal complaint against the leader of the evangelical party.
At the Flagrance Court Orozco was submitted to questioning by a prosecutor, who read the charges against him and took a statement. The prosecutor also heard testimony from the victim and read a report from the police officers who made the arrest.
All of the documents will be used to open a case file, and a Flagrance Tribunal will determine whether to issue preventive measures against Orozco while the case is decided, usually within two weeks.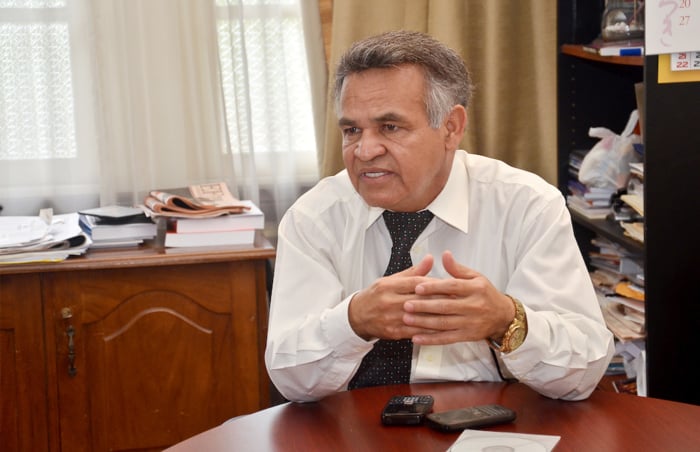 Orozco, 65, served as lawmaker from 1998-2002, and then again from 2010-2014. In 2014, he was the PRN's presidential candidate.
Agents from the Prosecutor's Office and the Judicial Investigation Police in 2013 raided Orozco's office at the Legislative Assembly in San José, in an ongoing investigation of alleged misuse of public funds to conduct private business.
In May 2012, The Tico Times profiled Orozco in a story titled "The happiness of Justo Orozco." The story notes that Orozco, a former mathematics teacher, lawyer and grandfather, loves a photo that used to hang in his Assembly office of Orozco, his wife and his youngest son, posing together as one smiling, happy family. The story ran after Orozco had made several homophobic public statements attacking the LGBT community.
In that interview, Orozco told The Tico Times: "I have homosexual friends, many men and women that have told me that their families suffer because they are like this."
In an ironic unfolding of events prompted by political deal-making and widely criticized by human rights advocates, Orozco then went on to preside over the Human Rights Commission of Costa Rica's Legislative Assembly. In response, lawmakers passed a motion to declare the Legislative Assembly "free of homophobia."
Orozco responded by announcing a proposal to change Costa Rica's Constitution to say marriage is between a "man and a woman." Later, in a video chat hosted by the daily La Nación, Orozco said that, "the primary role of a woman is to be a mom and to have children. It gives meaning to life." He also said same-sex couples should not be able to have children because it could harm kids' development.
Follow wordpress-257819-2837440.cloudwaysapps.com for updates on Orozco's case.