MATAPALO, Puntarenas — I've been wanting to go waterfall rappelling in Matapalo since I first heard about it 20 years ago. My dad and brother were living in Puerto Jiménez at the time, but they didn't want to go because it was too scary and too expensive.
So I never went because I never could find anyone to go with me. But I found out that Everyday Adventures was going rappelling Monday at 10, so I asked my friends Shana and Katelynn Stratton if they wanted to go. This mother-daughter duo and I have been traveling together for 10 days all over the Pacific coast of Costa Rica, and they did everything I did except ocean kayaking.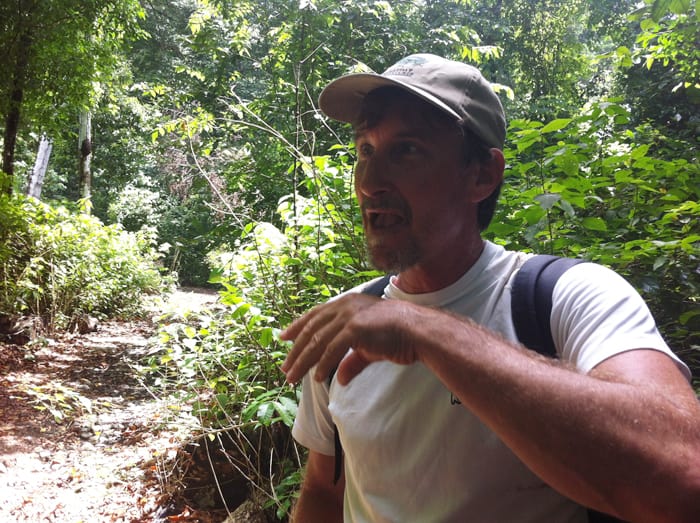 "I don't know," said Shana, 38, "$85 is a lot of money to pay for something I'm not sure I really wanted to do anyway." Katelynn, 18, concurred. In other words, it's too scary and too expensive.
But they got to talking about it — it was their last day to play in Costa Rica, it would be a fitting final adventure, and they did have the money.
The ladies were in.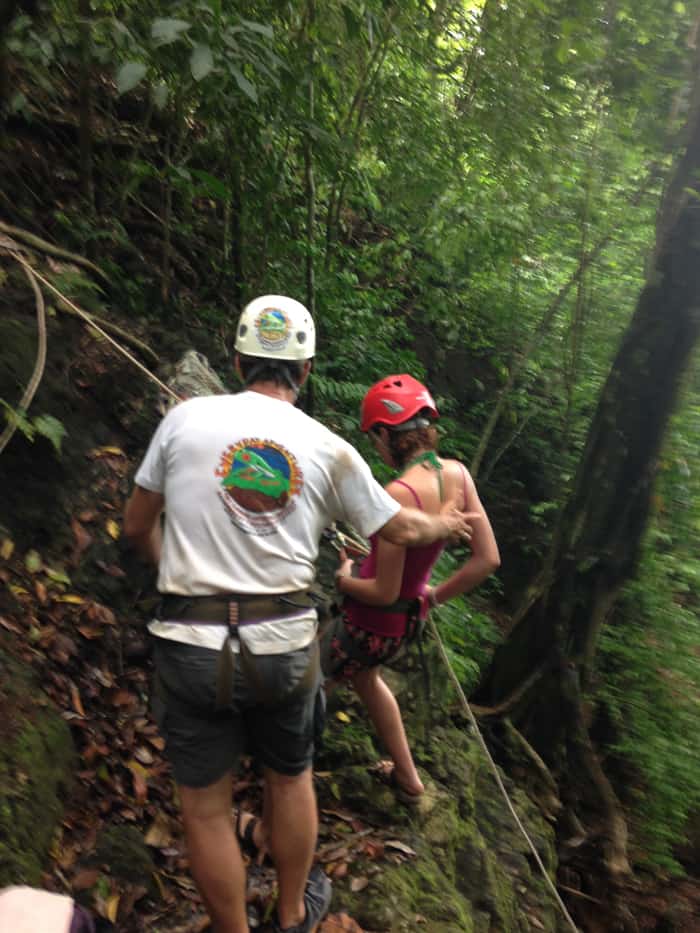 After an hourlong drive on a washboard road, we made the turnoff to Matapalo and found ourselves on the most challenging road I've ever driven in Costa Rica, full of boulders and little lagoons (OK, big puddles), with one steep, rocky uphill. I should add that if you walk along this road, you are likely to see howler or spider monkeys swinging through the trees.
Matapalo is a stunning paradise, with world-class surfing beaches and pristine rain forests teeming with wildlife. It's a town with no town there — no stores, no restaurants, just a road connecting a string of ecolodges, vacation rentals and homes. A short walk from all of these are some of the most beautiful beaches I've ever seen.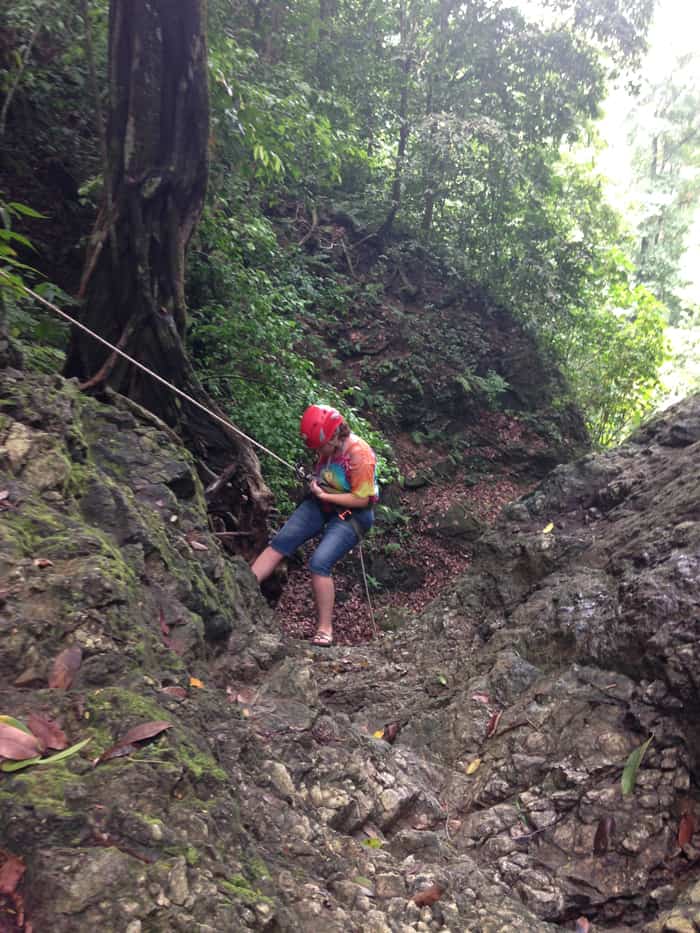 At the end of the road on the left is Everyday Adventures, where Andy Pruter, 53, lives in a big, airy house with his wife Terry and their children. Andy has a knack for naming things, as his website is http://www.psychotours.com and his email address is trustyourguide@yahoo.com.
Andy is an exuberant Californian with a degree in wildlife biology who has been leading tours in the Osa for 20 years. As we set out he rattled off facts about spider monkeys, howler monkeys and palm trees. He looked at the level of one creek and said it wasn't a good sign — the waterfall has been dry, and last night's storm probably wasn't enough to get it flowing again.
We hiked to the base of King Louis — a 110-foot, sheer, moss-covered cliff that we were going to rappel down. Indeed, there was no waterfall. But it was huge.
"I was very concerned about being able to do it," Shana said later.
"Yeah, I was really concerned," said Katelynn. "It was very scary and very tall."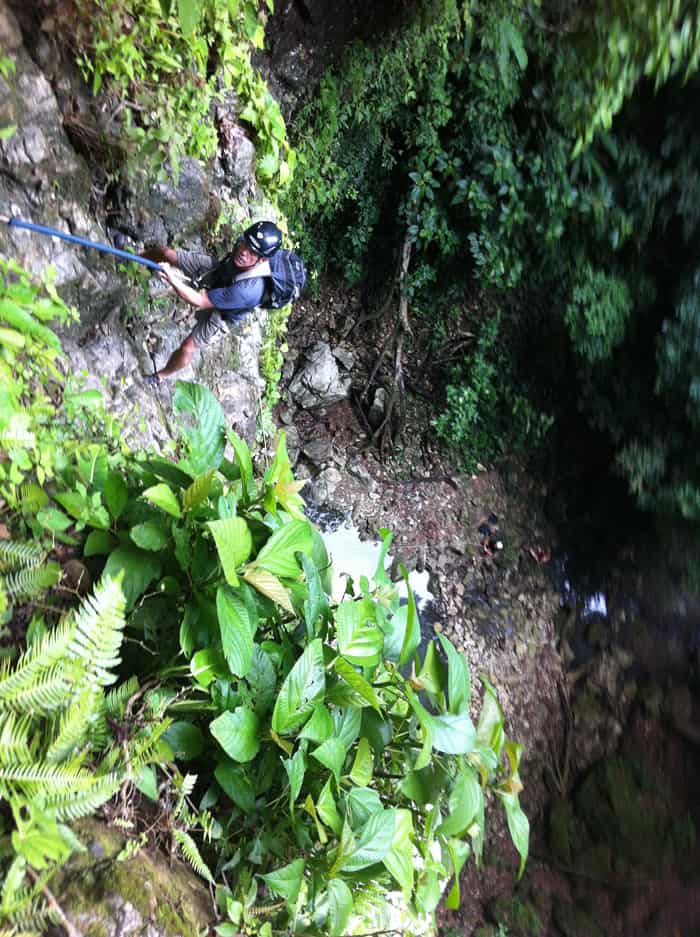 We climbed up the side of the cliff and made our way to the top of the 45-foot Small Falls, where the waterfall was also dry. Andy says you should see it in December.
We were joined by Eddie Delgado, 23, a superb local guide who a few months ago led me on a matapalo climb just a few minutes from here. Andy and Eddie gave us a hands-on lesson in rappelling on a little cliff at the top of Small Falls. We all caught on quickly.
It was time to go. Eddie went first to hold the safe rope at the bottom. The ladies urged me to go next, but I wanted to take pictures of them doing it. So Shana stepped up, roped in and walked down, Batman-style. She made it look easy.
Katelynn went next, rappelling down the rock with perfect posture. She looked like an Army Ranger.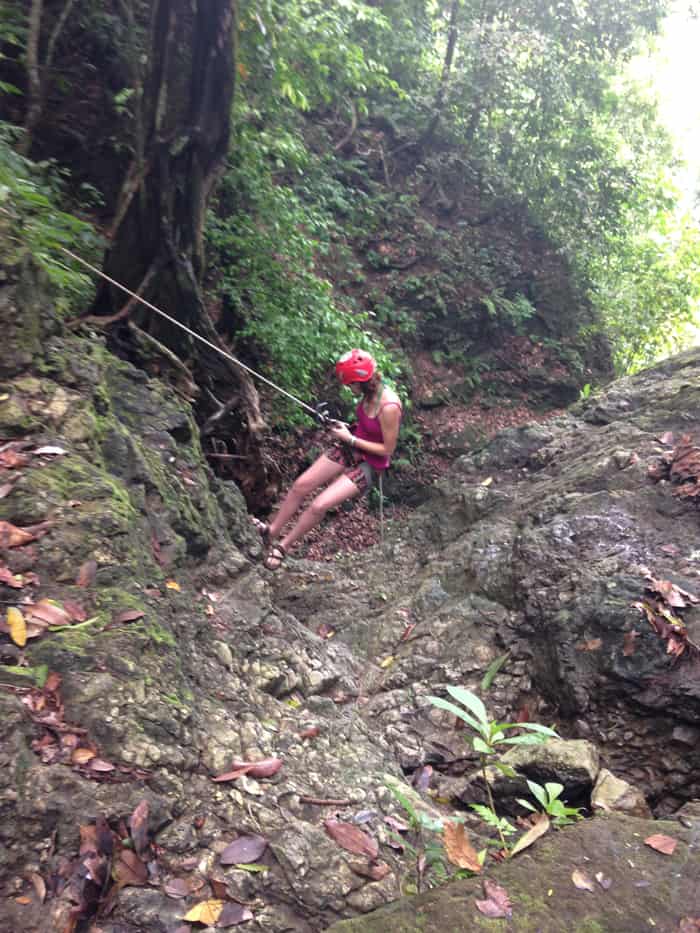 I went next, letting out slack and walking backwards to the edge, where I tried to remember all the instructions: spread your feet, straighten your legs, push your butt out and make an L shape.
Just below the top, there is a thick clump of tree roots to the right (facing the rock) and a hole to the left. When the waterfall is gushing, this hole takes many a visitor by surprise.
I landed safely in a little pool of water, to cheers all around. Andy brought up the rear in double-time, practically bouncing down the cliff.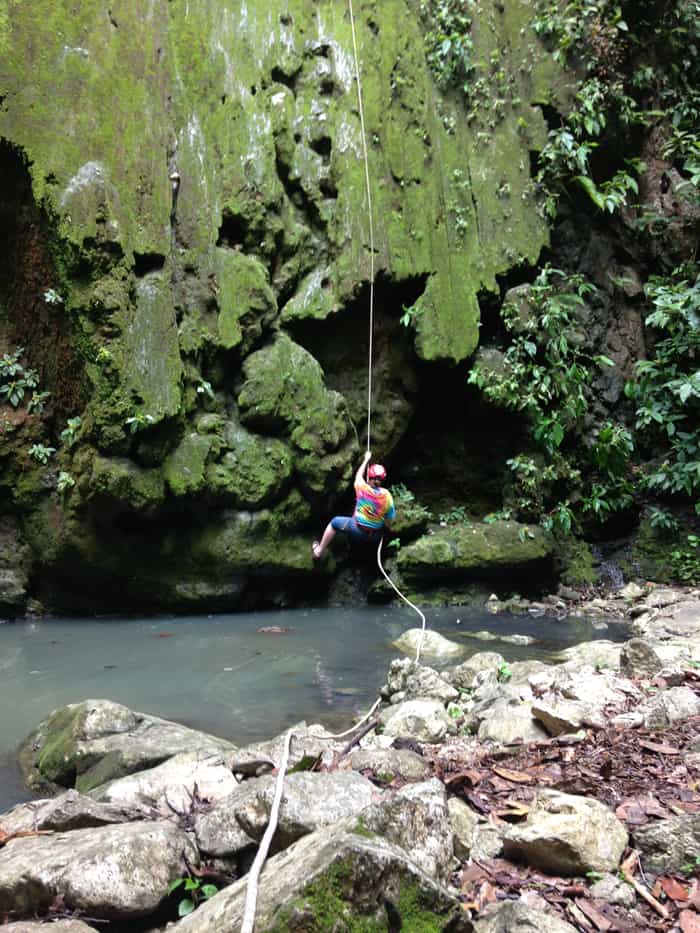 And now it was time for King Louis, the 110-footer with the sheer, mossy face.
Again, Shana went first, followed by Katelynn. When I saw the photos afterwards, with their perfect L's, I was so proud of them. Pardon my language, but they looked badass.
And so my turn came to do King Louis, a much less technical climb because of the sheer face, but more than twice as tall. As I lowered myself over the edge, I looked down, took in the view and screamed: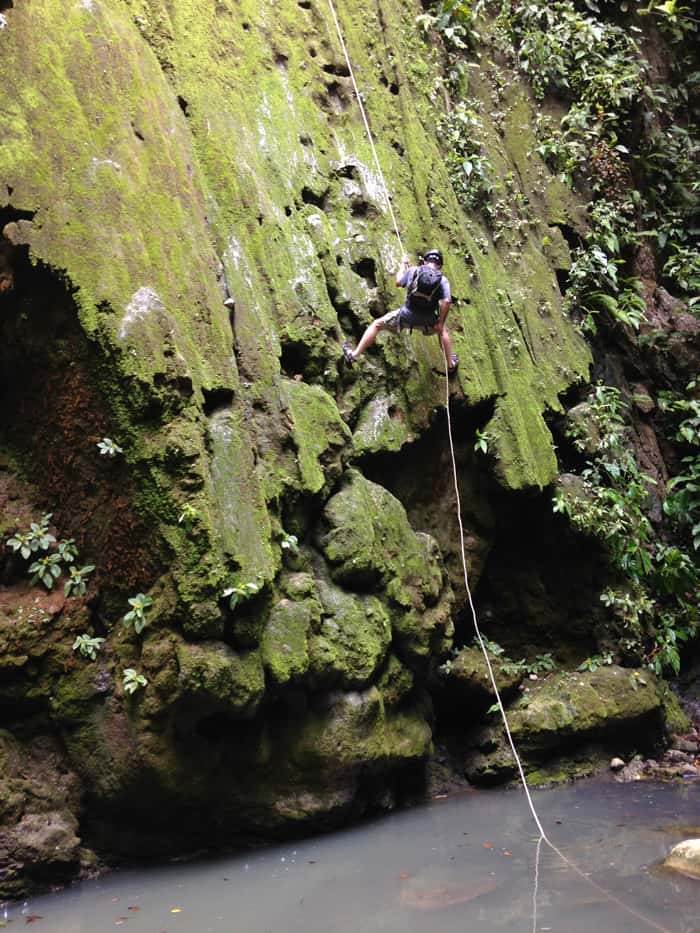 "OH, MY GOD, I'M AFRAID OF HEIGHTS! WHOSE IDEA WAS THIS?"
"Too late to back out now," said Shana.
The moss on the cliff is slippery — "greasy green," Andy calls it. The easiest way to get down is No. 1, assume the position, and No. 2, just slide down the rock with your feet.
I tried that and it worked, but I wanted to rappel like they do in the movies.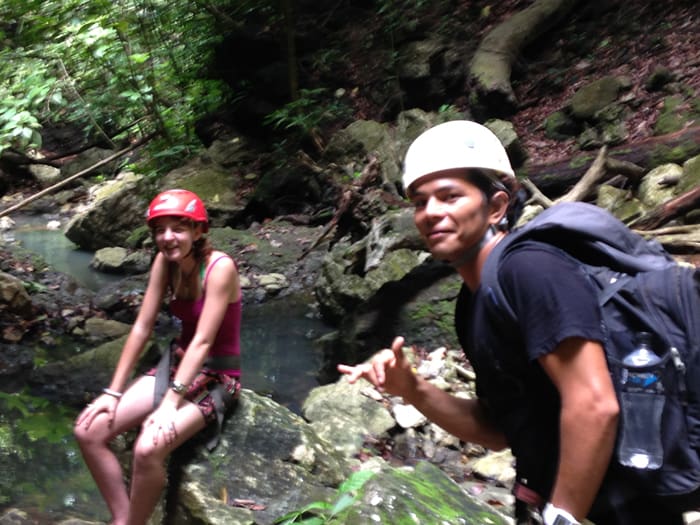 So I took a hop, let the rope slide through my brake hand and bounced to a new place on the cliff. Then I took another hop and bounced again.
"He's like a frog," Eddie said, much to the amusement of my friends.
"If you want to do that, you have to land with your feet above your butt," Eddie told me. It was counterintuitive but true: The higher the feet, the more stable the landing.
I landed safely in the water at the bottom. Katelynn and I had two little cuts each on our arms and legs from rookie mistakes, though Shana was unblooded.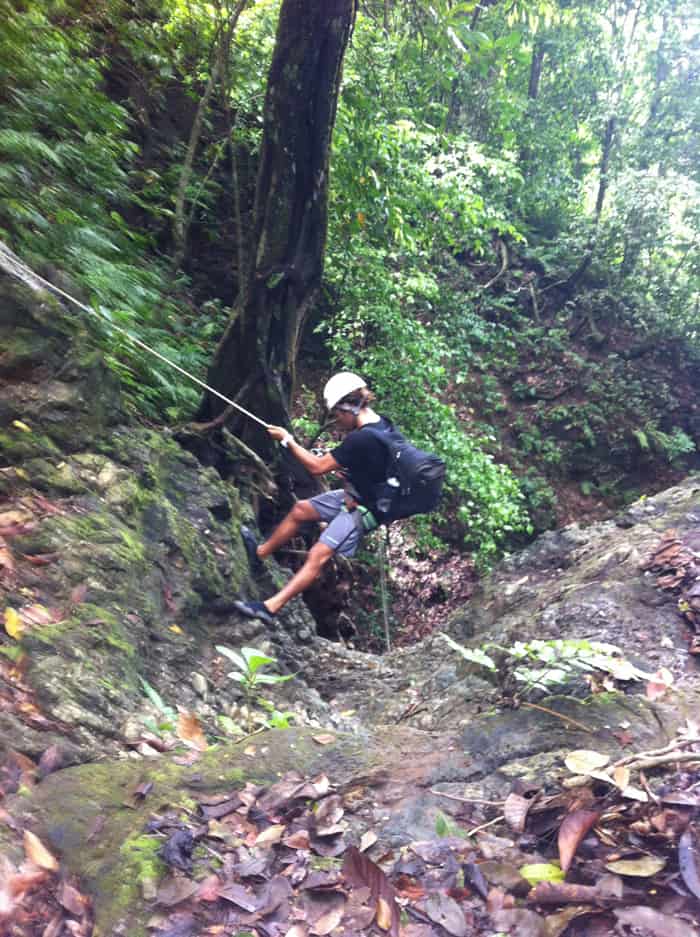 On the way home, Eddie regaled us with an amazing story about something that happened to him just a week ago on this same trail. This will give you some idea how much wildlife there is in Matapalo.
"I was in a night hike, in the night, I was walking with my girlfriend, and I want to show her the wildlife at night, so we were hiking up the road for like five minutes," he said.
"And right at the beginning, we just saw this big log on the road, in the middle of the road, I thought it was a log so I didn't pay too much attention. So I just kept looking around and just like 6 feet away from me I see this big thing moving up, and there was a tapir in the road.
"So I followed the tapir all the way to the entrance of the river, and the tapir disappeared in the bushes.
"So after that, I keep walking by the trail and I heard, like, something big walking up the hill. While he's still walking up the hill, I saw rocks falling to the river. So I throw one rock to the other side of the river, to scare the big thing, and in that moment, when I threw the rock, I heard the big thing run away, but more rocks coming down the hill, but bigger, and I saw it was a bunch of peccaries.
"So I stopped, my flashlight wasn't that strong, so I stopped there and tried to look around, and I hear something crossing over the river, over the creek, so then I focus on the animal, and I saw these spots. He's full of spots all over the body, so I knew it wasn't a peccary."
It turned out to be a paca, the sixth-largest rodent in the world, which looks like an agouti on steroids. And there were two of them, and they were fighting viciously.
"So I see the paca fighting, biting," Eddie said. "I think they were two males fighting for territory, and I see them biting very hard. So I was kind of scared. So I kind of hid under a tree and threw a rock to make them go away, but instead of going away, they ran towards me. So at that moment I felt that they were attacking me.
"So I pulled out my machete, just to scare them, and the paca run straight to me, just straight towards me. So at that point, I grabbed the machete and hit a rock." He imitated the sound of a machete hitting a rock.
"At that moment the machete made the noise and the paca got scared and jumped back and it rose into some branches and disappeared.
"But it was a scary moment."
"Great story!" Andy raved with his customary enthusiasm. He's never seen a tapir here, though the neighbors have seen a puma.
Later, in the comfort of our house back in Jiménez, I asked my friends about the rappelling, and they both said it was a lot of fun and wasn't as scary as they thought it would be. I asked them if they looked down when they reached the edge of King Louis.
"I looked down," Katelynn said. "What I did was I looked down and then I looked back up and then I just had a very scared face on my face, like I could feel the scaredness in my face, and I just continued on.
"You know, what's weird is I trusted myself. And I thought I would kill myself."
Contact Karl Kahler at kkahler@ticotimes.net.