See also: Costa Rica bans avocado imports from 9 countries 
Costa Rica's Communications Minister walks into a Subway and orders avocado on his sandwich…Stop me if you've heard this joke before.
The fast food sandwich chain Subway found itself at the center of a quarrel over a ban on avocado imports in Costa Rica Thursday when the restaurant's decision to temporarily stop offering avocado led to a stunt by Communication Minister Mauricio Herrera.
Over a month ago Costa Rica's Plant Health Service (SFE) ordered a ban on avocado imports from nine countries, including the single largest exporter of avocados to Costa Rica, Mexico.
The sudden loss of Mexico as a supplier, which was responsible for more than 80 percent of avocados consumed in Costa Rica in 2014, has incensed food service businesses and sparked an increasingly vocal conflict between the government and the private sector. Private chambers of commerce have called for the ouster of SFE Director Francisco Dall'Anese, accusing the agency of protectionism, while the government argued that there is plenty of local production to temporarily meet the demand for the fruit.
Forbidden Fruit
Randall Benavides, president of the Chamber of Exporters and Importers of Perishable Products (CEIPP), said that the ban was heavy handed and a threat to Costa Rica's trade relations with other countries. He said that Costa Rica and New Zealand are the only countries that have import bans on Mexican avocados because of sunblotch, a virus that reduces the quantity and quality of avocados.
"We believe the restriction is illegal, disproportionate, and irrational," Benavides told The Tico Times.
SFE previously said that the restriction was necessary to protect local production from the virus and that the agency was working to find sources that would not pose a threat to Costa Rican agriculture.
Mexico is responsible for the vast majority of the 12,563 metric tons of avocados imported in 2014, according to figures from Costa Rica's Foreign Trade Promotion Office. Costa Rica's 900 some avocado producers top out at just 2,000 metric tons, according to the Agriculture Ministry.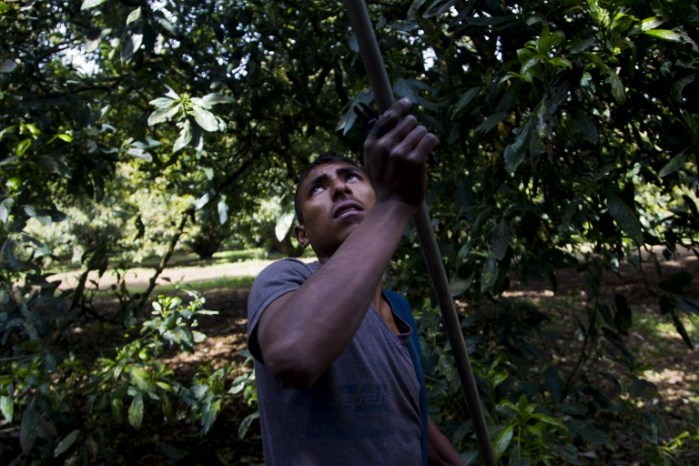 The CEIPP president said that importers have been looking to Peru mostly to meet demand but said that the Andean country did not have enough supply to cover Mexico's share of the market. The push toward other countries to fill the demand has led to a rise in prices. Benavides said that the price of avocados for his import business, Pura Fruta, has gone up more than 17 percent in the face of the ban.
But government sources say there are enough local avocados—at least for now—to meet demand, according to a statement from the National Production Council (CNP) released Friday afternoon. CNP said that there were seasonal variations in the price of avocados between May and September and that any price increases beyond this were speculative.
The local supply of criollo and Hass avocados should increase in the coming weeks as the national harvest reaches market, according to Carlos Pérez, a market researcher for the government's Agricultural Marketing Program, PIMA.
So, are there or aren't there avocados for sale? It depends on who is asked.
Benavides and Pérez both said that the Mexican Hass variety is superior to native avocados. Criollo avocados tend to be larger and green-skinned and can have a mealy, watered-down flavor, they said. Many businesses appear to be unwilling to use what they consider lesser quality fruit.
Subway Prank
After a bevy of complaints from the private sector over the ban and claims that there was now a scarcity of avocados, Communications Minister Mauricio Herrera took it upon himself to help Subway fill its avocado orders. On the minister's personal Facebook page he posted:
"I bought some great avocados at the Rotonda de la Hispanidad, three for a thousand (colones—roughly $2). I took them to a Subway chain restaurant 100 meters from there that says they don't offer avocados because they are scarce," Herrera said. "I handed over my little avocados to the restaurant's manager and he was very friendly."
https://www.facebook.com/mauricio.herreraulloa/posts/10205797298844886?pnref=story
It appeared that Herrera took his cue from people on social media. On Wednesday, a Facebook group popped up called "The National Campaign to Buy Avocados for Subway," encouraging the public to "donate" avocados to Subway.
Businesses said the minister's actions were a populist joke that made light of importers affected by the ban. Some have claimed that they will have to lay off workers as a result of the ban.
President Luis Guillermo Solís said that he had spoken to Herrera about the stunt and did not see anything wrong with his actions. Solís said that businesses should not engage in scare tactics over the fruit's availability.
"Mauricio went to the market and bought avocados to show that there were avocados for sale," Solís told reporters "I don't see any problem with it when the facts are clear. Don't scare the public."