The Costa Rican women's national football team, known as La Sele, split the points with Spain in a 1-1 draw during both teams' first match ever at a World Cup. For La Sele, it also was their first point in a FIFA World Cup competition.
The match, played late Tuesday afternoon at Montreal's Olympic Stadium in Canada, was mostly dominated by the Europeans as Costa Rica, looking a little nervous at the start, showed little offensive game.
That control allowed Spain to score an early lead just 13 minutes into the match. Vicky Lozada received the ball from a corner kick, turned to get rid of a Tica defender and sent a diagonal shot impossible for goalie Dinnia Díaz to stop.
A key factor for Costa Rica was their ability to overcome that challenge and score an equalizer just one minute later, while some of the Spanish fans were still celebrating.
Lixy Rodríguez received a long pass from Wendy Acosta, drove the ball along the sideline, entered the area and sent a centering pass from the end line in a crosser that slipped through five Spanish defenders on its way to Raquel Rodríguez, who was wide open and scored with a soft touch.
https://www.facebook.com/FEDEFUTBOLCR/posts/959605870756902
Following the goal, La Sele had their best moments of the game, with more opportunities to score, but Spain slowly regained control of the match.
Spain's offense, however, was innefective as countless shots went wide or were repelled by Díaz, who saved her teammates on several occasions.
The second half was dominated almost entirely by Spain, and Costa Rica had almost no offensive plays.
Just 30 seconds into the second half Spain nearly took the lead when Sonia Bermúdez sent a crossed pass from the left that slipped through La Sele's defensive line. Luckily, Natalia Pablos was unable to send the ball in.
Four minutes later, a header by Jennifer Hermoso went wide, and a strong shot by Spain's star and team captain Verónica Boquete went long the next minute.
Boquete had at least three more opportunities to score, but her bad aim, good saves by Díaz and even the pole kept the score tied until the end of the match.
Following four unsuccessful participations at U17 and U20 World Cups, Costa Rica's debut in Canada finally garnered the country its first point ever in a FIFA Women's World Cup.
Las Ticas on Saturday will face South Korea at 5 p.m. Costa Rica time, while Spain will play against the South American champion Brazil.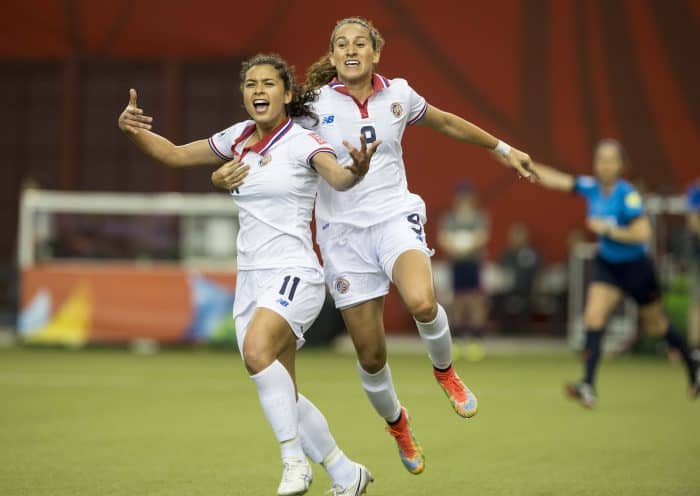 Spain 1-1 Costa Rica
Goals:
Spain: Vicky Losada (12')
Costa Rica: Raquel Rodríguez Cedeño (13')
Lineups:
Spain: Ainhoa ​​Tirapú, Celia Jiménez (Ruth García, 62), Marta Torrejón, Irene Paredes, Leire Landa, Natalia Pablos, Vicky Losada, Alexia Putellas, Sonia Bermúdez (Marta Corredera, 72), Verónica Boquete, Jennifer Hermoso (Borja, 84'). Coach: Ignacio Quereda.
Costa Rica: Dinnia Díaz, Diana Sáenz, Carol Sánchez, Wendy Acosta, Lixy Rodríguez, Melissa Herrera (Guillén, 87), Shirley Cruz, Katherine Alvarado, Raquel Rodríguez, María Barrantes (Karla Villalobos, 74), Carolina Venegas (Granados, 80). Coach: Amelia Valverde.
Yellow cards:  Celia Jiménez, Spain (44')
Referees: Salomé Di Iorio (ARG), María Rocco (ARG), Mariana De Almeida (ARG) and Marilin Miranda (PAR).
Stadium: Olympic Stadium in Montreal