Larva patties and cricket crackers are projects that led two groups of students from the University of Costa Rica's (UCR) Food Technology School to be selected as finalists in an international competition held by the U.S. Institute of Food Technologists (IFT).
IFT's annual "Developing Solutions for Developing Countries Competition" selected the Tico projects within the top three among 59 proposals from around the world. The third project is from a Malaysian university which last year won second place in the competition.
Judges every year select six finalists: three from the U.S. and Canada and three from the rest of the world. All international proposals are sent anonymously and they do not include any information on the investigators' backgrounds.
The six projects will be presented publicly in front of a jury at IFT's Annual Conference to be held from July 11 to 14 in Chicago. Projects will also be discussed in a panel with the judges and members of all participating teams.
The competition is open to the public and organizers this year reported that approximately 23,000 top food science and technology professionals from more than 90 countries will attend the event.
Edible insects
The IFT competition encourages students from around the world to propose products and processes with the aim of improving the quality of life in developing countries by solving a specific nutritional need, explained UCR professor Jessie Usaga Barrientos, who is the local project coordinator. UCR participated in the contest for the first time this year.
This year's theme is edible insects and the two species chosen by Costa Rican teams are part of a list of future prospects for food and feed security drafted by experts from the United Nations Food and Agriculture Organization.
Students evaluated cricket species with flavors similar to corn, others that taste like chicharrón (crunchy fried pork) and larvae that have a coconut-like flavor, Usaga said.
She also noted that students had not received training on the use of edible insects, therefore they requested support from experts at UCR's Insect Museum.
"From the moment they found out about the contest they had three months to learn all about breeding, feeding and processing insects for manufacturing food," she said.
All insects were bred at UCR facilities and had to undergo meticulous procedures including a 24-hour fasting period before being slaughtered in order to eliminate waste from their bodies. Then they were disinfected  to eliminate all remaining microorganisms that could pose a health risk to humans.
Larva patties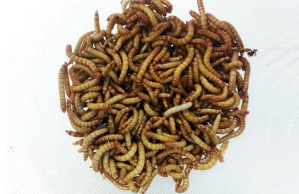 One of the projects consists of a dry mixture to prepare patties made out of plantain and mealworm larvae (Tenebrio molitor). Students called their product Molibannann and it's objective is to be used to feed children with malnutrition problems in Haiti.
"Moli stands for the mealworm's name and bannann means banana or plantain in Creole," said Ana María Quirós Blanco, the team's captain. She said they wanted to propose a solution for the Caribbean nation by taking into consideration that it is the region's poorest country and its inhabitants have very limited access to protein sources.
Their idea is that patties can be a side of rice and beans, the only meal most Haitian people eat every day.
Larva powder is the main ingredient but the pattie's mixture also contains dry plantain and sweet potatoes. All three ingredients are widely found on the island, therefore the group hopes Haitians can develop their own industry and distribute Molibannann through public agencies and school cafeterias.
The students proposed to feed the bugs with plantain peels that reduced production costs up to 60 percent. Currently, breeding one kilogram of mealworm costs around $1 and the cost of producing the recommended daily portion of three patties is an estimated $0.70.
A kilogram of mealworm produces about 300 grams of larvae, and preparation of the recommended daily portion of three patties requires approximately 56 grams of the mixture, Quirós said.
The investigation also found that larvae are nutritious, healthy and provide adequate amounts of protein, fiber, fat and minerals. The amounts of Omega 3 and 6 in larvae is comparable to that of fish and their vitamin, mineral and protein content is similar to that of a portion of fish or beef.
The daily portion provides most of a child's daily food requirements. Every portion contains 84 percent protein, 80 percent iodine and iron, and all vitamins A and C. "In addition to providing nourishment, our product also directly fights anemia," Quirós said.
Besides the captain, the Molibannann team includes Gloriana Herrera, Ximena González, Yock Mei Acón, Valeria Brenes, Valerie Rangel and Marcela Rodríguez.
Crispy crackers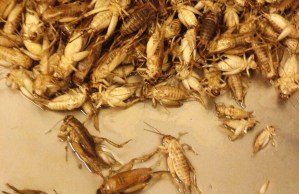 The other group of investigators presented a product called "Cricketas" – cookies made from powdered crickets. The project aims to help children in rural communities in Costa Rica's Northern Zone including Los Chiles, La Cruz, Upala and Guatuso.
"It is one of the most vulnerable areas here and children in those communities show some of the highest nutritional deficiencies in the country," said Gloriana Hernández, a member of the other Tica finalist team.
After conducting some research the group decided that a cookie was the most attractive form for their product, as one of Cricketas' main goals is to replace cookies often consumed by children that are usually high in carbohydrates.
The mixture to bake the Cricketas also includes wheat flour and mashed sweet potatoes. "Our product aims at solving children's iron, vitamin A and protein deficiencies," she said.
"From an environmental point of view, our product is very sustainable because it uses fewer resources and its components are more efficient than cookies' traditional ingredients. Our production processes use less water and insect farms require less space," said Hernández.
The group proposes to distribute Cricketas at public Children's Comprehensive Nutrition Centers or CEN-CINAIs.
The team that developed the product includes Krissia Villalta (captain), Cristina Azofeifa, Pamela Malavassi, Daniela Kopper and Hernández.
How to help
Besides exposure and recognition, IFT competition winners receive $3,000 and the runner-up gets $1,000.
However, IFT organizers only pay for travel and accommodation expenses for one person per project, and since both Tico proposals are group projects UCR's Food Technology School authorities are campaigning to raise funds to send all group members to Chicago.
So far, the school allocated funds from its budget and has received donations from private-sector companies, but according to Quirós, it is still not enough.
On Friday she told The Tico Times that they have raised approximately 40 percent of the required funds and are looking for more sponsors.
To help the students attend the competition, contact Professor Jessie Usaga Barrientos at jessie.usaga@ucr.ac.cr, Professor Marta Bustamante at marta.bustamente@ucr.ac.cr or call UCR's Food Technology School at: 2511-3465.