Mauro Camera didn't need to open a third restaurant in Tamarindo — his Bamboo Sushi Club and Patagonia Argentinian Grill were already local favorites. But then someone suggested that he try his hand at seafood, an idea he found intriguing.
Taking over a streetcorner in the center of town, Camera began building, renovating, pouring a sidewalk and opening up much-needed parking. For four months, he spent every day in the kitchen, creating and testing new recipes using fish, shrimp, lobster and other delicacies from the sea.
The results, no surprise to those who know his skills, were spectacular. A meal at Patagonia Del Mar begins with a serving of fresh, homemade bread and salmon mousse.  Appetizers include a smoked grouper carpaccio with capers and olive oil, a sweet and savory tuna tartar, and the latest addition to the pre-meal selections, a shrimp au gratin in white sauce, with leeks, mozzarella and parmesan served in a real scallop shell.
Creating quite the stir is the most popular selection on the menu, the seafood skillet — a hearty serving of shrimp, calamari, clams, mussels, lobster and octopus cooked for four hours in their own juices, with a slightly spicy red sauce, served with coconut rice.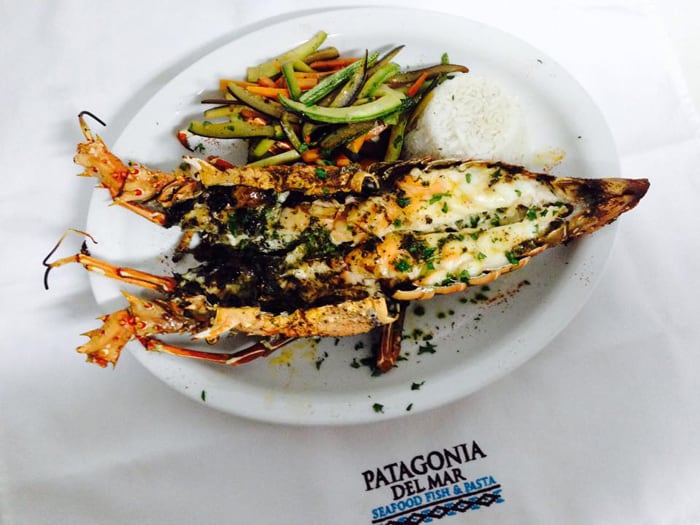 Fish selections range from the rich seabass with creamy spinach sauce and a side of black quinoa salad to the leaner grilled salmon with sweet potato puree and the seared tuna steak with sesame seeds, combined with Chinese mustard, onions and oyster sauce, which Camera calls "a mix between Asian and French." Then there's the popular red snapper with garlic, lemon, herbs and olive oil, served with mashed potatoes.
The succulent homemade cappellettis are stuffed with shrimp, asparagus and ricotta cheese and topped with a four-cheese sauce of provolone, mozzarella, parmesan and gorgonzola.  Yum.
"Every dish at my restaurant is the result only of my whole life in restaurants, trying, testing, changing," he says.
Camera's life in Tamarindo began in October 2002, when he left his home in Buenos Aires because of the tough economic climate in his homeland. Before leaving Argentina, he worked at Positano, an Italian restaurant, that featured one Greek night, one French night and one Italian night.
A friend who had moved to Tamarindo suggested that he would find satisfaction there. And he did. At first he prepared sushi at Fish & Meat, then he took to selling empanadas on the street.
Between stints at La Laguna and La Palapa, he served as publisher of Tamarindo News. In 2008, when the economy tanked, he was also expecting his first child, and he needed to make a move.
"I talked to my wife and I said, 'This is the moment to make sushi,'" he recalled. "I was the sushi chef and she was the waitress in a small space at Luna Llena Hotel with four tables."
Word got around about how good the sushi was, and he soon moved to the larger, current location at Bamboo Sushi Club, on the main boulevard in town.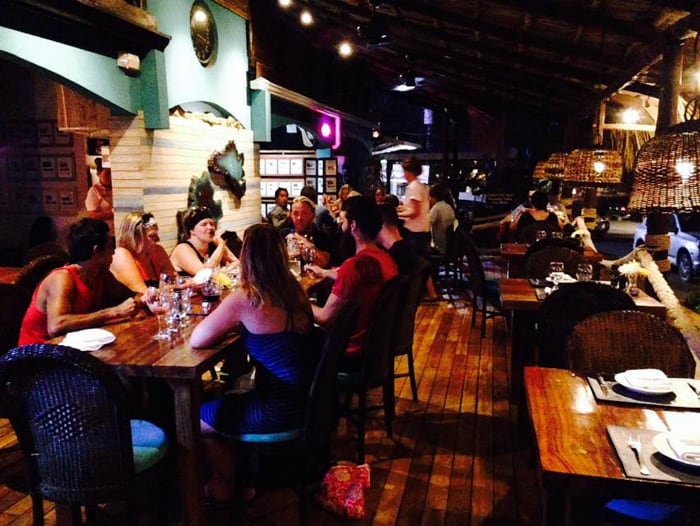 The next step was opening Patagonia, in order to share what he called "my food" with the town.
"Always I hoped to be successful, and I always trusted my taste," he said.
People learned to trust it too, and within months the restaurant was packed every night.
With Patagonia Del Mar, his seafood is now packing in more happy customers, as is the wine store inside the restaurant. Camera's father and grandfather were in the wine business, and he culled what he learned into selling over 110 fine wines and some specialty liquors.
"My policy is that when a person makes a decision to eat at my restaurant, I want the kitchen, the service, the food to be great. This is important," said Camera. "It's good that my clients come but more important they return. If you leave happy, you'll come again."